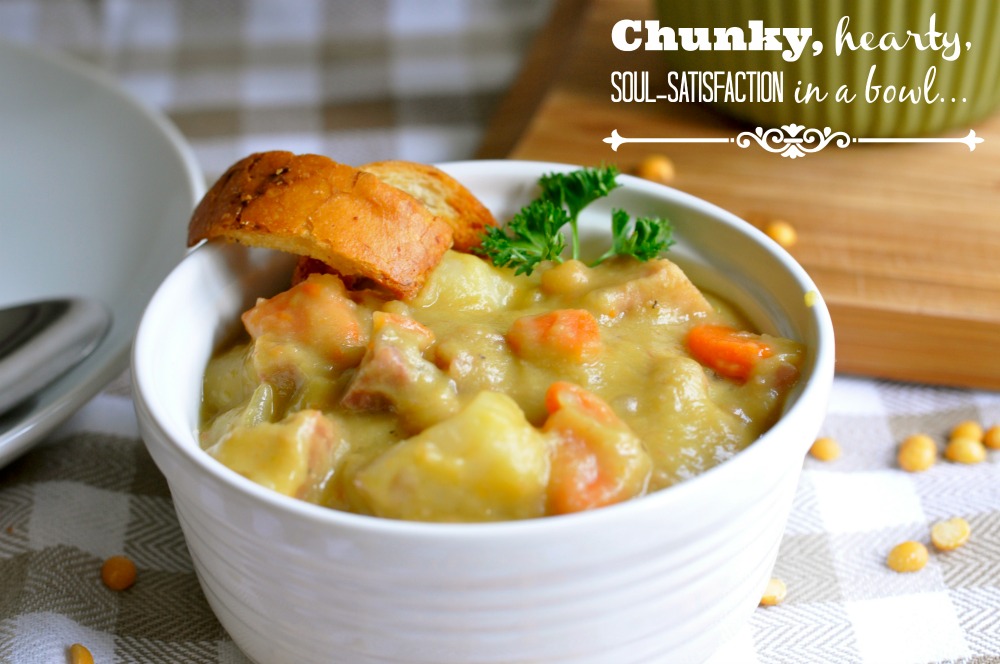 Real Food Split Pea and Ham Soup
Out of all the veggies in the world I strongly dislike peas. Naturally, I'm betrothed to a man who LOVES peas. I mean all out, get you in mah belly, I could eat three bowls each day LOVES peas. God has a sense of humor all right.
Because I love my dear Stud Muffin, I make him Split Pea Soup, but I add ham because I love ham. Throw pork into a soup and I'm a happy girl. Throw peas into a soup and The Stud Muffin is a happy Man. Combine them, and you have two happy people eating a rather tasty bowl of soup, even though it does contain a pound of peas.
The only thing I truly dislike about split pea soup is that it's seriously not pretty and it just looks unappetizing. Quite frankly, I've seen better looking sin than this soup. It's probably the second ugliest soup I make with the first being my homemade Mmm Better- Cream of Mushroom Soup. Both soups are fantastic and satisfying, but they're just plain ugly. Like a face only a mother could love. Shudder.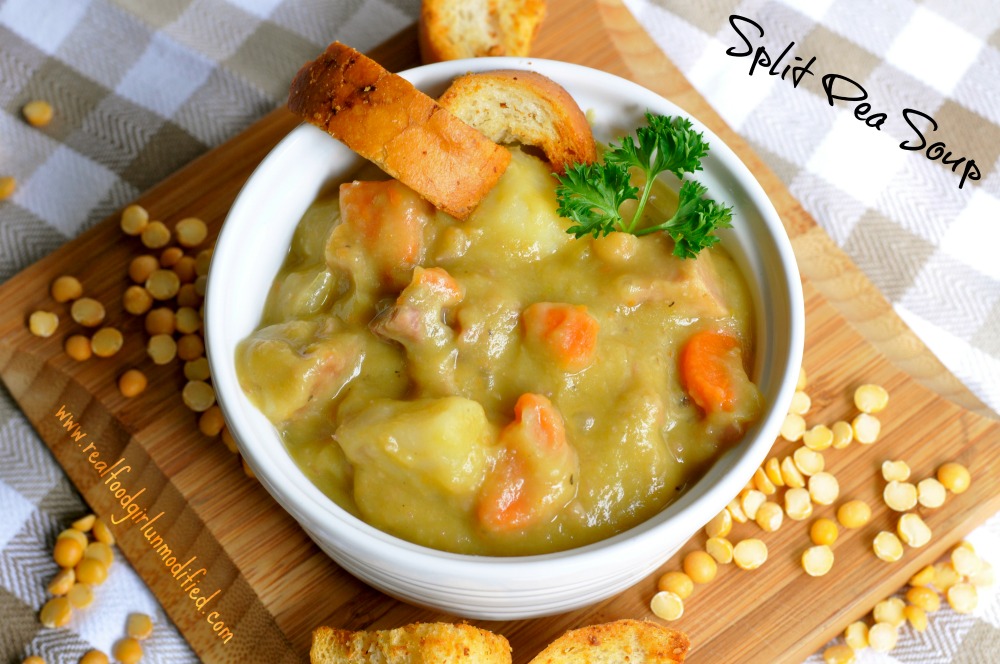 This soup is thick, tasty, salty (in a good, ham hock sort of way) and has a seriously velvety texture. The potatoes melt in your mouth, the carrots add brightness and sweetness to the soup, the ham, well, the ham makes the soup in my opinion, but the peas cook into this rich, hearty mash of wonderfulness that you may want to give this recipe a try, even if you don't like peas.
You can use yellow or green split peas. I sometimes combine both, or use just green. Make sure you do not use one granule of salt in this recipe or you will end up with a pea flavored salt lick in a soup bowl. Trust me on this. The classically trained chef in me ignored the fact that this recipe didn't call for salt and the first time I made this it was offensively salty. No amount of fat in the world will cover excessive salt flavor. It just won't. Ham and ham hocks are uber salty to begin with and you do not, I repeat do not want to ruin an entire pot of soup because you doubted my culinary prowess and decided that you knew better and got all salt happy with this recipe. Step away from the salt people and you'll thank me.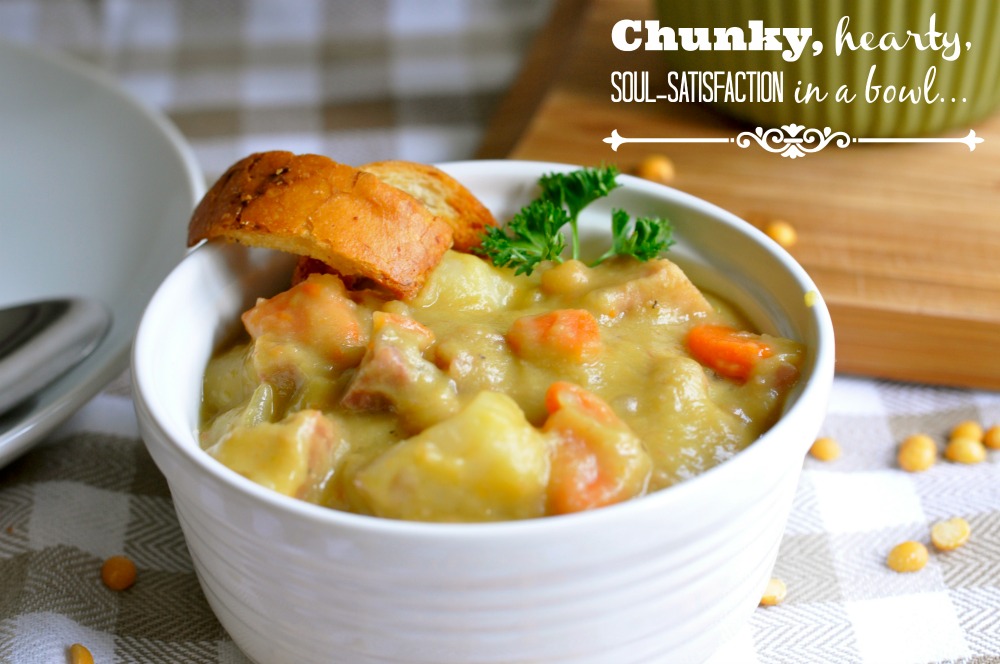 Real Food Split Pea Soup with Ham
2014-02-06 01:21:56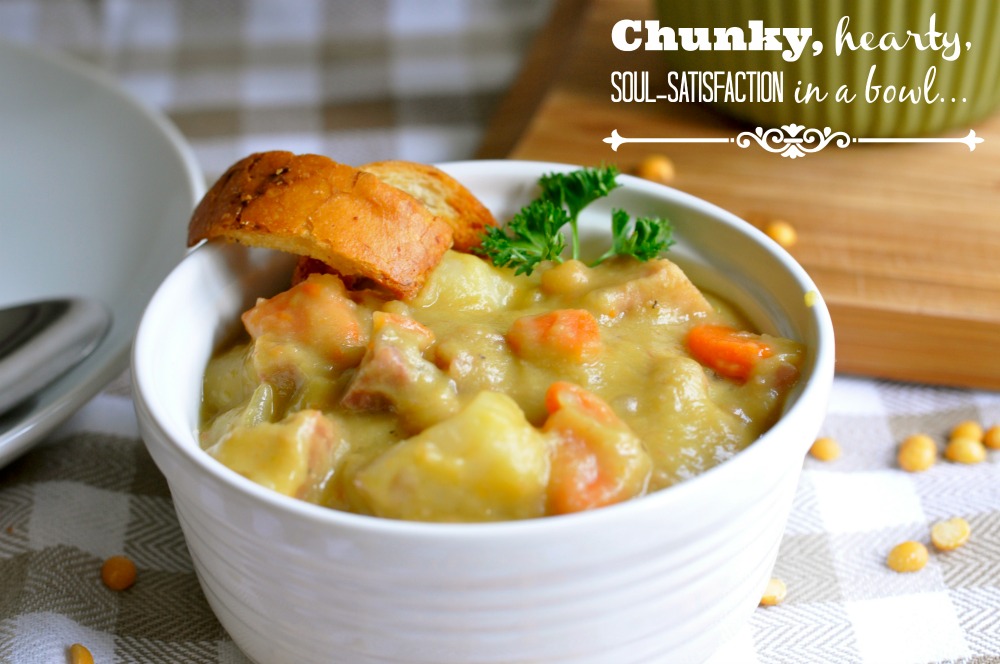 Serves 6
A rich, thick, hearty soup with fabulous flavor, tender chunks of ham, creamy potatoes, carrots and of course, peas!
Ingredients
1 (2 pound) bone-in picnic ham (I look for a 1.5 pound ham that isn't smoked as it is less salty, and then opt for one or two ham hocks for additional flavor)
3 medium sized bay leaves
2-1/2 cups green split peas, rinsed and picked through
1 teaspoon dried thyme
2 TB clarified butter or ghee
1 TB coconut oil
1 large yellow onion cut into 1/2" dice
3 medium large carrots, quartered lengthwise and cut into 1/2" pieces
3 stalks celery, chopped into 1/2" pieces
1 tablespoon unsalted butter
1/2 cup heavy cream
2 medium cloves garlic, minced
1/2 tsp. sugar
5 medium-small new potatoes, scrubbed and cut into ½-inch dice
Ground black pepper
Instructions
Place the ham, bay leaves, and 3 quarts cold water in a large stockpot or Dutch oven. Cover and bring to a boil over medium-high heat. Reduce the heat to low and simmer until the meat is tender and pulls away from the bone, about 2 hours.
Remove the ham meat and bone from the pot. When the ham is cool enough to handle, shred the meat into bite-sized pieces and set aside. If you buy a large enough ham, you will have quite a bit left over to use in other meals.
Add the split peas and thyme to the ham stock. Return to a boil, reduce the heat, and simmer, uncovered, until the peas are tender but not dissolved, about 45 minutes. You want the soup to be at a lazy simmer which means a few bubbles rising up in the pot.
While the peas are simmering, heat the clarified butter in a large skillet over medium-high heat until melted. Add the onions, carrots, and celery and saute, stirring frequently, until most of the liquid evaporates and the vegetables begin to brown about 5 minutes.
Reduce the heat to medium-low and add the coconut oil (or you can use beef tallow, lard or more butter), garlic, and sugar. Cook the vegetables, stirring frequently, until deeply browned, 10-15 minutes, and set aside. If your veggies start to cook too quickly, don't cook them the full 10-15 minutes. You don't want them to be mushy before you add them to the soup.
Add the sauteed vegetables, potatoes, and shredded ham to the pot with the split peas. Simmer until the potatoes are tender and peas dissolve and thicken to the consistency of cream, about 20 minutes.
Add the half cup of cream and stir gently to combine. Warm soup another 2-3 minutes.
Season with ground black pepper to taste. This soup will thicken considerably after 24 hours in the chill chest. It will thin out a bit once heated. You can store this soup in an airtight container up to 3 days in the chill chest. Warm the soup over low heat until hot. Remove the bay leaves.
Adapted from Brown Eyed Baker
https://www.realfoodgirlunmodified.com/
PAID ENDORSEMENT DISCLOSURE: In order for me to support my blogging activities, I may receive monetary compensation or other types of remuneration for my endorsement, recommendation, testimonial and/or link to any products or services from this blog.