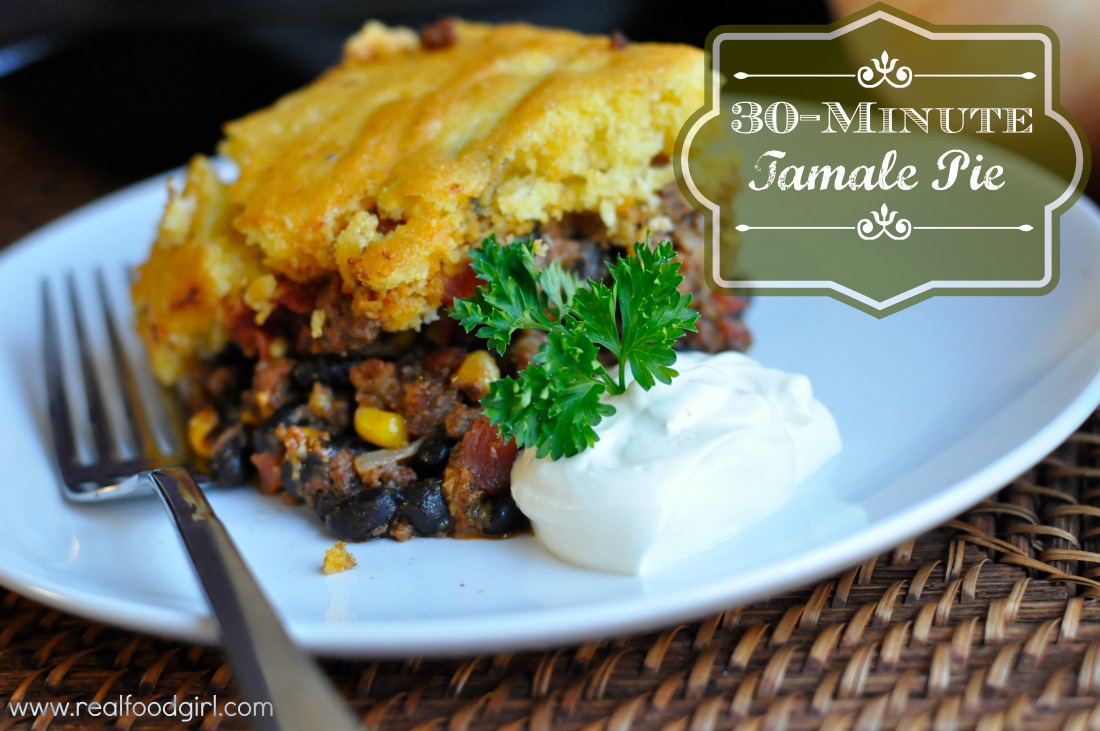 30 Minute Monday- Real Food Skillet Tamale Pie
Welcome to the fist installment of 30-Minute Monday's.
When I used to work out in the real world I never cared for Mondays. My biggest reason was I never slept well on Sunday nights and so I was always so sleepy on Monday. Typically I was dragging. By the time I got home from working a 10-hour day the last thing I wanted to do was spend 90 minutes or more in the kitchen making dinner. I wanted to jump in my flannel jammies, make something quick and filling and vegetate on the couch and snuggle with the fur babies and catch up on the day with The Stud Muffin.
That 'feeling' was my inspiration for this weekly series. I know I'm not the only one who feels this way on any given Monday. I truly believe in the power of eating dinner together as a family and obviously I believe in cooking from scratch and using as many organic and non-GMO ingredients as you can.
I will be doing things a little bit differently with this series. First, I'll be applying the 80/20 rule to some of these recipes. This means that up to 20% of the ingredients MAY come from organic or non-GMO processed foods. It could be boxed cornbread mix, canned tomatoes, canned chilies, organic ketchup, organic tortillas etc., etc. You get the point. When applicable and possible, I will share a second recipe for a homemade version of one of the recipe's components where if you've got extra time you can make it from scratch, if not, use the packaged food. Just do what you can to ensure it is organic or GMO-Free.
Why 80/20? Well, because you guys asked for it. You asked me for meals that could be made quickly and using ingredients that a busy mother with limited time would use. And a busy mom is going to take advantage of some packaged foods from time to time. So no complaining if I use an ingredient that you would never dare purchase or consume. Hundreds of readers asked for me to share more 80/20 recipes because it is how they eat and where they are on their Real Food path and I wanted to oblige.
Today's recipe was a huge hit with both The Stud Muffin and I. It's rare that we both LOVE the same recipe equally and we both loved this dish! I made some changes to this recipe to boost up the protein content and I increased the veggie content. This meal has so much flavor and it makes super leftovers. I wasn't sure if the corn bread top would hold up when I reheated this, but I just peeled that off and heated the filling in the oven, then put the cornbread on for the last 7 minutes or so to ensure it was heated through and viola, another tasty dinner served. I love easy dinner-nights like this. Don't you? I want to hear how you like this dish after you try it and what you think of the 30-Minute Monday series. Share in the comments below.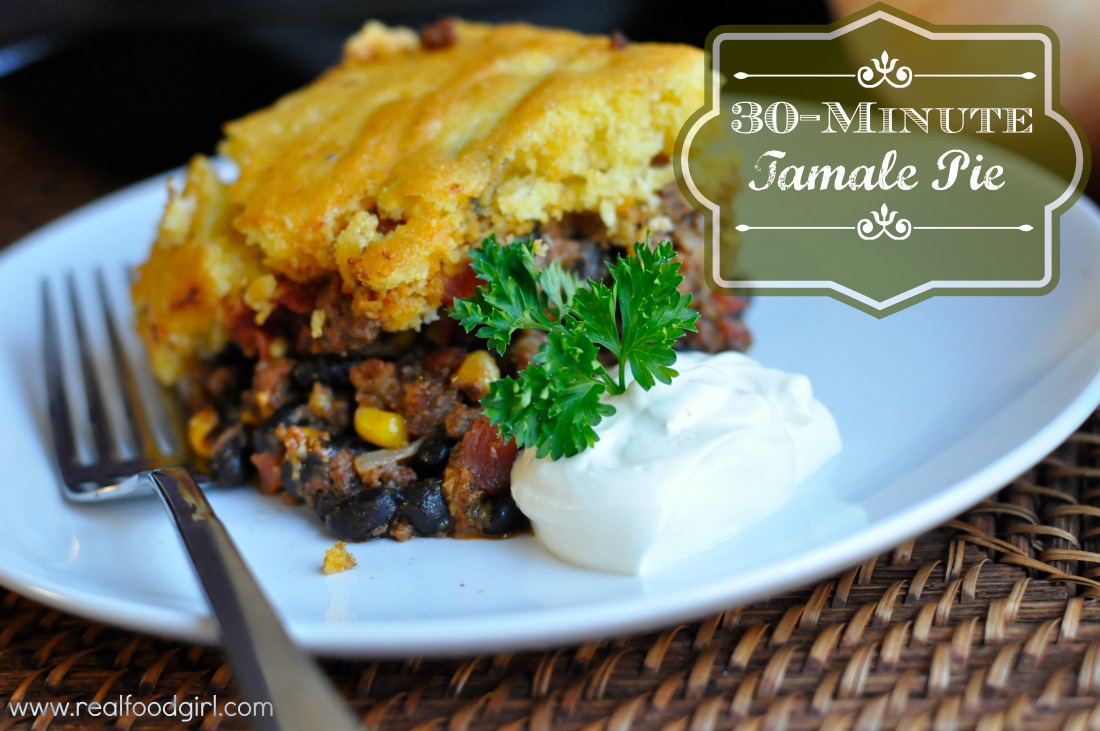 Real Food Skillet Tamale Pie
2014-01-23 21:23:01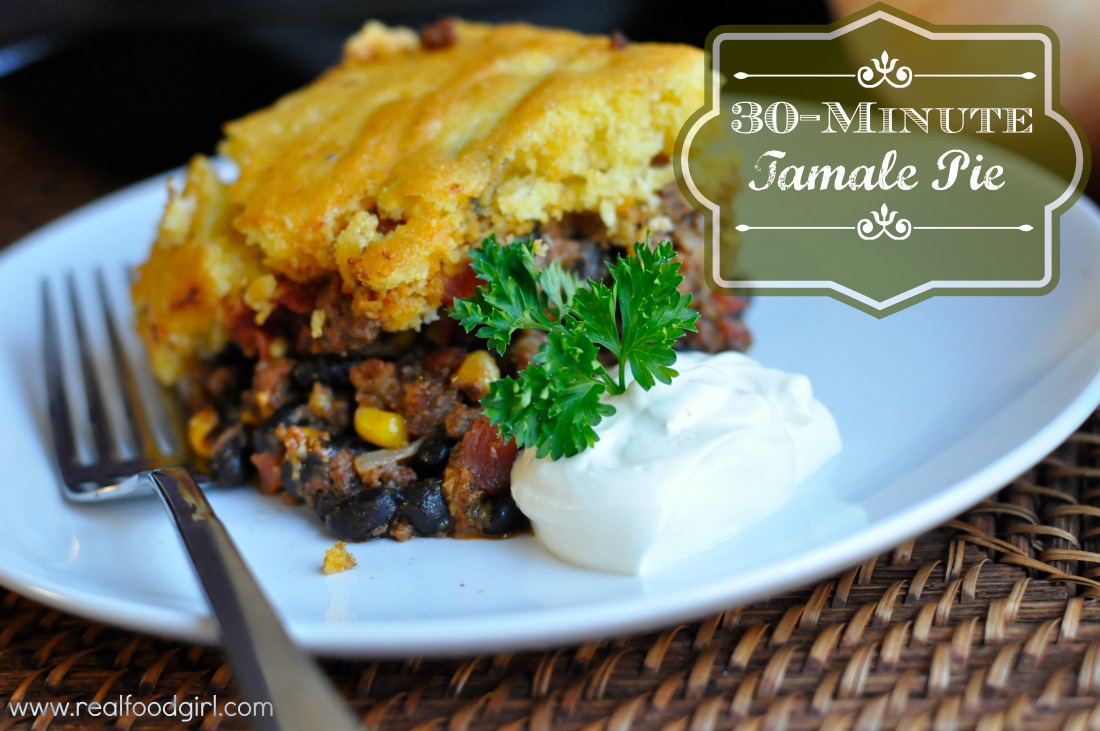 Serves 4
A satisfying one skillet dish containing lightly seasoned ground beef, tomatoes, black beans, spices and a fluffy cornbread topping and it goes from oven to table in 30 minutes
Ingredients
When possible, use organic, GMO-Free, pastured & grassfed ingredients-
1 TB coconut oil
1 TB clarified butter or ghee
1 yellow onion, diced small
1-1/2 TB chili powder
2 tsp. ground cumin
1 tsp. dried oregano
Sea salt and black pepper to taste
2 garlic cloves, minced
1 pound 85/15 grassfed organic ground beef
1/2 cup water
1 (14.5 ounce) can of diced tomatoes (don't drain)
1-1/2 cup frozen or fresh organic corn
1 (15-ounce) can of organic, low sodium black beans
1 (8.5 ounce) package of organic cornbread mix **See Notes**
1-1/2 cup medium sharp raw cheddar cheese
1 TB freshly chopped cilantro (if you love cilantro, add 2 TB. I use 1 TB cilantro and 1 TB chopped parsley
1 can diced green chile's (optional)
Instructions
While the filling is cooking, finely chop the cilantro and mix the cornbread batter.
Heat oven to 450 degrees.
Heat the oil/butter in a 10-inch skillet (stainless or cast iron) over medium heat. Once melted add the onions and cook for 5 minutes, adding a TB of water if they start to brown too quickly.
Add the chili powder, cumin, oregano and garlic to the onions. Stir and cook until fragrant, about 60 seconds.
Add the ground beef and with a wooden spoon, break it into pieces. Add 1/4 tsp. salt and 1/8 tsp, black pepper. Brown/cook the beef for 2-3 minutes, then add the black beans, corn, and diced tomatoes. Stir to combine. If you still have quite a bit of chili powder and cumin stuck to the bottom of your pan, pour in 1/4-1/2 cup of water to deglaze the pan. Cook the mixture over low heat to allow the added liquid to reduce.
Next, step away to prep the cilantro and cornbread mixture.
Return to the beef mixture and taste to check seasoning levels. You'll need to add around another 1/4 to 1/3 tsp of additional salt and a little more pepper. This dish should be well seasoned.
Once the mixture is fully cooked, remove from heat and add the cheese and cilantro. Stir to combine. Taste and add more salt and pepper. ANY TIME you add fat (which cheese is a fat) you dull the level of seasoning you had prior to that fatty ingredient. This is why it's important to taste EACH step while cooking and season in layers.
Spoon the cornbread batter over the mixture and gently spread into an even layer getting it all the way to the edges of the pan.
Bake until the cornbread is cooked through in the center, about 10-15 minutes.
Serve with sour cream and a big salad.
Notes
I make my own beans a day ahead of time so that this meal can still be finished in 30 minutes.
If you have a little time and don't want to use an organic boxed cornbread recipe, you can make your own. Just don't use more than 2 cups of batter.
This dish is very filling!
Adapted from Cooks Illustrated
https://www.realfoodgirlunmodified.com/
PAID ENDORSEMENT DISCLOSURE: In order for me to support my blogging activities, I may receive monetary compensation or other types of remuneration for my endorsement, recommendation, testimonial and/or link to any products or services from this blog.