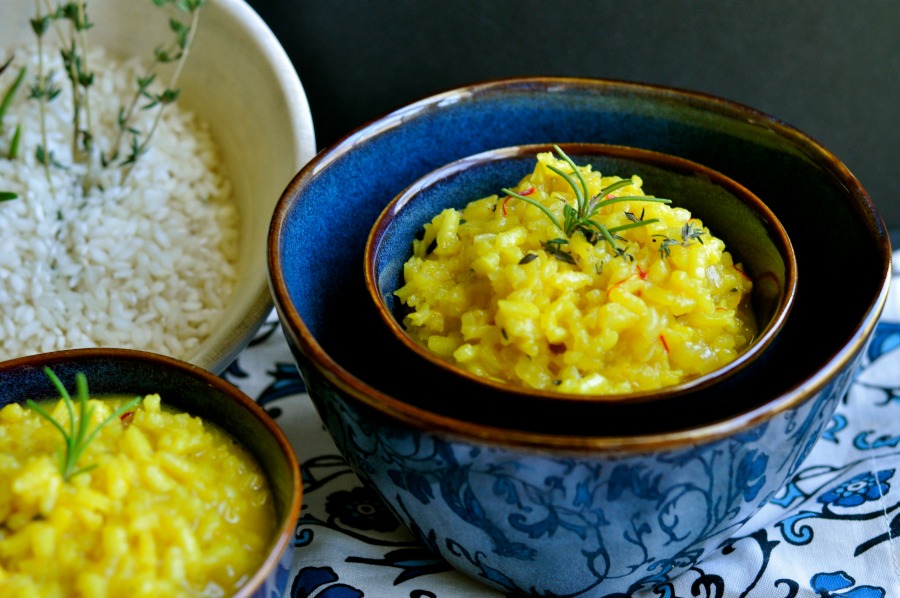 Risotto alla Milanese with Herbs

To Italians, a meal is more than just food…
It's an experience, an affair to be shared with family and friends. One bite of this risotto and I think you'll agree this is an experience to be shared with family and friends. That is, if you can tear your mouth away from your fork.
Risotto is a dish that is typically eaten prior to the main dish and is almost always associated with high end restaurants but in reality it is the quintessence of Italian home cooking and comfort food. A good risotto nourishes the soul.
Because of my culinary background, I've tasted a lot of risotto. I've had some that were simply OK, some that were pretty good and some that left me "needing a moment alone" while I regained my composure and let the strength return to my knees. This risotto falls into the latter category.
Risotto has a reputation of being a finicky dish. The truth is that a good risotto should not take you more than about 20-23 minutes to make. Not everyone wants to stand over a pot, stirring constantly for 30+ minutes, or so I'm told. 😉 Heck, there are even days where I don't want to stand over a pot at all, so I can relate. It is crucial that you make sure you have prepped all your ingredients before you start making the risotto. I teach my readers the importance of Mise en Place. That is a fancy French term for having all your ingredients, prepped, measured and ready to go in individual containers or piles. When it comes to risotto, trust me, and, prep every ingredient ahead of time. You won't be sorry.
Because this risotto is in the "Style of Milan" (alla Milanese) we'll be adding saffron. It is important that you get a good quality saffron for this dish. Your saffron should be a deep reddish orange and it is okay if it has some yellowish parts to it. The good news is that if stored properly in an air tight container, your saffron will last a long time. A little goes a long way, so a gram will get you through a few recipes that call for saffron. It is such an interesting spice to work with, and everyone should try it at least once. You can find decent Spanish saffron for about $8.00 to 12.00 a gram which is more than enough to make this dish 2-3 times.
Homemade chicken stock tastes best in risotto hands down. Just use your favorite recipe, or you can try mine if you'd like. Use fresh herbs, and chop them finely. A little will go a long way because you only want to lightly herbify (I'm 97.6% certain that is a real word) the dish, not have a competition with the saffron. My last bit of advice is to find a Parmesan cheese that you really enjoy. I once bought a really expensive Grana Padano, because my cheese monger said it would be more mild and was perfect for risotto. I ran home, whipped up some risotto with my new cheese, excitedly took a bite and was instantly frowning. Risotto should never make you sad. Never. You can use a straight Parmesan, a Parmigiano-Reggiano or even a Grana Padano in this dish. It really is up to you based on your personal taste preference just make sure that you like the cheese before you add it to the risotto.
This recipe makes four 1/2 cup (approx.) servings- double the recipe if you plan on making this your main entree and want to serve 4-6 people a nice sized bowl.
Let's cook!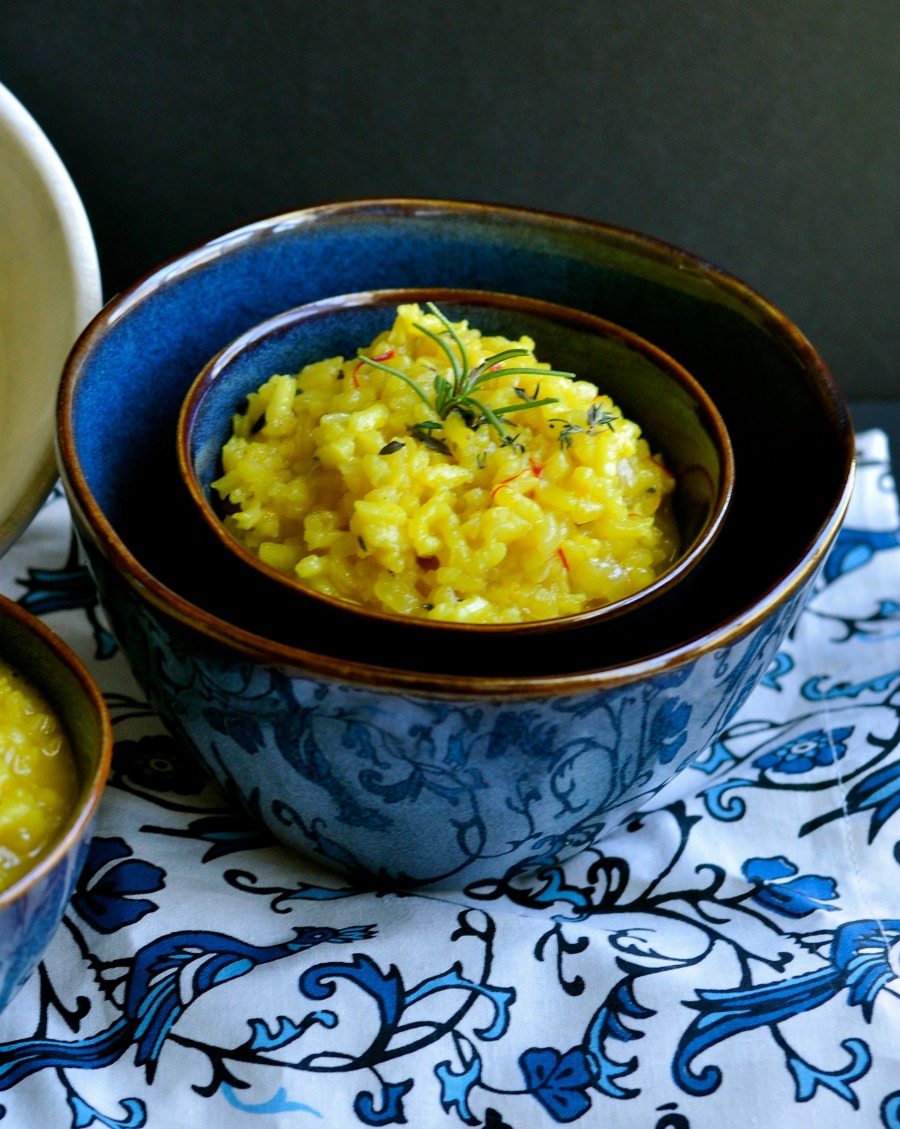 Risotto alla Milanese with Herbs
Ingredients:
4 cups of homemade chicken stock
2 cups of cold water
1/2 cup good white wine (please use one you would drink)
2 TB butter
2 TB tallow, lard, or olive oil (you won't be bringing the olive oil to 410 degrees so it won't start to deteriorate if you decide to use it in this dish)
1 medium yellow onion, diced small (1/4″) and not any larger or it will affect your cooking time
1-1/2 cups Arborio or Carnaroli rice (no substitutes)
1/4 tsp. saffron (a healthy pinch)
1 heaping TB butter (for finishing)
1 cup finely shredded Parmesan cheese (I usually shred 1-1/2 cups as you'll want to sprinkle some on top before serving)
Salt and freshly ground black pepper
1 tsp. freshly chopped rosemary
1 tsp. freshly chopped thyme
Instructions:
Prep and measure everything and set aside.
In a medium sauce pan, add the chicken stock and water and heat until it just starts to boil, immediately reduce heat to lowest setting keep the stock hot.
In a second medium sauce pan over medium heat, add the butter and tallow, lard or olive oil. As soon as the butter melts, add your finely diced onions and season with salt and pepper.
Sweat the onions careful to not add any color. You want the onions soft and translucent. About 3-4 minutes.
Add the rice, lower the heat to medium-low. Gently stir continuously to ensure each grain is coated with the fat. Cook for 3-4 minutes.
Add the saffron to the hot chicken stock. It should start to turn yellow.
Add the white wine and scrap the bottom of the pan as you cook down the alcohol. Use a solid wooden spoon for this task. Stir and scrap until the wine takes on a sweet smell and is almost fully absorbed by the rice. If you don't smell sweet, keep stirring and cooking.
Add enough of the saffron stock mixture to the pan until it covers the rice. Cook over a medium-high heat, stirring a few times per minute until the stock has absorbed into the rice.
Repeat this process two more times with the hot saffron chicken stock. When the third addition of the stock has absorbed and the rice is very creamy, bite a couple grains of rice to be sure it is cooked perfectly. If it is still a little crunchy, add a little more stock and cook the rice for another couple of minutes. When the rice is cooked perfectly, remove it from the heat.
Add the heaping TB of butter and put a cover over the rice OFF the heat. Wait 90 seconds. Lift the lid, add 1 cup of the Parmesan cheese, the fresh herbs and stir with your wooden spoon like crazy! The rice should be very creamy, with a little bit of sauce to it. If it is too stiff, like oatmeal, then add a bit more stock before serving. The dish should flow but hold its shape.
Serve immediately and top with the remaining half cup of shredded Parmesan and enjoy!
NOTE- you may have some stock left over, and that is perfectly normal. The rice dictates how much it needs so don't panic if you don't use it all. If your rice is absorbing the liquid too quickly but isn't cooking, lower your heat to medium, so you don't run out of stock and end up with a crunchy, undercooked risotto that will make you sad. If you have any questions before you tackle this dish, feel free to shoot me an email and I'll do what I can to help out.
PAID ENDORSEMENT DISCLOSURE: In order for me to support my blogging activities, I may receive monetary compensation or other types of remuneration for my endorsement, recommendation, testimonial and/or link to any products or services from this blog.