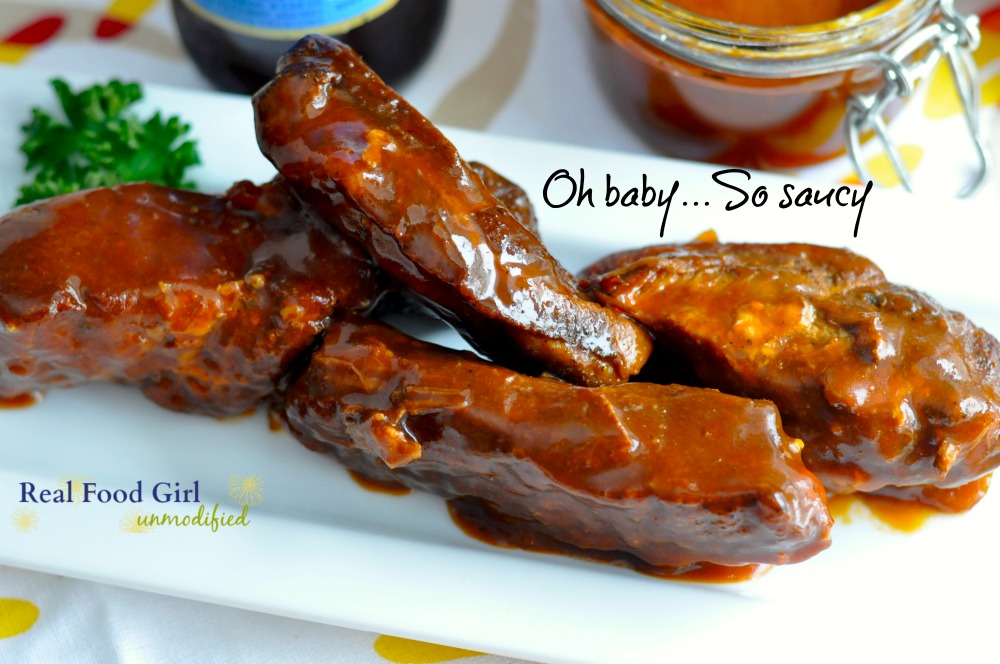 Slow Cooker Country Style BBQ Ribs
I have a serious foodie crush on barbeque ribs. My favorite have always been pork ribs. They are so tender, fall apart in your mouth, juicy and tangy and saucy. Yessum! Love me some ribs.
This dish was The Man Child's (My bonus child) favorite, growing up. I have a photo of him when he was 8 years old, sitting at the kitchen table with a huge grin and a face covered in BBQ sauce. It still makes me smile just thinking about it.
I typically buy about 3-4 pounds of Country Style ribs for this dish so that we can have lots of left overs. This is one of the few dishes that actually tastes just as good reheated as it does fresh out of the slow cooker. I just had the last two ribs for lunch today. I love BBQ slathered lunches, don't you?
For my slow cooker, I have to put this on the low setting for 8 or 10 hours even though they're ready in 4-6 hours. Cooking them on one of the only two low settings I have renders a much more tender, moist rib. If I cook it on high for 4-6 hours (the only settings I have on high on my slow cooker), they get tough and resemble the sole of my beach flip flops. Even covered in BBQ sauce, flip flops are NOT tasty food. When you're making these, they will release a fair amount of fat and juices into the crock pot, so I don't use a ton of sauce while they're cooking. You'll need about 3 cups of sauce total. About 1-1/2 cups for the ribs while they're cooking and the same amount to brush on the ribs right before serving.
I used my recipe for BBQ sauce but added a tsp. of yellow mustard to it as a nod off to South Carolina. They like their mustard down here. I'm not a huge fan of yellow mustard, but my sauce is zesty and sweet enough to handle it. 🙂 To give these ribs an extra layer of flavor, I sear them in a wicked hot skillet first, and then lay them on a layer of chopped onions in the slow cooker. Oh you guys are going to love these! Share in the comments below what you'd serve along side these.
These are completely boneless country/spare ribs- click HERE to see an image if you're unfamiliar with this particular cut of meat.
Slow Cooker Country Style BBQ Ribs
2014-02-14 17:53:53
Serves 6
Tender boneless country style pork ribs slow cooked with a zesty, finger licking BBQ sauce. Hold the napkins.
Ingredients
4 pounds of pastured country style (boneless) pork ribs
3-4 cups homemade BBQ sauce (links to my recipe in the post above)
1 large onion, diced medium
1 tsp. smoked paprika
1 tsp. ground cumin
1/2 tsp. ground mustard
1/2 tsp. ground ginger
1/2 tsp. onion powder
1/4 tsp. garlic powder
Salt and Pepper
Instructions
Remove pork from package and pat dry with paper towel. Season liberally on all sides with unrefined sea salt and freshly ground black pepper.
Dice onion and put in the bottom of the slow cooker.
In a small bowl add smoked paprika, cumin, ground mustard, ground ginger, onion and garlic powders and stir to combine. Set aside.
Preheat a large skillet over medium high heat and add 1TB bacon grease or coconut oil.
As soon as the fat melts, add 3-5 ribs to the skillet and sear for about 30-45 seconds on each side. (Note- if the meat doesn't want to release from the pan, it's not ready to turn, give it a few more seconds before flipping to sear another side)
Place seared ribs into the slow cooker on top of the diced onions.
Continue searing remaining ribs, place in the slow cooker and sprinkle the spice mixture over the ribs, and then pour on about 1-1/2 cups of sauce. No more than 2 cups total. Give the ribs a careful 'stir' to ensure they're all coated with the spices and the sauce. Cover slow cooker and cook on LOW for about 6-8 hours. Ribs are typically done within 5, but I let them go for at least 6.
Remove ribs from slow cooker and brush with remaining fresh BBQ sauce and serve.
Store in an airtight container in the fridge for up to 5 days.
https://www.realfoodgirlunmodified.com/
PAID ENDORSEMENT DISCLOSURE: In order for me to support my blogging activities, I may receive monetary compensation or other types of remuneration for my endorsement, recommendation, testimonial and/or link to any products or services from this blog.