Not Yo Mama's Potato Salad
I have a sensitive palate. It's easily assaulted, intensely opinionated and it rarely fails me when trying to predict all the ingredients in a dish from a restaurant that I wish to duplicate at home. Because of this, I sheepishly admit that my homemade potato salad was rather simple and unassuming. I am a firm believer that simple food is good food. Taking a basic potato and using a few simple ingredients to enhance the flavor of the potato and make it shine is the mark of a good chef.
While in culinary school I learned about a Student Culinary Competition Team that competed on a national level for the American Culinary Federation. I knew I wanted in, but I'd only been in school for 8 weeks when the try-outs were announced. Surely only students who had been there for 2 or more years were going to try out, and, who was I to think I possessed the skills required to make the team? I approached my current instructor and asked him to truthfully assess my skill set and candidly tell me if he felt I was good enough to try out, or if I was just stark raving mad for even entertaining the thought.
Two weeks later I was trying out for the team. I felt woefully out of my league, noticing that most of the students in the kitchen were part of the 2 year program and had a lot more experience than I. I also knew that if we were going to be tested in knife cuts, that once I pulled out my knife, I'd find my zone and I'd be able to hold my own–at least for the knife skills assessment. Thankfully the first test was a knife skills assessment and sure enough after the first few cuts of a potato, I was deep within my element and neither my knife nor my hands failed me. I received high praise for all my cuts. Whew!
The second test was to butcher a chicken, and perfectly debone and sauté the breast using nothing but the oil of our choice, salt and pepper. We also had to make mashed potatoes using salt, white pepper, butter and milk or cream. I have to admit my heart sank because I never sautéed chicken breasts; TSM and I were dark meat people. I also tended to finish any meat off in the oven after browning it on the stovetop. I just didn't finish meats on the stovetop because I stunk at it. Meat was always either overcooked or raw in the middle. I had decided that my potatoes were going to have to be really awesome to make up for the fact that my chicken breast was probably going to be a disaster. It would be seasoned well, but I didn't trust my lack of experience in cooking a chicken breast. No, these mashed potatoes were going to have to blow the socks off the Chef judging each student. Thankfully I possess a remarkable gift; I can make a potato taste amazing.
I'll abridge my story so that we can move on and discuss this spectacular potato salad recipe. I knocked the chicken breast out of the park. The Chef said my potatoes were some of the best he'd ever tasted and I made the team. I also successfully managed to not let my head swell an additional 2 sizes from the pride and excitement I felt in making the competition team. That's probably more amazing than the fact that I made the team.
I tell you this story so that you understand how important it is to make food taste really good without adulterating it with too much of one ingredient or another. Simple is best. That maxim is evident in my cooking. It also explains my no-frills potato salad recipe. When I tried this recipe that I'm about to share with you now, I had to throw that apothegm out the window.
I found this recipe on a lovely blog called the Brown Eyed Baker. I've tried many of Michelle's recipes and with some adapting to meet my Real Food requirements, or to just make it a bit healthier I've walked away with a handful of recipes that I use on a regular basis.
Her potato salad recipe contained things that I typically don't care for in a potato salad. I don't like raw onions, or raw green bell peppers. I don't like big chunks of ingredients that provide opposing textures in a potato salad because it offends my palate. Ha! I realize that made me sound like a snob. Well, if the food shoe fits… I decided to give this recipe a try because it contained two magical words: bacon grease. That's right I said bacon grease. This recipe contains not only bacon but one other very important bacon related ingredient; the bacon grease. If you're afraid of bacon grease, it's time to suck it up and make this recipe and then laugh about your unwarranted fear of bacon grease. I'm asking you to step outside your comfort zone and partake in what is quite possibly the most divine potato dish I've tasted. Ever.
I made a few adjustments to the recipe and this is now my go-to potato salad recipe and everyone that has eaten it has loved it. The Brown Eyed Baker aptly named this "Best Ever Potato Salad" and she is absolutely correct. It really is the best. Ever!!
If you are like me and you like simple when it comes to potato salad, or you like it when the potatoes are cooked to mush and that mush mixes with the mayo and you get a thick, gloppy, pile of starchy boringness with small remaining hunks of mealy potatoes, then keep your hands and feet inside the ride at all times because this potato salad is nothing like that. This potato salad is going to wow and amaze you. This potato salad might just become your next best friend.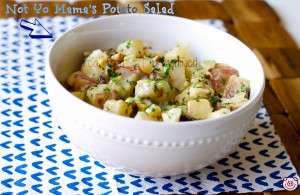 Best Ever Tater Salad
Recipe adapted from: The
Brown Eyed Baker
Servings: 8 Time: 1 hour
INGREDIENTS:
5 cups organic red potatoes–unpeeled and diced into 1/2″ cubes
10 slices bacon, cut into 1-inch pieces
1/2 cup to 3/4 cup homemade or organic mayonnaise
1 scant TB Dijon mustard
2 teaspoons organic cane sugar–this is NOT optional and is needed
1 tsp. kosher salt
1/4 tsp. freshly ground black pepper
3 hard-boiled eggs, chopped (feel free to add 4 eggs if you love hard-boiled eggs)
1 stalk celery, diced small
1 small onion, diced small
½ green pepper, diced small
1 TB freshly chopped organic flat-leaf parsley
DIRECTIONS:
Fill a large bowl halfway with water and add a few cups of ice cubes. Set aside.
Boil the potatoes in well-salted water until they are just tender–insert a paring knife into a potato and it should release fairly easily. Do NOT over cook these potatoes or you'll end up with mush salad. Not potato salad. Drain the potatoes and then quickly plunge them into an ice bath for 30-60 seconds, drain again and set aside.
Meanwhile, cook the bacon and onion in a skillet over medium heat until the bacon is cooked tender, not crispy and the onions are nicely caramelized . Remove bacon and onion mixture with a slotted spoon and place on a paper towel to drain. Pour off all but 2 tablespoons of the bacon drippings in the skillet. You may need to pour off excess grease while you're cooking the bacon and onions. Turn off the burner.
Add 1/2 cup of the mayonnaise, mustard, sugar and salt to the reserved bacon drippings in the skillet and whisk to combine. I do this over the warm burner. Homemade mayo will yield different results as it does separate slightly. It's not mixed by machines like grocery store mayo, so keep that in mind. Your salad will not look like the typical white, gloppy overly mayonnaised potato salad you're used to.
In a large bowl, combine the potatoes, eggs, celery, and green pepper. Pour the mayo mixture over the ingredients and gently stir to evenly coat. Stir in the bacon and onion mixture. Fold in the remaining 1/4 cup of mayonnaise and the chopped parsley.
Cover and refrigerate for at least 3 hours before serving.
This recipe is featured over at Everyday Mom's Meals. Each Sunday, Krista invites food bloggers to share a great recipe for her Church Supper Blog Carnival so please be sure to stop on by!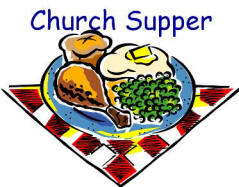 PAID ENDORSEMENT DISCLOSURE: In order for me to support my blogging activities, I may receive monetary compensation or other types of remuneration for my endorsement, recommendation, testimonial and/or link to any products or services from this blog.