Crazy Chicken with Angel Hair Pasta
Chicken. It's one of those versatile proteins that goes with just about anything. It's also an ingredient that leaves us scratching our head as we take a package out of the freezer and wonder to ourselves; "What am I going to make with this?"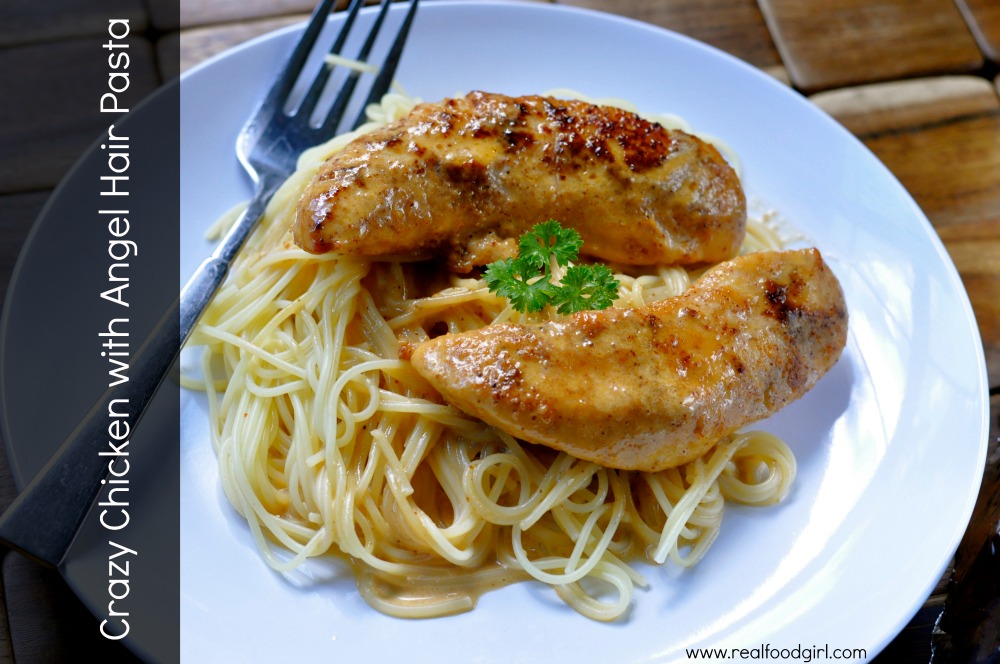 We've all been there. It strikes fear and anxiety in the best of cooks. It's a question that everyone has asked at one point in time when it comes to looking at a package of chicken when the dinner hour is fast approaching. We love our chicken, but we're tired of the same ol'-same ol', and we long for something new, exciting, and just plain different. After all, there are only so many times that you can have baked chicken, fried chicken, chicken nuggets and, if you were like me a few years ago, Shake and Bake. Boy. Did we LOVE our Shake-n-Bake. I think I'll have to do a GMO-Free Shake-n-Bake recipe sometime.
Anyway, one day about 2 hours before dinner I was at a loss as to what to make for dinner. I had thawed out some chicken tenders, (also known as cutlets down here in the south) of which I never buy. I usually buy thighs for Stir Fry, or breasts for something like my Chicken and Broccoli Fettuccine, but it is usually only by accident that I grab a package of tenders. They're just not my thing.
So here I was with this package of cutlets/tenders and no idea what to do with them. I wasn't in the mood for chicken nuggets or chicken tenders (breaded and baked or fried) and, The Stud Muffin is not a tender/nugget kind of man. Nope. Not at all. But dinnertime was fast approaching and I was drawing a complete blank. It was time to start perusing the interwebs to find a delicious, quick chicken dinner idea. And boy, did I find it!!
This dish is so easy, and so quick to make it's crazy. It's also crazy good. Because of how crazy easy it is to make, and how crazy quick it comes together and how crazy tasty it is, I decided to call it Crazy Chicken. I've made this dish four times so far, and each time The Stud Muffin says, "wow, for being so simple, this is really good." Right you are Studly Muffin… Right you are.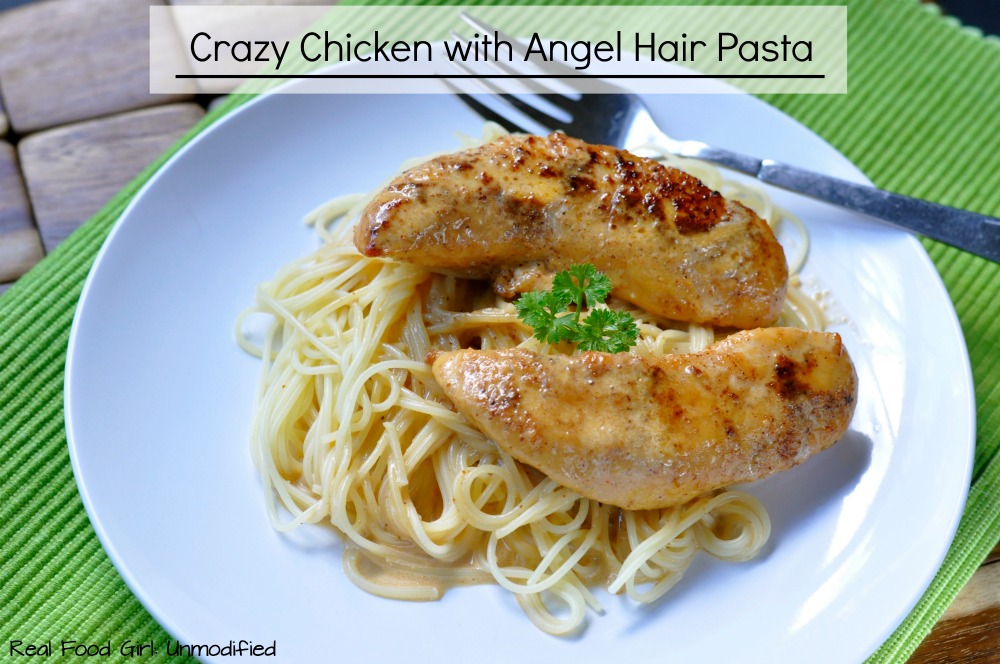 I found this recipe over at Plain Chicken. It's a food blog with eleventy-billion chicken recipes run by a gal named Steph. She actually blogs about more than just chicken recipes, but her recipe for Chicken Lazone caught my eye. It was fast, it used chicken cutlets/tenders and it involved pasta. The Stud Muffin loves pasta. I love chicken, and I like easy, quick meals in the kitchen since I'm known for taking my sweet time cooking. When I can find something crazy fast and simple and crazy good, I jump on it. I wasn't feeling the name Chicken Lazone, so I took the liberty of changing the name.
I'm sure you could try this with a different noodle, such as bow tie pasta, a mini penne, or even linguine noodles, but we like the angel hair pasta. I also pounded out my chicken cutlets so they'd cook faster, more evenly and be even more tender. I used a little less chili powder because of all the dried spices; I like that one the least. It has always seemed bitter and astringent-like to me, so I went easy on that and increased the other spices slightly.
Crazy Chicken with Angel Hair Pasta
2014-11-03 16:11:10
Serves 4
A crazy good, crazy fast, crazy easy recipe that your whole family will love. This is comfort food done fast.
Ingredients
Use Non-GMO and/or organic ingredients whenever possible.
Please read NOTES below before starting.
1 tsp. salt
1  tsp. chili powder
1 1/2 tsp. onion powder
2 tsp. garlic powder
1/4 tsp. cayenne pepper
1/4 tsp. black pepper
2 lb. chicken tenders, pounded slightly with a meat mallet
2 TB butter
2-3 TB clarified butter or ghee
2 cups heavy cream  (for a lighter dish, use 1 cup of cream and 1 cup of homemade chicken stock- keep in mind this will change the taste and consistency of the sauce)
1 standard package of organic Angel Hair Pasta cooked per package directions to al dente
Instructions
Combine salt, chili powder, onion powder, garlic powder, black pepper and cayenne pepper. Sprinkle over both sides of chicken tenders.
In large sauté pan, melt 2 TB of the clarified butter over medium-high heat.  Cook the pounded chicken tenders until done, about 4 minutes. (add the final TB if needed to finish cooking the chicken)
Remove the chicken and set aside on a plate.
Pour the cream and add the 2 TB of butter into the skillet.  Lower the heat and simmer until the sauce thickens, about 3-5 minutes. This will take 5+ minutes if you dilute the cream with stock to make a lighter version of this dish.
Once sauce thickens, add drained and cooked pasta, stir to coat, add the chicken back to the pan, cook to warm through, about 2 minutes, and serve immediately.
Notes
This sauce thickens quickly, so keep extra stock on hand, or just add a little pasta water to the sauce to loosen it up if it gets too thick once you add the pasta.
The second and third times I made this dish, I pounded out the tenderloins slightly, so they were even thickness throughout. Much tastier that way! 🙂
Adapted from From Plain Chicken
https://www.realfoodgirlunmodified.com/
PAID ENDORSEMENT DISCLOSURE: In order for me to support my blogging activities, I may receive monetary compensation or other types of remuneration for my endorsement, recommendation, testimonial and/or link to any products or services from this blog.