Spicy Orange Ginger Soy Chicken Stir Fry
Stir Fry is one of our favorite go-to dishes here in Casa de la Real Food Girl. It's simple, filling and most of all it really is easy.
You may not know this, but stir fry isn't a dish. It's a cooking technique. Of all the cooking techniques I learned while attending culinary school, I'd have to say that learning stir fry was the most fun, and the most challenging. You have to master the flame when you stir fry, and you can't stand around and twiddle your thumbs like you can when you're braising or poaching.
The Chinese value balance and harmony. Balance is very important to their cuisine You've heard about Yin and Yang, but you have probably never thought about them when it comes to putting together a dish. Yin is feminine, dark, yielding. Yang is masculine, bright, hard. Each dish in the Chinese cuisine will be balanced between Yin and Yang. Take stir fry beef and broccoli. The beef is yin and the broccoli is yang.
It is not possible to make a true stir fry without a decent wok. I prefer a carbon steel wok with a flat bottom simply because I have a glass stove top, and not a gas range. if I did, I'd have a round bottomed, hand hammered wok with a wok ring.
Before you begin, make sure that you have some wok tools. If you don't have a wok spatula or wok ladle, at least have 2 bamboo stir fry tools. The number one rule in stir-frying is PREPARATION. Or, as you've heard me say before; Mise en Place. Make sure all your veggies, aromatics, sauces/marinades and meats are chopped, measured out, in little containers and ready to go. You'll be dealing with a screaming hot wok pan and you will not have time to run to the other side of the kitchen to prep as you go. Not gonna happen.
There are two types of heat for the wok. Off and full blast. As you can see there is no in between. Now the average residential kitchen range doesn't have the BTUs (A British Thermal Unit (BTU) is the amount of heat energy needed to raise the temperature of one pound of water by one degree F) to properly stir fry, but it'll get close enough for what we need. It's probably a good thing that our stoves don't get that hot because a true Stir Fry cook has had years of practice to perfect their craft. 95% of the people in my class burnt their first attempt at stir frying within 10 seconds of putting ingredients into the wok. You have to be in charge of the heat and work quickly.
Because there is a little bit of skill involved with stir frying, I've taken out some of the traditional steps to ensure that you end up with a perfectly cooked and delicious stir fry. No burnt aromatics, no oil splattering all over your kitchen, and no fear of ruining your dinner. You'll still need to prep everything in advance, but I'm going to keep it really simple for you guys. If you haven't attempted stir fry yet, you're going to seriously love this!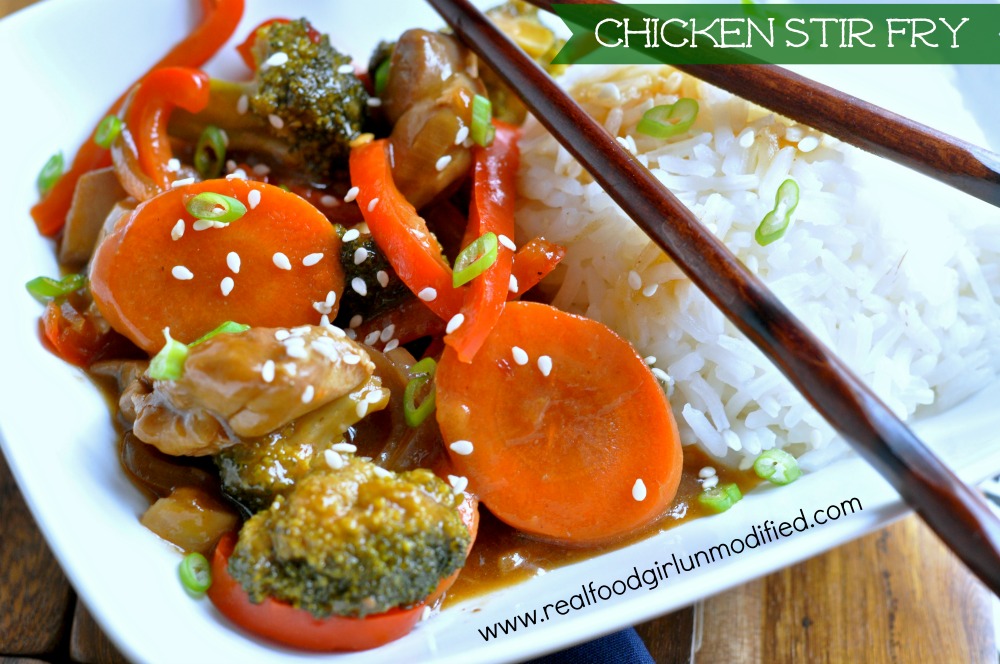 I typically serve our stir fry with whole wheat organic linguine noodles, or organic Jasmine rice (sometimes cooked in coconut milk) or rice stick noodles. I decided to use an organic soy sauce (imported) and some coconut aminos. The coconut aminos are completely unnecessary if you have an organic soy sauce, but I wanted to change things up. Many soy sauces are made with GMO soy. Soy is one of the top 10 GMO crops in the US. Soy isn't the health food it's praised as being, but when fermented it actually does become a beneficial food and the only way I'll consume soy is if it is fermented AND non-GMO/organic. If you can't find organic soy sauce, give the coconut aminos a try. It will taste slightly different from soy sauce, but many state the difference is negligible.
Okay, let's get to wok. Ha-ha! See what I did there? Man I love chef/cooking humor. I need to point out that the broccoli in the photos aren't at all as bright green as they were the day I made this for our dinner. The left overs had been sitting in the fridge for a couple days until I was able to run to town and get more rice for the photos. The poor broccoli lost it's rich color whilst sitting in my chill chest. Definitely do NOT cook your broccoli until it resembles little green vegetable shaped army men. Army green no beuno. Bright, vibrant green, muy beuno.
Just in case you are unsure how to properly julienne an onion which this recipe calls for, THIS should help you out.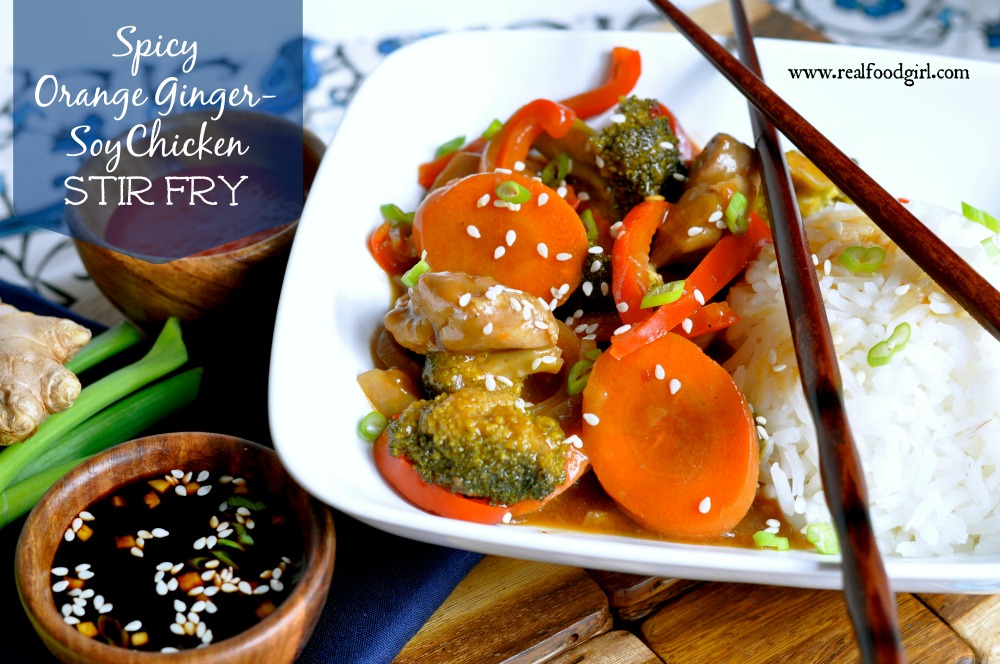 Spicy Orange Ginger Soy Chicken Stir Fry
2014-02-19 23:00:04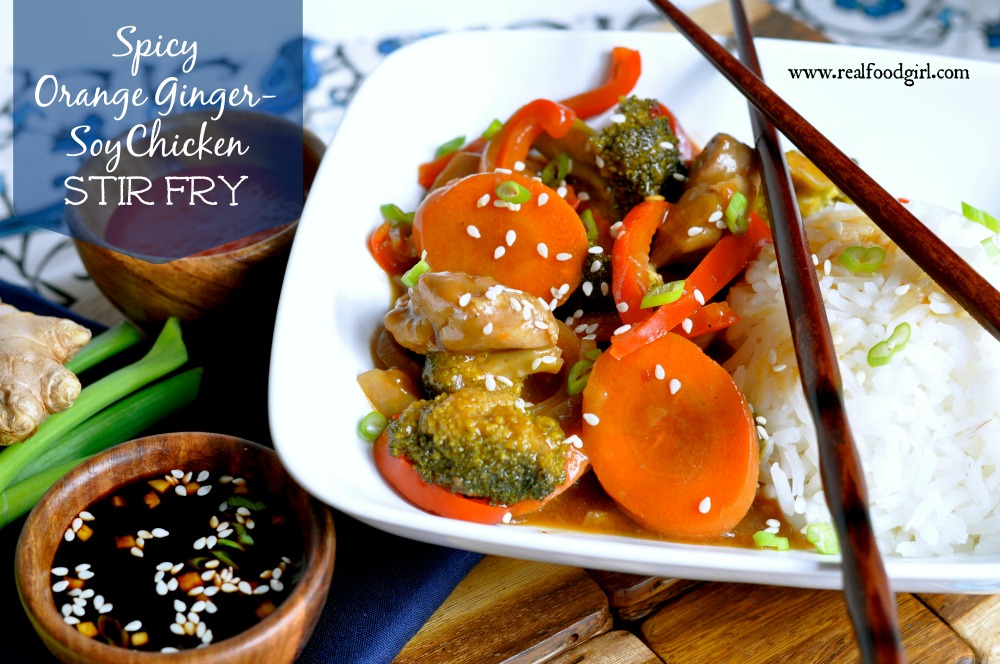 Serves 4
For the Marinade/Sauce
1/4 cup organic soy sauce
1/4 cup coconut aminos (if you don't have this, just use 1/2 cup of soy sauce)
3/4 cup freshly squeezed orange juice
1/4 cup chicken stock
1 TB honey
1 inch fresh ginger, peeled and chopped into a fine dice
1 clove garlic, peeled and smashed
1 tsp. chili paste OR 1/2 tsp. Sriracha or 1/4 tsp. red pepper flakes plus another 1/4 tsp. of Sriracha sauce or chili paste
2 scallions, sliced thin on the bias
For the Stir Fry
4 boneless, skinless chicken thighs or 2 boneless, skinless chicken breasts (or combination of the two) cut into 1/2" strips
2 carrots, sliced 1/4 inch thick on the bias (at an angle)
1 red pepper, sliced into 1/4" thick julienne strips
2 heads of broccoli, trimmed and cut into bite sized florets
1 medium yellow onion, peeled, halved crosswise and cut into 1/4" julienne strips. (see link to video above in the post)
2 tsp. organic corn starch or arrowroot powder added to 1/4 cup cold water (this is called a slurry), Stir to combine.
coconut oil- about 2-3 tsp.
Instructions
In a large bowl, add all the marinade ingredients and stir to combine. Pour 3/4 cup of the marinade into a separate bowl, add the 1/4 tsp. Sriracha sauce, stir and set aside.
To the large bowl, add the chicken pieces, make sure they're covered by the marinade and cover with plastic wrap and set in the fridge to get all happy, for 1 hour.
Meanwhile, prep all your veggies, placing each prepped veggie into a separate container. I like to line up all containers on a large sheet pan. Prep the water and corn starch and set on the sheet pan. Remove the chicken from the fridge and drain from the marinade.
Get all your tools ready!
Put your wok over high heat, add the coconut oil. Working quickly and using your bamboo tools, or wok spatula, carefully add the chicken to the wok and immediately begin tossing and stirring the chicken so that it doesn't stick or burn. Cook until no pink remains and remove wok from heat, and put the chicken into a bowl and set aside.
Return the wok to medium-high heat, add another teaspoon of coconut oil. Add the carrots and onions and red peppers to the wok. Stir and toss the veggies constantly and cook for about 2 minutes. Add the broccoli and cook until bright green and crisp tender, about 2 minutes. Add the chicken back to the wok and stir to warm through. Lower heat to medium, and push contents of the wok to the side creating a well in the middle. Quickly give the slurry (cornstarch and water mixture) a good stir and add it to the 3/4 cup of marinade you set aside earlier. Slowly pour the slurry/marinade mixture into the wok while stirring to keep it from clumping.
Stir well to combine and coat everything in the sauce and turn off the heat.
Serve with Jasmine rice, rice noodles or linguine noodles.
Notes
I did make this recipe a little saucier than I normally make our stir fry in case you happen to like a decent amount to coat your rice or noodles. If not, just reduce the amount of marinade you set aside to 2/3 of a cup or even 1/2 cup. 🙂
https://www.realfoodgirlunmodified.com/
PAID ENDORSEMENT DISCLOSURE: In order for me to support my blogging activities, I may receive monetary compensation or other types of remuneration for my endorsement, recommendation, testimonial and/or link to any products or services from this blog.