30-Minute Mondays– Fettuccine Alfredo with Chicken and Broccoli
Wow! It's already the first full week of May. This year is more than a third of the way over. Can you believe it? We had a small cold front move in last week which meant I was in the mood for comfort food. One of my all-time favorite dishes is Fettuccine Alfredo. I love a tasty white sauce. And if it has cheese in it, even better. This is a simple recipe that is full of flavor, tender chicken and beautiful green broccoli. This is one of only two or three ways that The Stud Muffin (TSM) will even eat broccoli. It's the Will Wheaton to his Sheldon Cooper.
This dish CAN be done in 30 minutes if you organize a few things before you get started. Fill a large pot with cold water- put on a lid, and (keeping an eye on it) bring it to a boil while you wash and chop the broccoli, measure the cream, grate the Parmesan, and cut and season the chicken. Once it starts to boil, remove the lid sprinkle in a TB of sea salt. Yes, I said a TB of sea salt. The key to any good pasta dish is a well-seasoned pasta. The water should taste like the ocean- but not so salty that it tastes like a salt lick. Okay, so sprinkle in the salt, add the pasta and cook it to around 1 minute under the suggested cooking time. You want it a little more than al dente because it'll finish cooking in the sauce.
For this recipe you will need a large pot to cook the pasta and blanch the broccoli (save the water to par boil the broccoli) a bowl with water and ice (and enough room to plunge in the broccoli to shock it, seal in the bright green and stop the cooking) and one 10-12″ skillet.
The other day when I was preparing this for dinner, TSM came down from his den, inhaled deeply a few times and without even knowing what was for dinner said "I'm going to eat the crap out of that!" I laughed out loud. Then he asked what we were having, I told him and he said, "Yup, just so you know, I'm going to totally eat the crap out of that." He says that's a given for most of my food (we have had a few epic failures in kitchen de Real Food Girl), but I think this is the first time he's ever said he was going to eat the crap out of something. Especially something with broccoli.
I really enjoy quick, skillet dinners because they don't heat up the kitchen too badly, so they can be whipped up during cooler summer days where eating a pasta dish won't make you feel like you just swallowed a lead balloon. We do typically eat dishes like this more frequently during cooler months, but sometimes a girl just wants to make her husband say "I'm going to eat the crap out of that". Can I get an "Amen"?
You gotta tell me because I know that typically people either love or hate them– Do you love Alfredo and other white cream sauces for your pasta dishes? If so, what's your favorite?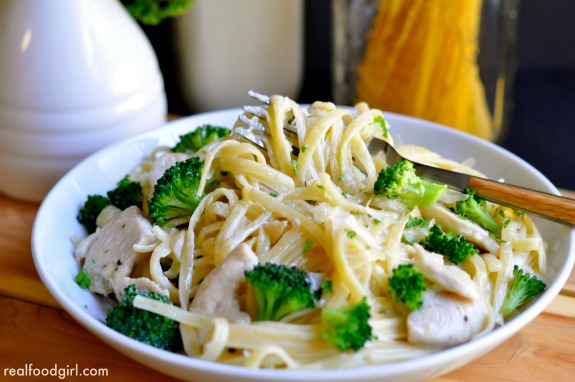 Fettuccine Alfredo with Chicken and Broccoli
2014-05-04 01:10:14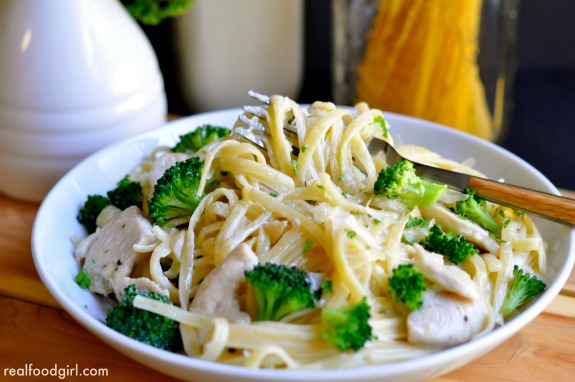 Serves 4
A crowd pleasing dish that has it all.
Ingredients
1 pound fettuccine or linguine noodles. I like organic pasta
2 cups whole cream (also known as heavy cream) Organic, or pastured is best
2 cups Parmesan cheese, grated (I've also used parmigiano reggiano)
1 boneless skinless chicken breast half and 2 boneless skinless chicken thighs, cut into slices or 1 inch chunks- or two chicken breasts- three if you have hungry teens. 🙂
2 cups (about 2 heads) of broccoli, trimmed and cut into bite sized pieces- more if you really like broccoli
1 TB and 1 tsp. cooking fat of your choice, divided- I like to use a combo of clarified butter and coconut oil
1 shallot, diced
1 clove of garlic, minced
pinch of ground nutmeg
1 bay leaf
1 TB fresh parsley, finely chopped
Sea salt and freshly ground black or white pepper
1 cup RESERVED pasta water (to stretch your sauce a little further)
Large bowl of water and some ice (to shock the broccoli)
Additional cheese for garnish if desired
Instructions
Prep your chicken and set aside.
Prep your shallot, garlic, parsley, place into small prep bowls and set aside. Grate and measure the cheese and set aside.
Measure out the cream, and set aside.
Bring a large stock pot of water to a boil. When at a full boil, add 1 TB salt then add the pasta. Cook until just al dente. It will finish cooking in the sauce. DO NOT discard the pasta water.
Meanwhile, preheat a 12" skillet over medium-high heat, add the fat of your choice- once melted add the chicken and season with salt and pepper. About 1/2 tsp of salt and 1/4 tsp. of pepper. Cook the chicken, stirring frequently until cooked through. Using a slotted spoon remove from pan and set aside.
Return the skillet to medium heat, add the tsp. of oil and the diced shallot. Cook, stirring constantly until begins to soften. Add the garlic and cook until fragrant, about 30 seconds.
Add the cream, nutmeg and bay leaf. Stirring almost constantly bring to lazy boil (not a rolling boil). Reduce heat immediately to low. Stir constantly to make sure the cream doesn't burn on the bottom of your skillet, and continue to simmer the cream until it reduces and thickens slightly, about 2-3 minutes.
When the pasta is done, lower the heat to medium-low, remove the pasta with a pasta spoon and put the pasta in a bowl**. Scoop out at least 1 cup of the pasta water and set aside.
Add the chopped broccoli to the pot of pasta water on the stove, and cook for about 2 minutes, until just tender.
Using a slotted spoon, remove the broccoli and plunge into the water-ice bath to stop the cooking. Keep in the icy water for at least 30 seconds. Drain the broccoli well and set aside.
Add the pasta to the cream sauce and stir to combine. Add the cheese and stir to combine. If the sauce is too thick or there doesn't seem to be enough, slowly add the reserved pasta water until the desired consistency is reached. Add the chicken and broccoli and cook until warmed through.
Add the chopped parsley. Garnish with more parmesan and serve with a big salad and some tasty sourdough bread.
Notes
Sometimes I have really thirsty pasta and have ended up adding a bit more cream, or milk or even parmesan to this dish before I serve it. It should be slightly saucy, but not swimming in sauce. Any left overs can be refrigerated in an airtight container and warmed gently, with a little water or milk in a saucepan.
**If the cream sauce is thickened and reduced a bit at the same time that your pasta finishes cooking, you can just add the pasta to the cream sauce, then continue on to step 9 and skip adding the pasta in step 11, just add everything else listed in step 11.
https://www.realfoodgirlunmodified.com/
PAID ENDORSEMENT DISCLOSURE: In order for me to support my blogging activities, I may receive monetary compensation or other types of remuneration for my endorsement, recommendation, testimonial and/or link to any products or services from this blog.