Paprika Chicken with Smashed Taters & Gravy
Hands down, this is probably one of my favorite meals from childhood. My grandmother made this for Sunday dinners back when we used to go over to my Grandparents house after church on Sundays. I truly miss those times. I'd almost forgotten that a LARGE bottle of ketchup was present at every Sunday dinner. I swear my grandfather would drink the stuff if allowed. One year everyone bought him a bottle of ketchup and he was thrilled! Yeah, I know. It's kind of gross that we put ketchup on every meat. You'll be happy to know that TSM (The Stud Muffin) broke me of that habit very early on in our relationship.
I hope to resurrect the Sunday dinner with my grand kids. There is just something fun about that time shared around the dining room table! Do any of you guys still have Sunday dinners? What do you do to make them special?
I adore this chicken dish for several reasons. The first is that it brings back fond childhood memories. The second is that it is soul satisfying. The third is that it contains gravy. Potatoes were invented as a gravy delivery system. I've already shared here that I could live without potatoes, but I can't live without gravy, so potatoes and I have an understanding. They understand I can live without them to an extent and I understand they pair really well with gravy.
Now that I think about it, I love gravy about as much as I love bacon. I have no qualms about spooning some gravy over my steamed veggies, my meat AND my po-taters. Nope. Not one qualm.
You'll have to let me know what you think of this dish. I believe my Austrian grandfather was the inspiration behind this dish. Hungarian paprika is one of my favorite spices and Hungary and Austria do share a border so I have a feeling my grandmother recreated this dish after seeing her mother-in-law make it a few times.
You'll need some homemade stock on hand for this recipe. As always, feel free to use my recipe if you don't have one. I make stock about 2 times per month. Stock is filled with nutrients our bodies crave, so I try to make an effort to have homemade on hand at all times. Sometimes I run out, and/or I get attacked by a swarm of lazy-bugs and I end up with a box of low sodium organic stock. I don't care for the several hidden sources of MSG in most organic stocks, so I am making a concerted effort to not purchase boxed stocks very often.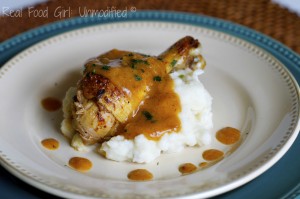 Paprika Chicken
Recipe by: Real Food Girl's Grandma Serves: 4 Time: About 1 hour Preheat oven to 350 F
INGREDIENTS:
1 whole organic chicken, cut into 8 pieces (2 breasts, 2 legs, 2 thighs, 2 wings, keep the carcass for stock!!)
1 medium onion, halved and cut into julienne strips

2-3 cups homemade organic chicken stock
2 tsp. sweet (Hungarian) paprika
Salt and Pepper, TT (to taste)
Olive oil
3 Russet potatoes, cut into 1-2″ pieces (peeled or unpeeled, just hack 'em up and toss them into cold salted water)
5 TB organic butter- room temp
4 TB organic sour cream or Greek yogurt- room temp
Approximately 1/2+ cup of room temperature cream or half and half
1/2 tsp. corn starch
1/4 cup cold water (combine with corn starch)
DIRECTIONS:
Rinse and pat chicken dry. Season liberally with salt and pepper on all sides. I even lift the skin and toss some salt under the skin for extra flavor. Drizzle each piece of chicken with olive oil and set aside.
Preheat large oven-proof skillet over medium-high heat. Drizzle in 1 TB or so of olive oil. When oil starts to shimmer, quickly, but gently add chicken pieces and brown well on both sides until GBD (Golden Brown Delicious) about 3-4 minutes per side. When the chicken willingly releases from the skillet, turn it over and brown that side.
When chicken is finished browning, sprinkle liberally with paprika on both sides and then place the skillet in your preheated (350) oven and bake until internal temp reads 155-158 degrees and/or juices run clear when meat is pricked.
MEANWHILE- boil potatoes in well-salted water until tender. Timing is everything when making mashed potatoes with meat, so once cooked, drain potatoes and add some of the cream, the butter and the sour cream to the pan and mash the potatoes with a hand mixer or potato masher. Taste and adjust the seasonings. Add the rest of the butter, cream and salt and pepper the potatoes- whatever is necessary to get the potatoes to the way you like them.
When chicken is cooked, carefully remove skillet from oven and place over medium heat on burner. Remove chicken, set on a plate and tent with aluminum foil. Carry-over will continue to cook the chicken to 160-165 degrees.
Working carefully and with hot pads or a folded kitchen towel, so as not to burn yourself on your 350 degree skillet, add a little oil if needed, and then toss in the onions. Stir with a wooden spoon to get the onions coated with the chicken juices., add more olive oil or a TB of butter if needed.
Lightly salt and pepper onions. Cook onions for 4-5 minutes until they begin to soften and caramelize, sprinkle in about 1/4 tsp. paprika, stir to combine and then slowly add in 1-1/2 to 2 cups of the chicken stock and deglaze the pan.
Using a wooden spoon, scrape up any remaining bits on the bottom of the pan and bring the stock to a boil. Remove pan from heat and WHISK in the water and cornstarch (slurry). Continue to whisk until desired consistency is reached. If gravy becomes too thick, thin with extra stock or water from boiling potatoes. If it isn't thickening enough, return it to the burner and cook until thickens. If all else fails, you may need a tiny bit more slurry.
Start plating and enjoy. I love to eat steamed or roasted green beans with this dish!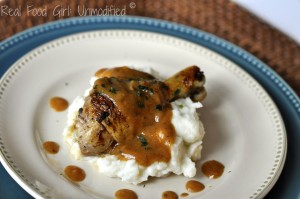 Fabulous picture of properly julienned onion by: Veggie Quest Blog
PAID ENDORSEMENT DISCLOSURE: In order for me to support my blogging activities, I may receive monetary compensation or other types of remuneration for my endorsement, recommendation, testimonial and/or link to any products or services from this blog.