Hearty Potato Soup with Bacon
I have a long list of personal quirks. I like to put an odd number of ice cubes in my drink unless it's a small glass, then 2 ice cubes will do. I sometimes zig-zag the part in my hair, and will do either 5, 7 or 9 zigs and zags. I prefer to keep the volume on my car radio set to even numbers, and although I like a good homemade French fry, I don't love potatoes. Don't tell my Irish grandmother. It'll break her heart. She's already a bit bummed that she doesn't have one full red-headed grandchild or great grandchild among all 18 of us.
My less than enthusiastic attitude towards potatoes changed one day back in the early 90s. My soon-to-be sister-in-law made a big pot of this soup. It was love at first bite. Auntie Jane (we Aunts and Uncles address each other as Auntie and Uncle because we're neurotic cool like that) is one of the reasons that I became so interested in cooking. I had always liked cooking, but never felt like I was much good and certainly lacked creativity in the kitchen in those early years. Auntie Jane was always making something yummy for dinner and I aspired to do the same thing.
I've since made several changes to this recipe over the last 22 years and it has become a dinnertime staple in our home during the cold winter months. This is one of the few soups that The Stud Muffin will even eat. He only likes cream/milk based soups and isn't a big fan of broth based soups. I on the other hand have never met a soup I didn't like.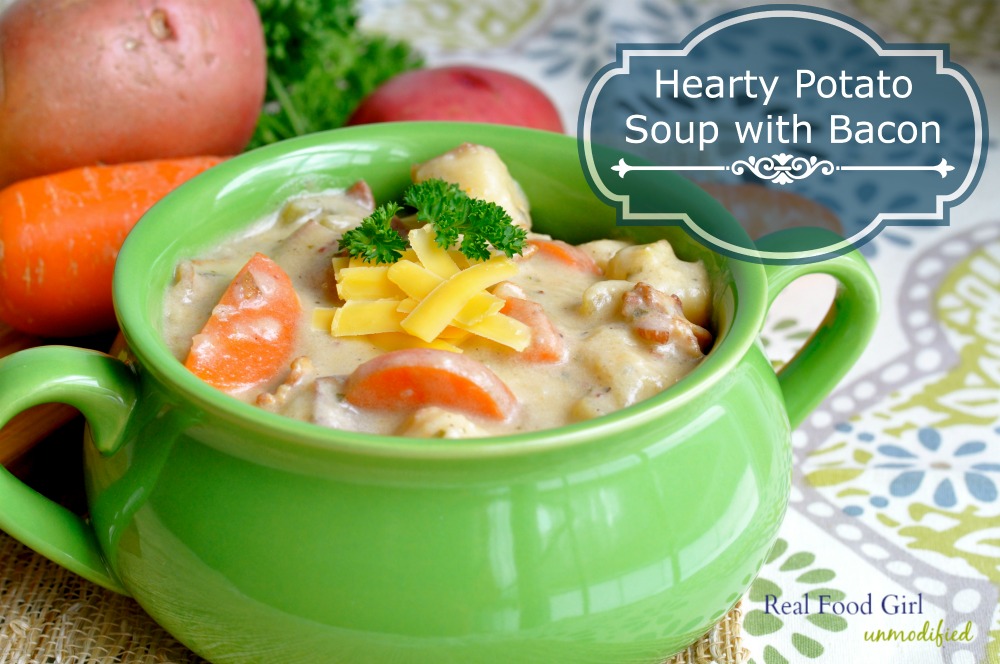 This soup is creamy, but not heavy. It's packed plenty of fresh, organic veggies, too. It's comforting, satisfying and nourishing. I think you'll enjoy this soup and you'll end up making it a regular part of your dinner line up.
I've found that baby red potatoes work much better in this soup. They hold their shape better and they don't get mealy like a Russet potato would. I've tried using Yukon Gold's, but that was a big flop. This recipe needs red potatoes. I've also found that stirring in 2/3rd cup of cheddar cheese into the soup before serving adds an additional layer of flavor and I recommend giving it a try. The last time I made this, I strained out about 2 cups of the veggies and gave them a whir with my immersion blender and then put the pureed veggies back into the soup, and I liked the way it seemed to disperse more flavor throughout the soup and thickened it a bit, too.
I use only organic ingredients for this soup. Back when I didn't realize how infiltrated our food supply was with GMOs I used to use a full pound of bacon for this huge pot of soup. Why? Because TSM and I LURVE bacon. It's rare that we aren't either eating bacon or talking about bacon a couple times a week. Because organic bacon is a bit more expensive than say, 'No Name Bacon', I use closer to 10 ounces of bacon. I know. You're amazed by my sheer will power and restraint at not using the entire 16 ounces. It's been difficult, but someone's gotta sacrifice. I buy bacon that does not have any preservatives, hormones, or antibiotics. My favorite brand is Applegate Farms, but they don't appear to make thick cut bacon so I end up getting bacon from either my local butcher or Trader Joe's.
This soup is stuffed full of veggies and if you're like me, you sometimes don't get a chance to use all the produce you purchased before it starts to go bad. My friend the Culinary Guru taught me to wrap celery in aluminum foil and it will keep in the fridge for weeks. Boy has that saved me a LOT of money! Give it a try. You will no longer have short-lived, wilted, limp celery a few days after buying it, and you'll be amazed at how long it lasts in that foil.
This soup tastes best when it has had one day to rest in the fridge. It thickens up and all the flavors really come alive! Of course you can eat it right away, I'm just giving you a heads up. Oh, and my cheddar jalapeno biscuits taste really good alongside this soup. The bacon and veggies can be prepped the day before which cuts down on prep time, meaning this dish could be on the table in less than 60 minutes. Ya gotta love that. No really. You do. I said so. It's not good to upset a blogger, we're a bit, um, quirky. (Wink)
This soup can be made vegetarian by replacing the chicken stock with vegetable stock and omitting the bacon. It seems criminal to remove the bacon, but I respect a person's decision to not eat meat. It just means more bacon for me! Use my chicken stock recipe. If you would like to make your own veggie stock, just roughly chop 3 carrots, 3 stalks of celery, 2 large onions, 1 large leek, and some mushroom stems. Add some aromatics such as fresh parsley stems, 4 sprigs of fresh thyme, 3 garlic cloves, 2 bay leaves, a tsp. of black pepper corns, and put into a large stock pot, add 4-6 quarts of fresh, cold water and simmer for 1-2 hours. You can also add other veggies like parsnips and fennel. Don't allow it to boil, keep it at a lazy simmer, and strain off any gunk that rises to the surface. Remove the veggies and aromatics, strain stock through a fine mesh sieve and store in containers and freeze or refrigerate. It's that easy!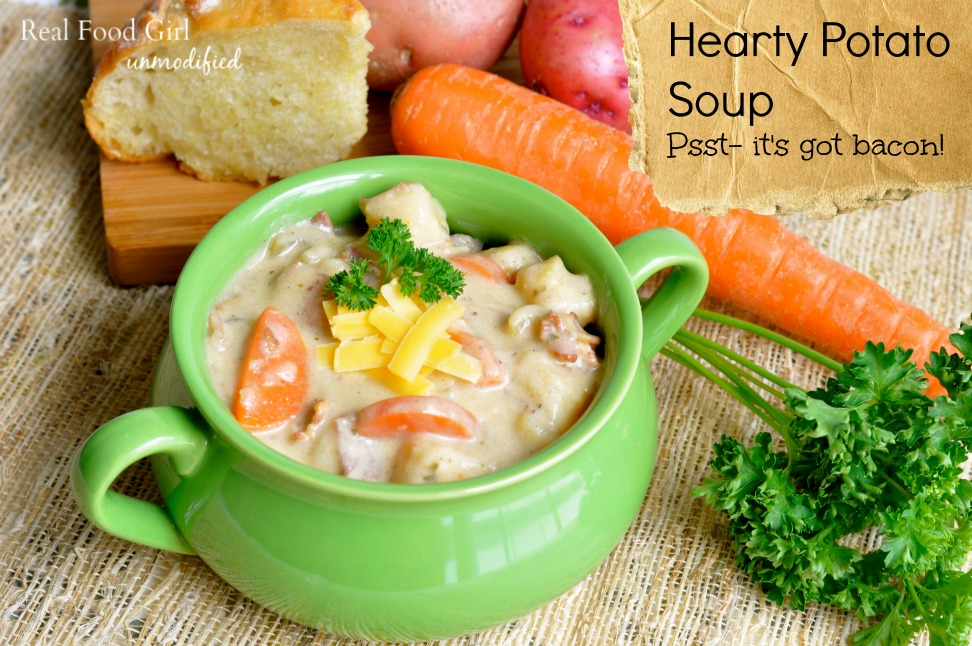 Hearty Potato Soup with Bacon
2014-02-14 21:39:08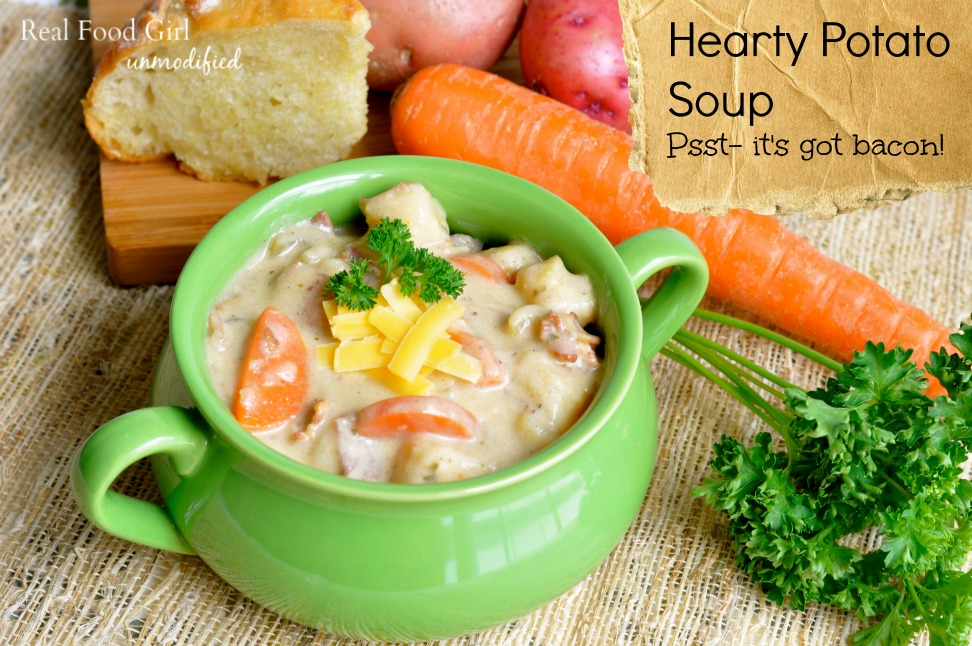 Ingredients
6-8 large red potatoes, cut into half-inch cubes (about 5 cups total)
3-4 large carrots, sliced into ¼" thick coins
3 stalks of celery, sliced into ¼" pieces
1 large onion-cut Into 1/2" dice
6 cups of the reserve liquid from boiling the veggies or homemade chicken stock
6 TB. Organic butter, no substitutes
6 TB. Flour
Kosher Salt
Freshly Ground Black Pepper
1 cup Whole Milk, no substitutes
1 cup Half & Half (combine with the above milk)
8-10 ounces thick cut organic bacon, cooked until tender, but not crispy
1/2 tsp. dried thyme
1 TB. Freshly chopped flat leaf parsley
2/3 cup high quality organic cheddar cheese, shredded.
Toppings: Cheddar Cheese, Bacon and sliced Green Onion- Optional.
Instructions
In a large skillet, cook bacon cut into one-inch slices until tender. Drain, and set aside.
Fill a large stockpot with 8 cups of cold, salted water. Place on burner over medium high heat.
Prep all veggies.
Cook potatoes, carrots and celery in moderately salted water until firm tender. About 15-18 minutes. Drain, but save liquid. Set veggies and liquid aside.
In the same pot, over medium heat, sauté onion in butter until soft and translucent. Stir in flour, salt and pepper. Cook for 1-2 minutes to eliminate flour taste. Lower heat if flour/butter starts to brown.
Gradually whisk in milk and half and half, whisking constantly until thickened. Switch to a wooden spoon and gently add veggies and reserved liquid 1 cup at a time until soup is at the desired thickness.
Add the thyme and parsley. Taste the soup and adjust seasonings. You may need a bit more salt and pepper
Add cooked bacon- continue to simmer the soup for 15 to 20 minutes.
Add 2/3rd cup of shredded cheddar to the soup about 5 minutes before serving and stir well.
Serve with shredded cheddar cheese, crumbled bacon and/or sliced green onions if desired.
Notes
It's important that you don't let this soup boil or the milk and half and half will curdle.
Also, if you want a thicker soup, take about 2 cups of the soup (before you add the bacon) and puree it in a blender or using an immersion blender, then add back into the pot and stir to combine.
https://www.realfoodgirlunmodified.com/
PAID ENDORSEMENT DISCLOSURE: In order for me to support my blogging activities, I may receive monetary compensation or other types of remuneration for my endorsement, recommendation, testimonial and/or link to any products or services from this blog.