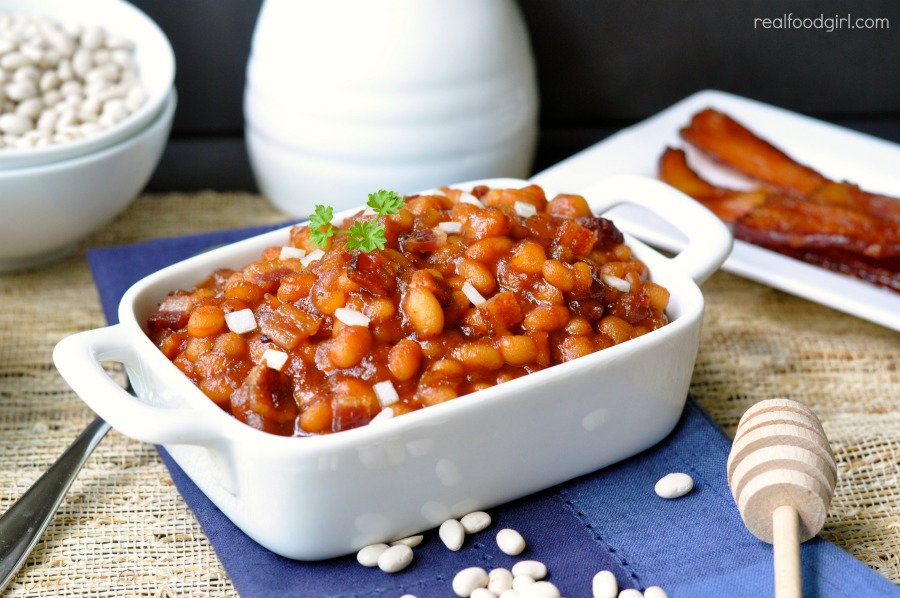 Brown Sugar Maple Baked Beans with Bacon
Several weeks ago my grandkids came over for the weekend. I spent most of my time in the kitchen and my granddaughter, Little Miss B. helped me out. One thing she was particularly interested in helping me with was a baked bean recipe that I had found in one of my many cooking magazines. We were going to grill hamburgers one night and I thought baked beans would be a nice addition. Turns out I should have just opened a can. Kidding! Sorta. Let me explain…
We followed the recipe to a 'T'. Those beans soaked for at least 12 hours, and they baked in my oven for 7 hours, were lovingly tended to and guess what? They were hard as a rock and the sauce was almost nonexistent. I'm not sure where Little Miss B. and I went wrong, but the beans were inedible. Decent flavor, but a can of baked beans would have been tastier. So that's saying something right there. I was really looking forward to sharing that recipe on the blog, but they were bad. Just bad.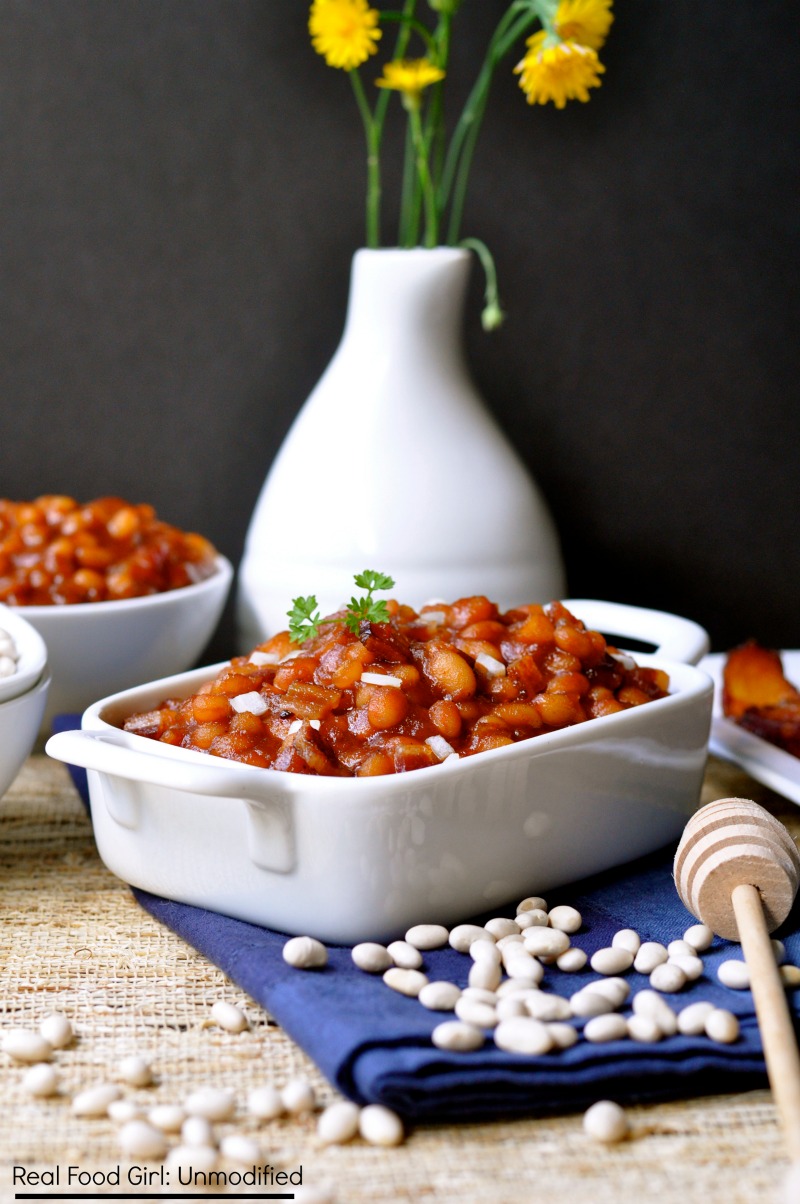 After that debacle I wasn't really interested in trying out several different recipes until I found a winner, only to have to tweak it to fit our personal tastes, so I decided to make my own recipe. I mean how hard could it be? I mean I am a chef. I should be able to figure out how to make some baked beans. I need to stop doubting my cooking abilities. So I did just that and got to work on creating my own bean recipe. Look out Jay Bush! My Golden Retriever has no desire to sell my secret recipe. Er, never mind. I'm sharing the recipe below. 😉
There are two ways to make this recipe. I'm going to feature the option where you use canned organic navy beans. The other option is to soak dried beans and cook them following my how to make homemade (black) beans recipe (just use navy beans vs. black beans) and then where my recipe below says add the can of beans, just add the homemade & soaked cooked beans that you've so lovingly prepared. If you're in a rush or just don't feel like making your own beans for this recipe, find a good, quality organic canned bean. If you have some extra time, or only prefer to use soaked beans, then knock yourself out! Soak those bad boys and cook them up tender and then set them aside until they're ready to be added to the pot.
For this recipe you'll need a small amount of my Sweet & Zesty BBQ Sauce. If you don't have any on hand, and don't have the time or ingredients to make some, don't worry. Any bottle of organic or GMO-Free sweet and zesty (like a St. Louis style) sauce will do. Just understand that it will taste a little different than mine.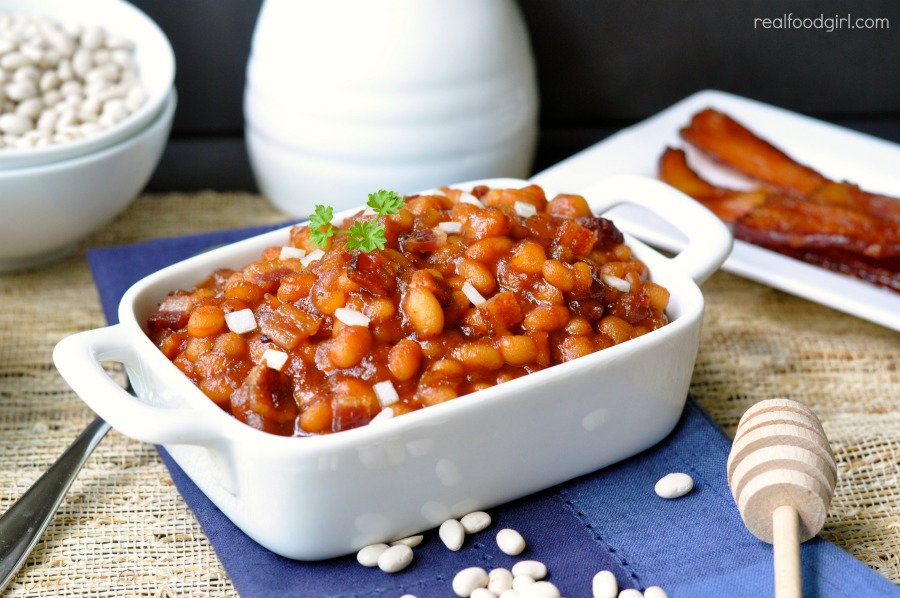 The Stud Muffin and I went house hunting two weeks ago. We had a lot of fun. We met a great Realtor, and toured some lovely homes. We even found one we wanted to make an offer on. Then TSM found out due to a scheduling conflict with his primary part time job that couldn't be resolved, he was going to lose his secondary part time job. Without that job, no house… so back to renting for one more year.
As you can imagine, I was pretty bummed. Bummed that my husband lost a job that he enjoyed, and where he was well-liked and appreciated by his boss. I was also bummed that we'd have to rent the house with the purple kitchen that is truly Lord Voldemorts 9th Horcrux for another year, and, also pretty sad that I couldn't make an offer on the house that I could see The Stud Muffin and I growing old in. So I did what any woman in my shoes would do when presented with a mélange of bad news. I painted my kitchen. You thought I was going to say drink a fifth of Gin, or down a case of wine, didn't you? Nope. Manual labor baby!
Our Manchild (my step-son), who lives in Southern California with his wife and two boys is currently training for the Airborne Division of the US Army. TSM is retired Air Force and has no idea why the Manchild wants to jump out of perfectly good airplanes, but he does. So he's down in Georgia falling out of planes, er, jumping. He's jumping out of planes. Sorry. The Manchild and his family will be moving to Germany for 3 years in a couple months so TSM and Dear Daughter (who lives here in SC with her kids and hubby–the reason we moved down here from MN)– drove down to Georgia for Father's Day weekend to spend time with the crazy Manchild. I stayed home to watch the dogs, and the cat stayed home to make sure the household continued to run smoothly and her eating and sleeping schedule would not be disturbed or altered in any way. I've not been able to find a house/pet sitter and we refuse to board our animals, so I drew the short straw and had to stay home.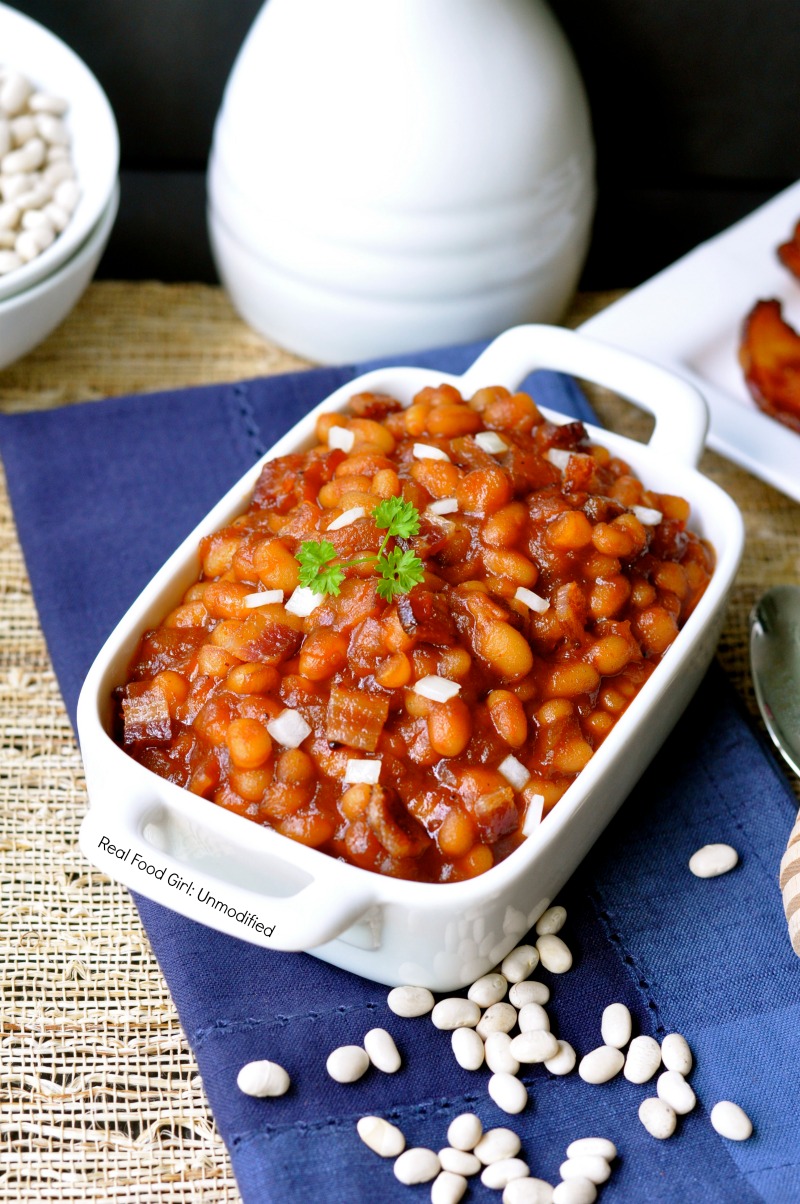 I wasn't looking forward to being alone for 3 days. Normally I enjoy a little peace and quiet. I can cook anything I want, watch Harry Potter non-stop and even control the TV remote. But I'm still really homesick and teary and emotional lately, so I wasn't in the mood to be alone. I figured if I was going to have to sit and stare at the walls of this house, painted by a manic woman with a color blind husband I was going to pull out my hair and go bonkers. To save my scalp, and the neighbors from having to witness me going bonkers, I ran to the store and bought some paint and now I have a nice, calming, beige kitchen. No more agitating, stress-inducing dusty-dark-heather-plum-purple- Voldemort horcrux of doom.
All that to say that my homesickness and being extra emotional (which I don't like AT all) has made me sort of lose my kitchen mojo. I've ruined almost every single meal I've cooked for 3 and a half weeks straight. To the point where The Stud Muffin wondered if I shouldn't go back to culinary school. Don't worry. I didn't stab him for saying something so heartless. But only because I had already wondered that about a dozen times quietly to myself.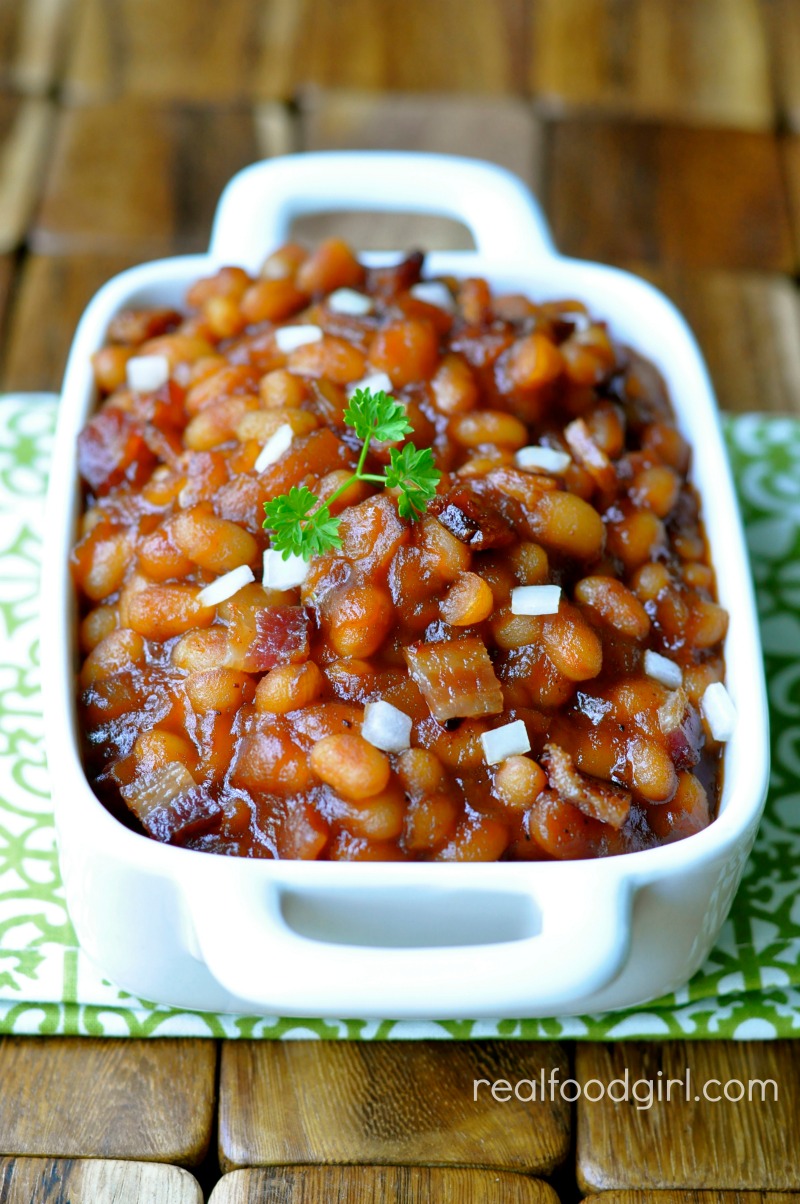 I think I understand how a professional athlete feels when he goes from hero to zero in one season. When you lose it, you just lose it and nothing but time will help you get it back.
BUT–
These beans… These beans were the beginning of my mojo returning. These beans made me smile. Something I hadn't done in a while, or at least not often enough in the last 10 months. These beans made me say "Huh, these are pretty good!" And, after tinkering a little more and letting them simmer on the stovetop a little longer, I tasted again and simply nodded my head, smiled, and quietly threw an fist pump into the air and whispered "Yesss!"…
Do you like baked beans? Does you have a secret family recipe? Leave a comment below!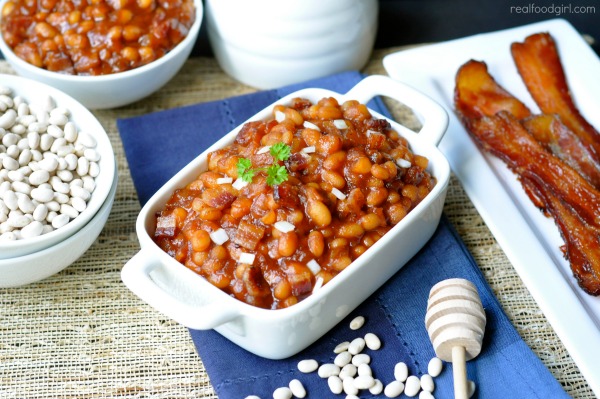 Brown Sugar Maple Baked Beans with Bacon
2014-06-25 02:05:43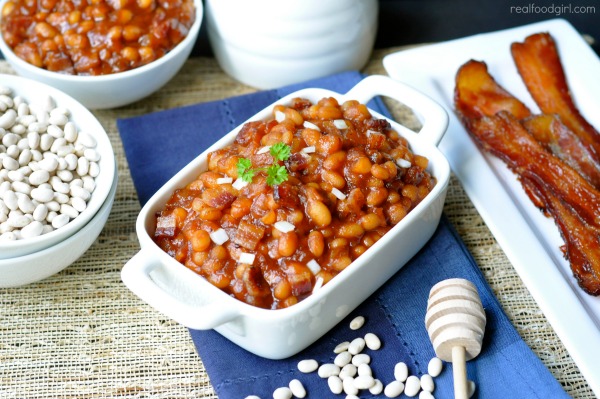 Serves 6
Ingredients
Two 15-ounce cans of Organic Navy Beans (Or 3-1/2 cups of homemade plain cooked navy beans)
2 -3 TB Master Fat (pig butter/bacon fat)
1/2 large organic yellow onion, diced small
1/4 cup organic brown sugar
3-1/2tsp. balsamic vinegar
1/4 cup organic maple syrup
1/2 cup of organic ketchup
1/4 cup Sweet & Zesty BBQ Sauce (homemade, or my recipe if you have it)
1/2 cup cold water
3/4 tsp. salt
1/4 tsp. freshly ground black pepper
1/2 tsp. onion powder or granulated onion
1 tsp. smoked paprika
2-1/2 tsp. ground mustard
5 slices of cooked organic or pastured bacon, diced small
Instructions
If using canned beans, rinse in a mesh strainer until all the "suds" are gone (canned beans suds up when you rinse them). Set aside.
In a 3-quart saucepan over medium heat, add the master fat (pig butter) and the diced onion. Sprinkle with a little salt and pepper.
Cook the onion, stirring almost constantly until it becomes soft and transparent. About 3-5 minutes. Continue to cook the onions until they are nice and caramelized. If the onions start to dry out or get too brown, add some water a little at a time, and reduce the heat slightly. It will take about 10 minutes to fully caramelize the onions.
Once the onions are caramelized, reduce heat to medium-low and add the brown sugar. Cook, stirring constantly for 2 minutes.
Add the balsamic vinegar, the maple syrup and the ketchup. Stir to combine and cook until the sauce begins to thicken slightly and reduces a little. About 5-7 minutes
Add half the salt and all the pepper. Add the BBQ sauce, smoked paprika, the onion powder and ground mustard. Stir to combine. Cook for 5 minutes, stirring occasionally.
Add 1/2 cup of water, stir to combine, turn the heat up to medium and continue to cook the beans until the sauce is thickened slightly and reduced. About 7-10 minutes. Add the bacon. Cook for another 2 minutes.
Give the beans a taste and adjust any seasonings if desired. You may need to add the rest of the salt (depends on how salty your bacon is) or you may want to add more pepper, more mustard, more onion powder. It's up to you. If it is perfect, just take it off the heat and serve.
This will keep in the fridge in an airtight container for 3-4 days. They taste even better the next day.
Notes
If you are making your beans from scratch (from dried beans) the prep time (most is inactive as you're just letting the beans soak) increases to 8-12 hours and the cooking time increases another 30 minutes so you can cook the beans before adding them to the recipe.
If you would prefer to not use brown sugar, you can substitute it with the same amount of coconut sugar. Coconut sugar won't melt down like brown sugar, so you may need to add a teaspoon of molasses and a little water to make it "saucy". I have NOT tested this substitution.
https://www.realfoodgirlunmodified.com/
Don't forget to use the SHARE buttons below. You can Tweet this recipe, Pin it, Stumble it, and even share it on FB!
PAID ENDORSEMENT DISCLOSURE: In order for me to support my blogging activities, I may receive monetary compensation or other types of remuneration for my endorsement, recommendation, testimonial and/or link to any products or services from this blog.