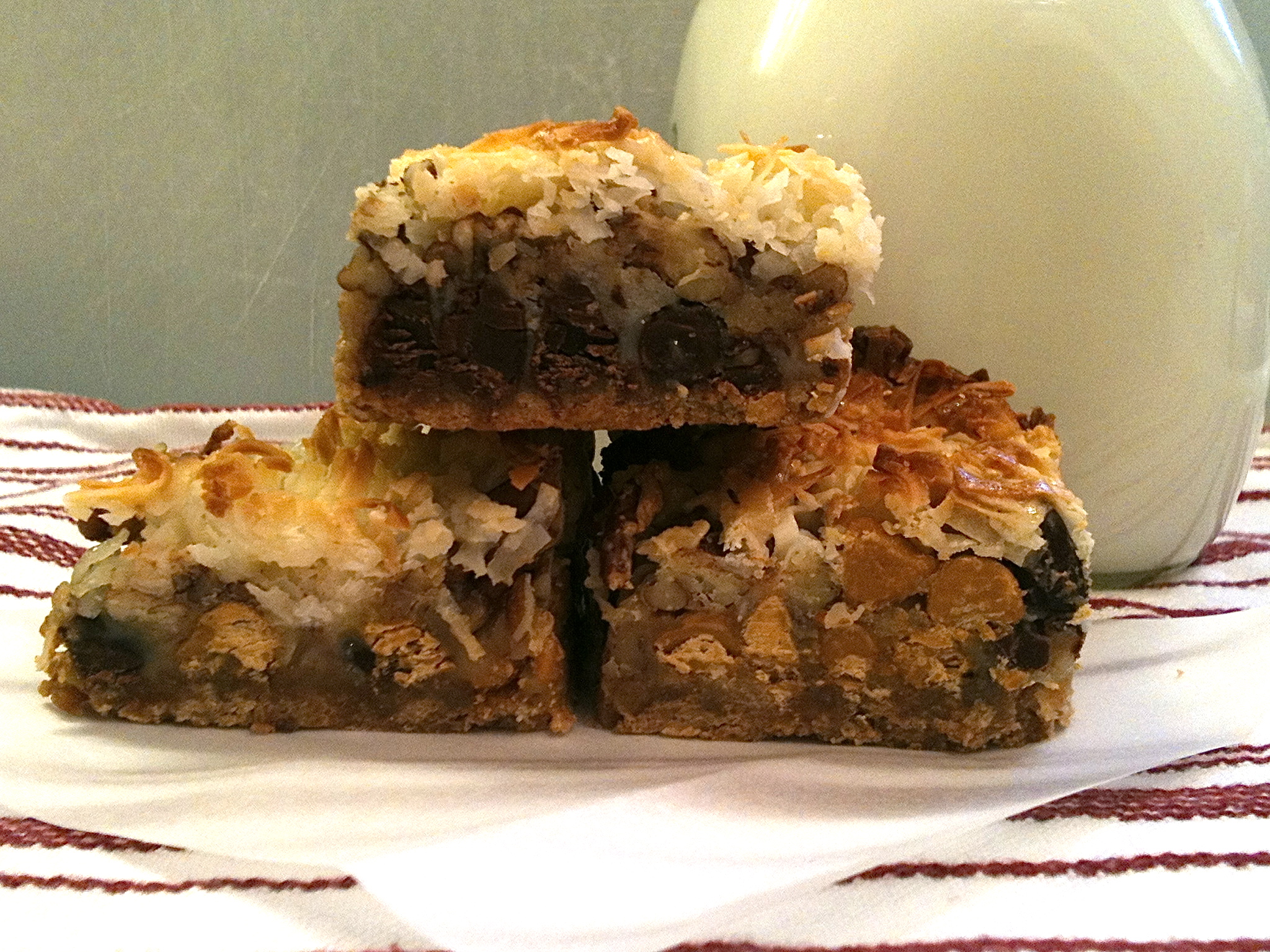 My First (recipe) Mistake (aka 7-Layer Bars)
Well Food Posse Peeps, I finally did it- I made my first mistake this evening while putting together a pan of 7-Layer Bars to share with y'all.  The good news, they taste perfectly fine.  The bad news- they're not very stable, don't hold their shape, are very gooey AND  (whispers) they're ugly.
Being that I'm an equal opportunity snack snarfer, I won't discriminate against these ugly squares of gooey, chocolaty, coconutty happiness, and neither should you.  In fact, you should seriously consider checking your kitchen cupboards for these 7 ingredients and get jiggy in the kitchen and make these bars.
Now I realize most of you probably have this recipe, and let's face it, there aren't many variations on a recipe that calls for the SAME 7 ingredients so chances are that your recipe is exactly like mine.  You know what?  That's OK!  You should still make these bars…like NOW.  You know you've been craving a buttery graham cracker crust, sprinkled with chocolate and butterscotch chips, soft yet sweet coconut, pecans and thick, sugary sweetened condensed milk baked to perfection and ready in just under 45 minutes.  So, what are you waiting for?  Get crackin' my friend, these bars are calling your name
7-Layer Bars
Recipe by: Real Food Girl: Unmodified
Preheat oven to 350 degrees F.
Makes: 20-25 bars  
INGREDIENTS:
10 TB butter (1 stick + 2 TB)
12-14 graham crackers crushed into smithereens.  Yes, smithereens is a technical cooking term coined by some stuffy French Count back in the 1600s.
1-1/4 cup sweetened shredded coconut
1-1/4 cup semi-sweet chocolate chips
1-1/4 cup butterscotch chips
1-1/4 cup chopped pecans
1 can sweetened condensed milk
DIRECTIONS:
As established earlier, crush graham crackers into smithereens (put them in a plastic zip lock bag and go crazy with your rolling pin, or the bottom of a small saucepan).
Melt the butter, then combine it with the graham cracker crumbs and pat into a 9×13″ pan.
 Layer the next 4 ingredients in order listed. THIS IS IMPORTANT.  I know this because even after years of making these, I didn't pay attention tonight and put the coconut on last.
Drizzle the entire can of condensed milk evenly over ingredients and bake for 30-35  minutes.  Rotate pan halfway through baking.
Remove from oven when everything looks GBD (another technical culinary term- it means Golden Brown Delicious) and bubbly.
Set pan on a wire rack to cool.  Cool for 60 minutes, cut into squares and enjoy.
These can be stored in the fridge or on the counter.  I prefer them right from the fridge.
PAID ENDORSEMENT DISCLOSURE: In order for me to support my blogging activities, I may receive monetary compensation or other types of remuneration for my endorsement, recommendation, testimonial and/or link to any products or services from this blog.