30-Minute Monday– Italian Sausage, Pepper & Onion Hoagies
Happy Monday everyone! It's time for another 30-Minute Monday dish. Are you excited? I know I am.
This weeks dish was a tasty one. I loved the pepper and onion mixture SO much; that I served it over some linguine the next night for dinner and it was UH MAY ZING! Whoa! Yeah, if you would rather just skip the hoagie roll, boil up some pasta and top with a couple slices of the sausage, and a few spoonfuls of the peppers and onions. Yee-Haw it was tasty. Actually, now that I think about it, you should probably try this as a hoagie first simply because this was a very flavorful and filling sandwich and it was such an affordable meal.
I first had Italian Sausage, Onions, and Peppers at a local Italian Market and Pizzeria in downtown St. Paul, MN called Cossetta's. For those of you lucky enough to have eaten there, you know that not only does Cossetta's make fantastic pizza and you get a slice the size of your head for like $4.00, but they also have a fantastic assortment of other Italian mainstays and their deli department is out of this world. Oh the cheeses, fresh meats, salami's, spices, homemade mozzarella, salads, pastas, the breads, the oils, the vinegars, the imported cookies… Man, do I miss Cossetta's.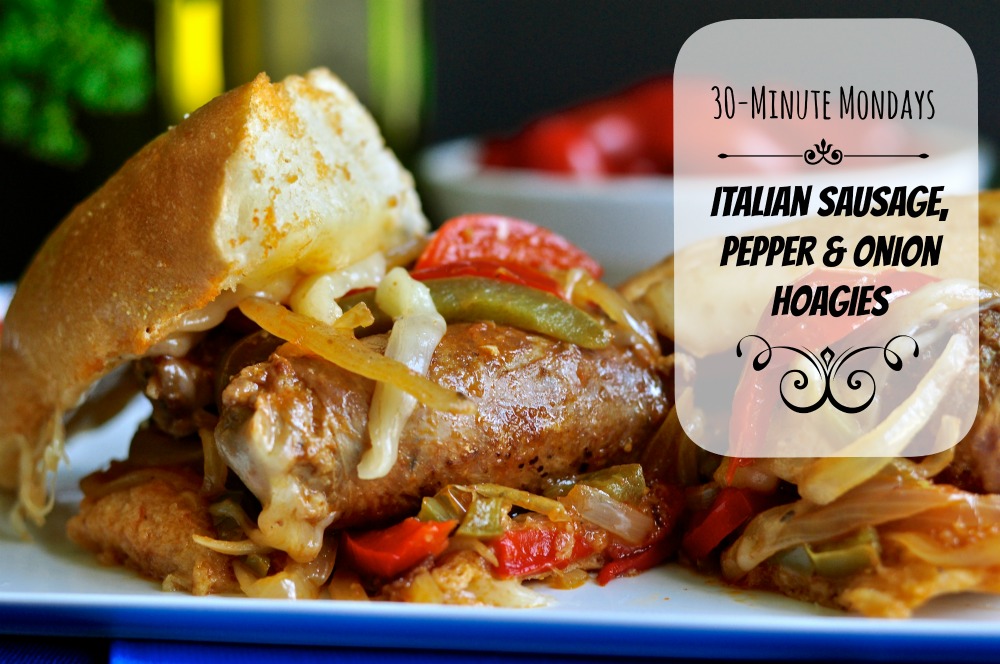 I've been struggling with a bad case of homesickness since moving to SC and after having two 30-Minute Monday dishes not survive the photo shoot, I decided to pay homage to my high school hangout and make my version of the peppers and onions that Cossetta's serves for this weeks recipe. Don't worry though, I'll be doing a remake of the two dishes that weren't being photogenic and they will eventually make it to the blog. I have an entire year of 30-Minute meals to share with you guys. We've got time.
I want to take a quick moment to remind you that these recipes may contain ingredients that don't fit everyone's idea of real food. You guys, my readers asked me to consider doing a series of 80/20 recipes since many of you don't eat perfect 100% of the time. I said I would do that for you. My desire is to get you in the kitchen, and if using an ingredient here and there that I may not typically use, but you would is going to get you in the kitchen, cooking from scratch, using as many non-GMO foods as you can find, then I'll share some 80/20 recipes. No problemo!
With that, if you see an ingredient that you would prefer not to use, don't worry; just replace it with one that you do feel comfortable using. There is no need to get upset or tell me I'm not a true Real Food foodie- simply make a substitution. The same goes for those of you who may not be able to find a non-GMO or organic version of an ingredient. If you can't find organic peppers, then buy conventional. Don't shame yourselves into thinking you have to be perfect. You're cooking with fresh ingredients and that is much better than opening a TV Dinner and eating a little tray of GMOs, chemicals and franken-"foods"… So relax. It's food. Cook from scratch, buy the ingredients you can afford, and have fun along the way of your Real Food adventure.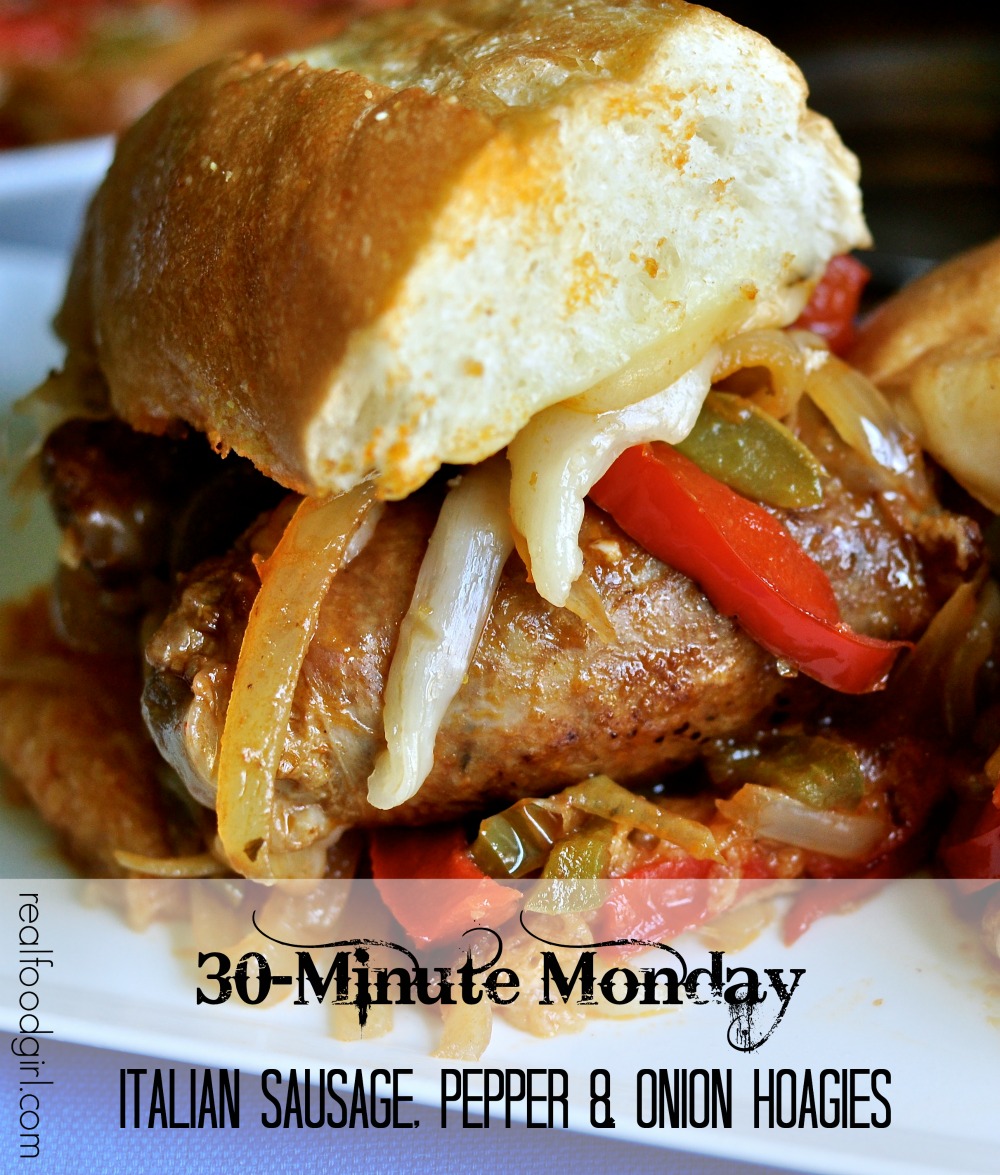 A few tips to help you end up with the best tasting version of this dish-
Buy a quality Italian Sausage. The organic Italian Sausage links you find at Trader Joe's will be okay, but won't taste as good if you can find some from a local butcher that are homemade or a local Italian Market, like Cossetta's.
Don't worry about buying organic onions. They are on the clean 15 list because they can be grown with minimal pesticides. I've had more organic onions go bad by rotting from the inside out than I have conventional onions. If you grow your own, then of course, you'll want to use those.
Buy a quality, organic hoagie roll. If you have a recipe, make your own. You want a soft roll for this recipe. I ended up wrapping mine in parchment and then in foil and warming them in a 350-degree oven for 7 minutes while the sausage, onion and peppers is simmering. That made them nice and squishy. You could also toast the rolls if you prefer.
If you like it hot, add some red pepper flakes to the pepper and onion mixture while simmering. I used mild Italian sausages, but think we'll go hot next time.
Shred your own organic provolone instead of using slices if you can. It'll look prettier. Yes, I actually did just say that.
I didn't have enough chicken stock and used half chicken stock and half veggie stock. I have to say, it tasted yummier using both because it added another layer of flavor. If you don't have homemade veggie stock or an organic boxed veggie stock, don't panic. Just use all chicken stock.
If you don't have any balsamic vinegar you could use some sherry vinegar, but we really like the balsamic for this.
30-Minute Mondays- Italian Sausage Onion & Pepper Hoagies
2014-03-23 21:41:33
Serves 4
This is Italian street food people. It's flavorful, fresh, filing and fabulous.
Ingredients
1 TB Master Fat (pig butter/bacon grease)
1-1/2 pounds of hot or mild organic Italian sausage- each link cut on the bias into 3 pieces
3 organic bell peppers- any color- cored and sliced julienne (thin strips) I used 1 red, 1 green and 1 orange
1 large yellow onion, cut julienne- (long, thin strips)
2 cloves of garlic, minced
Salt and Pepper
2 TB tomato paste
1/4 cup tomato puree
1/2 cup chicken stock
1/2 cup vegetable stock
1-1/2 tsp. dried oregano (we like oregano, if you don't use 1 tsp.)
1/2 tsp. dried, cracked fennel (ground fennel seed is fine, too)
1 TB balsamic vinegar (or sherry vinegar)
1-1/2 cups shredded organic provolone cheese (buy a brick and shred your own)
4 organic hoagie rolls
Instructions
Slice the onions and pepper and set aside (in a prep bowl if you prefer).
Mince the garlic and slice the sausages.
Measure out the remaining ingredients and set aside.
Heat fat in a 12-inch skillet over medium-high heat until just begins to ripple. Brown sausages lightly on all sides, about 3 minutes total. Transfer to a plate and set aside.
Pour off all but 2 TB fat and add the bell peppers and the onions and return to a medium-high heat. Season with salt and pepper and continue cooking until the peppers begin to soften, about 4-5 minutes. Stir in the tomato paste, tomato puree, and garlic. Cook, stirring constantly for 1 minute.
Stir in the broths, balsamic vinegar, oregano and fennel, scraping up any browned bits and bring to a simmer. Taste the mixture and season with a little more salt and pepper. Nestle the sausages into the vegetables and cover. Reduce heat to medium-low and cook until sausages are no longer pink in the center. About 10 minutes.
Meanwhile, shred 1-1/2 cups of provolone cheese and set aside.
When sausages are cooked through, taste, adjust seasonings if needed. Place 2 slices of provolone cheese on each hoagie roll, spoon on the pepper and onion mixture and put 4-5 pieces of sausage on each roll. Serve immediately with a fork and knife. These puppies are messy!
Notes
I typically have extra tomato puree and tomato paste that I store in the freezer in zipper top bags. If you don't feel like opening a full can of puree for this dish, use 3 TB of tomato paste and add 3 TB water and stir to combine. I just like the texture the tomato puree adds to the "sauce"-
https://www.realfoodgirlunmodified.com/
Remember- Love people. Cook them REAL and tasty food. And may the forks be with you! 😉
PAID ENDORSEMENT DISCLOSURE: In order for me to support my blogging activities, I may receive monetary compensation or other types of remuneration for my endorsement, recommendation, testimonial and/or link to any products or services from this blog.