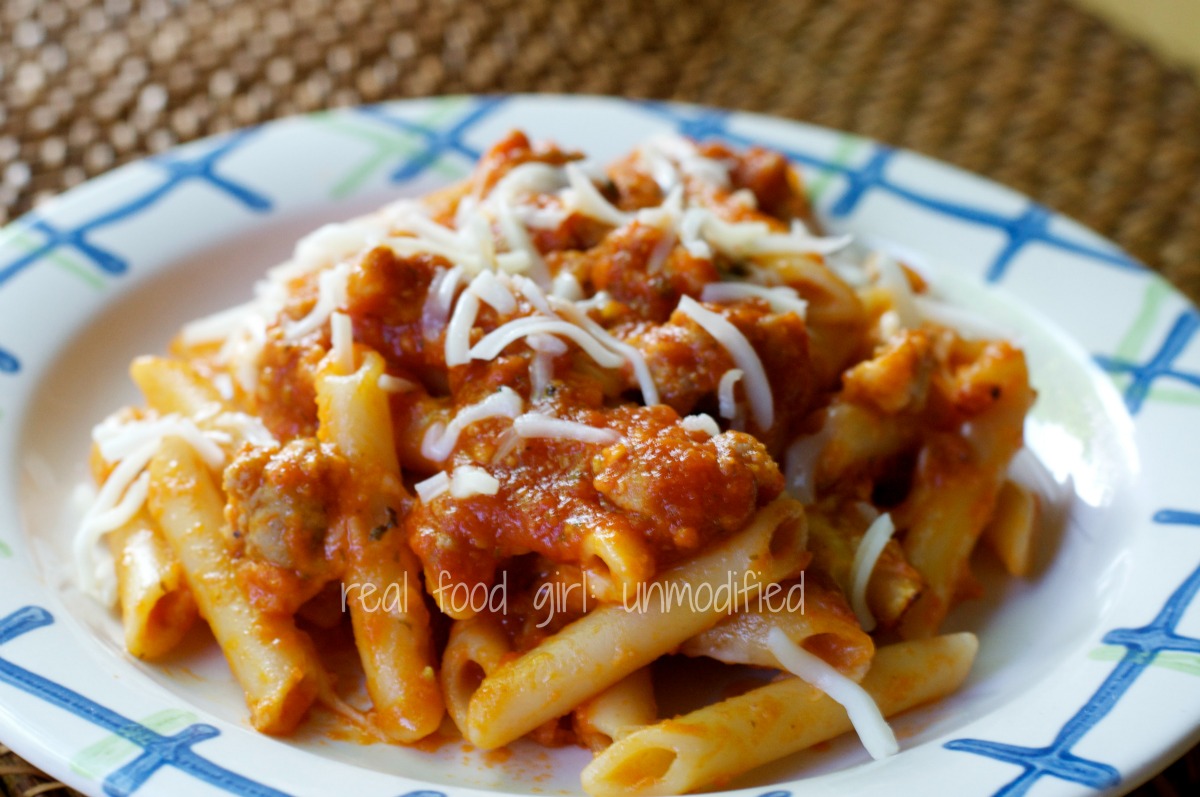 Easy Baked Penne with Italian Sausage
The Stud Muffin (TSM) is Italian. It's not pronounced Eyetalian. It's ITalian. I felt I needed to clear that up. I love when people say Eyetalian. Um, it's not Eye-taly, it's ITaly, but I digress. Being married to an Italian has its perks. One of them is that we eat a fair amount of pasta with cheese–melted cheese. I prefer to make it myself, but I don't own any fancy pasta shape cutters so when we want penne, I buy a good organic brand.
I admit I was a little apprehensive about posting this recipe because I'm using a jarred sauce. That's a no-no in our household, but I've gotten requests for a few more quick and easy recipes for busy moms, and I wanted to grant those requests.
I generally have on hand at any given time a quart of my homemade marinara sauce. However, I can understand that many of you do not, and because of that,
you may turn to a quality, non-GMO, or organic jarred sauce. Just read the label to be sure the sauce you choose doesn't have any ingredients that you cannot pronounce and that it doesn't contain any ingredients from 'This List" that you personally prefer to avoid. It's food, America. It's about finding things as Real or as minimally processed as is realistic for your personal tastes, health, budget, preferences and lifestyle. It's not a legalistic cult. Find what works for your family and don't feel guilty about using a good jarred sauce from time to time.
I know my stance on some minimally processed foods are like a giant fingernail on the chalkboard of life to some of the more die-hard Real Food foodies, but I'm sorry. I'm not going to turn eating into something that sucks all the joy out of it. You won't see me endorsing Twinkies, Doritos, or Coca-Cola, but I have no problem with anyone using a jarred marinara sauce.
The sauce I chose for this dish came from Trader Joe's. I tried their Arrabiata sauce. Arrabiata is Italian for 'freaking spicy'. Ha! Kidding. Literally translated it means 'angry'. Apparently our friends from the "boot" felt that peppers must be angry because they're so hot/spicy. Why they couldn't call the sauce bollente, caldo, intenso, torrido, spezia, or spezie is beyond me, but it's a Roman sauce, and those guys are a little yompy to begin with. Arrabiata sauce is a tomato-based sauce made with red chili's or red pepper flakes. It's got kick my friends. If you feel like clearing your sinuses, causing pain to your tongue, lighting your tonsils on fire, and making your nose drip profusely, try this sauce. Actually, it's not *that* hot, but it is spicy.
The only ingredient that had me scratching my head was natural spices. Typically that means MSG- but they state they don't use any preservatives or fake ingredients in their products, and the sauce didn't give me a headache, which MSG and its 50+ other aliases typically does, so I decided it was an acceptable substitute to my homemade sauce on occasion. Whatever brand sauce you buy, make sure you find something that is labeled either non-GMO or organic, or is a store brand that doesn't use GMO products and other questionable ingredients.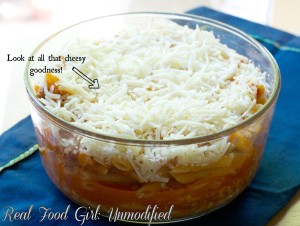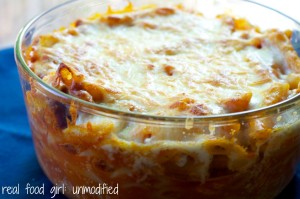 Easy Baked Penne with Italian Sausage
2013-07-26 01:30:13
A quick, easy and hearty meal you can get to the table in about 45 minutes.
Ingredients
1 jar of quality, organic or non-GMO marinara sauce. We like Trader Joe's Arrabiata sauce
1/2 pound of organic, ground Italian sausage-mild (preferably from pastured pigs that aren't raised with antibiotics)
1-1/2 cups of shredded whole milk organic mozzarella cheese (shred your own)
Sea salt--for pasta water
Half a pound of organic penne pasta noodles (8 ounces)
Instructions
Preheat oven to 350 degrees F.
Butter a 2.5-3 Qt. baking dish.
Empty jar of sauce into a large saucepan placed over low heat.
Bring a large pot of well-salted water (about 1 TB of salt per pound of pasta is the rule, so 1.5 tsp. for half a pound-- I use 2 tsp.) to a boil.
Meanwhile, brown Italian sausage in a sauté pan. Drain excess grease and add cooked meat to the sauce. Stir to combine. Remove from heat and set aside.
Cook the penne about 60 seconds shy of the package instructions. You want your noodles a true Al dente. They will finish cooking in the meat sauce in the oven.
When noodles are done, drain, and add to the meat sauce. Stir to combine. Add 3/4 cup of your cheese and stir.
Pour the noodle and meat sauce mixture into your prepared baking dish. Bake at 350 degrees for 10 minutes. Remove from oven and top the pasta with the remaining 3/4 cup of cheese and bake another 10-15 minutes or until cheese is light GBD (golden brown delicious).
Notes
Serve with a big pile of steamed green beans or broccoli and a nice hunk of crusty bread slathered with butter.
https://www.realfoodgirlunmodified.com/
PAID ENDORSEMENT DISCLOSURE: In order for me to support my blogging activities, I may receive monetary compensation or other types of remuneration for my endorsement, recommendation, testimonial and/or link to any products or services from this blog.