Caramelized Onion Burgers with Gruyere
It's been very warm here in MN this summer. We had a miserably long winter–as in measurable snowstorms in May. Once summer hit, it's been hot and humid ever since. I'm not complaining. When you have 6 months of winter, you welcome the heat, humidity, and the sun. But not the mosquitoes. I don't welcome those at all.
I've been working for the past 4 days in this 90-degree weather, organizing my garage for the moving sale I'm having later this week. I spend about 6-10 hours in the garage each day and by the time I'm finished, I'm spent. The last thing I want to do is spend eternity in the kitchen making dinner. This recipe is quick and easy to make. It's a perfect hot weather dinner.
I've made these burgers four times already and each time I have forgotten to take pictures so that I can share the recipe with you here on the blog. Well, this weekend I didn't forget, and you'll be sooo happy that I didn't.
Before I dive into the recipe and sing of its brilliance, I have to share with you that up until recently, the perfect burger escaped me. What I mean is that I couldn't make a burger to save my life. They were always tough, rubbery, and well, mediocre. As fun as it would be to become "Mediocre Woman", I will only share a recipe if it's really worthy to be shared and up until last month I didn't have a worthy burger recipe. That made me sad.
Ground beef is sort of my nemesis. Prior to finally developing a spectacular burger, meatballs and meatloaf would taunt me. I'd end up with hockey pucks for meatballs and don't even get me started on meatloaf. I finally came up with a decent meatloaf recipe (coming this fall) and I mastered meatballs a couple years ago. Before that however, we didn't eat a lot of anything that contained ground beef because it was evil and played tricksies on me like a sneaky little Hobbitses, and for whatever reason I just couldn't make anything tasty with it. In Culinary School we only used ground beef to make Beef Consummé so it wasn't like I received any special epiphanies or ideas from school. It was obvious that I was on my own, and I was going to have to conquer ground beef and by golly I set out to do just that.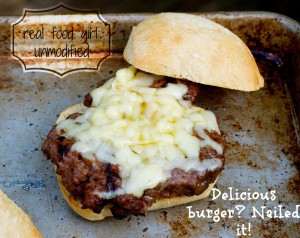 The answer to my beefy dilemma was found in my hands. One of the side effects of becoming a chef is that you have wicked strong hands and arms. It's from all the chopping and cooking. I'm built like old world German Olympic swimmer in my arms and shoulders thanks to my mad kitchen and knife skills and possibly some English and German genes from my grandparents. So with all my "Ahnold"-like muscles I figured out that I was over mixing the meat and being too aggressive with it. Ground beef desires to be treated with hands resembling a 90-year old arthritic grandmother. I always thought I was being gentle and not over working the meat, but I was wrong. I can handle being wrong. No seriously, stop laughing. I can.
The second thing I learned about why my burgers weren't up to my overly high standards, is that even though I was using a fattier blend of beef (80/20 or 85/15) my burgers were still a little dry, so I added more fat. I added the best kind of fat, too. Can you guess? I'll give you a hint. Ready? BACON! That's right Food Hippies, I added bacon grease. You're welcome!
I keep a jar in my fridge at all times for cooking and one day I thought "Hey- I should try adding a little bacon grease to the meat and see what happens. I already suck at making burgers so it can't get any worse." You have no idea how happy The Stud Muffin and I were that I came up with the idea to add the bacon grease to the beef because, WHOA Nelly!! SO daang good!
These burgers are juicy, tender, flavorful and plain 'part the heavens, mind blowing, if you had pearls on you'd clutch them, hand to God' tasty! Yeah. They're that good! The Stud Muffin had a burger at a local restaurant once that came on a homemade Ciabatta roll. We've never gone back to boring burger buns since then. You'll love the toasted Ciabatta roll much more than a boring hamburger bun.
I'm the Queen of caramelizing onions. When I worked at a restaurant after culinary school they had a dish that was topped with an onion marmalade. And not one prep cook there could properly caramelize an onion to save their lives. When I made that onion marmalade, people noticed and commented and the line cooks appreciated that someone knew what the heck they were doing, even if it was a girl that was doing it.
The trick to caramelizing onions is water, time, a pinch of sugar and moderate heat. Yes, you can caramelize them low and slow, but remember, I'm in a world of hurt after spending a day in the garage (in 90 degree weather) and I don't want low and slow, I want fast and easy.
Once your onions begin to soften and become transparent, stop stirring them and let them get a little color on them. As soon as you notice that they're getting a little brown on the bottom or around the edges, deglaze the pan with about 1-2 TB water and stir. Then, rearrange the onions into a single layer in the pan with your spoon and repeat. Leave them alone, let them start to brown, add a bit of water, deglaze the pan, stir, and repeat until you get something that looks like the onions in collage pictured below.
In all it will take about 10-12 minutes over medium-high heat vs. 25+ minutes. The results are just as tasty. You guys are seriously lucky. Not only do you get fabulous onion caramelization tips, but you get this wonderful burger recipe, too. Oh how I must love you guys!
As always, please use as many local, organic, non-GMO ingredients as possible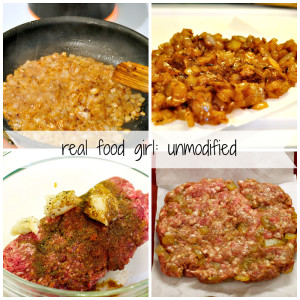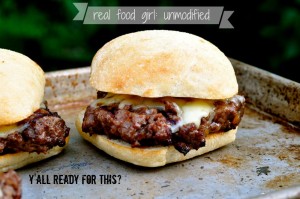 Caramelized Onion Burgers with Gruyere Cheese
2013-07-16 00:56:56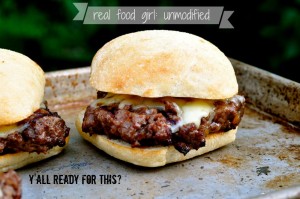 Serves 4
The world's juiciest, most flavorful burger. Oh, and it's all organic, too!
Ingredients
1 pound grass-fed organic ground beef (80/20 or 85/15)
1 small to medium yellow onion, diced finely
2 TB bacon grease (mine is refrigerated so you can see that I added it--pictured below)
1-2 tsp. organic Worcestershire sauce
1/2 tsp. onion powder
1 tsp. salt
1/4 tsp. freshly ground black pepper
Shredded raw milk Gruyere cheese (I use about 2 TB per burger)
Instructions
Heat a medium sized saute pan over medium-high heat. Add 1-2 TB bacon grease, ghee, or lard. Add onions, and season with a little salt and pepper and 1/2 tsp. sugar. Stir the onions almost constantly until they begin to soften and become transparent about 3-5 minutes.
Once they're softened, stop stirring and let them start to brown. As soon as you notice brown (dark) corners or bottoms on the onions, deglaze the pan with about 2 TB of water. Stir quickly to scrap up all the brown bits and distribute the water all throughout the onions. Rearrange the onions to a single layer as best you can, and then let them sit and brown some more. Continue this until your onions are soft, sweet and perfectly caramelized. They should be a very rich brown like the ones pictured below in the top right hand side picture.
Remove onions from pan and set aside to cool.
Meanwhile put the ground beef in a bowl to come down in temp. Overly cold beef will seize when you cook it, so let your beef sit out while you're making the onions.
Add the salt, pepper, onion powder, Worcestershire sauce, cooled onions and bacon grease to the ground beef. Using clean hands, gently squish the meat mixture between your fingers and just work in the ingredients. Plop the ground beef and onion mixture onto a cutting board and divide it into 4 equal portions. I actually make third-pounders because it's just the two of us, but a quarter pounder is still a good size burger.
Shape the portioned meat into squares. Gently flatten them and rest each square/burger on a small piece of parchment.
Burgers will be VERY loose and not very sturdy. This is a good thing. It means they won't be tough, but they require special treatment once they hit the grill so they don't break apart.
Grill each burger over a medium flame for about 4-5 minutes on the first side. You want the edges of the burger to start to look cooked before you flip or else you might tear the burger to pieces. Remember, they're fragile.
Flip burgers and cook until your desired level of doneness, about another 1-3 minutes total. Top with shredded Gruyere cheese, let it melt a bit.
While burgers are grilling, toast your Ciabatta rolls on the grill for 3-5 minutes using indirect heat (turn off the burner underneath).
Remove burgers and rolls from the heat, and serve with your favorite condiments.
Notes
NOTE: I have also added cooked bacon chopped into small dice into this burger and it's even more amazing with the bacon. I recommend pacing yourself. Make them without the bacon first so you don't have a fit and pass out. The second time you make these, add cooked bits of bacon to the burger when you add the onions. Feel free to write me into your Will.
https://www.realfoodgirlunmodified.com/
PAID ENDORSEMENT DISCLOSURE: In order for me to support my blogging activities, I may receive monetary compensation or other types of remuneration for my endorsement, recommendation, testimonial and/or link to any products or services from this blog.