I think I'm getting to the point where I am going to need to find another citrus to fall in love with. Either that or I need to take a creative writing class because I'm running out of things to talk about pertaining to my love of all things lemon. Everyone knows by now that I LOVE lemons. Every summer I look for new ways to incorporate it into a dish. This summer, I wanted easy lemon desserts and this treat totally fits the bill. But sometimes coming up with something fresh and original isn't as easy as it looks.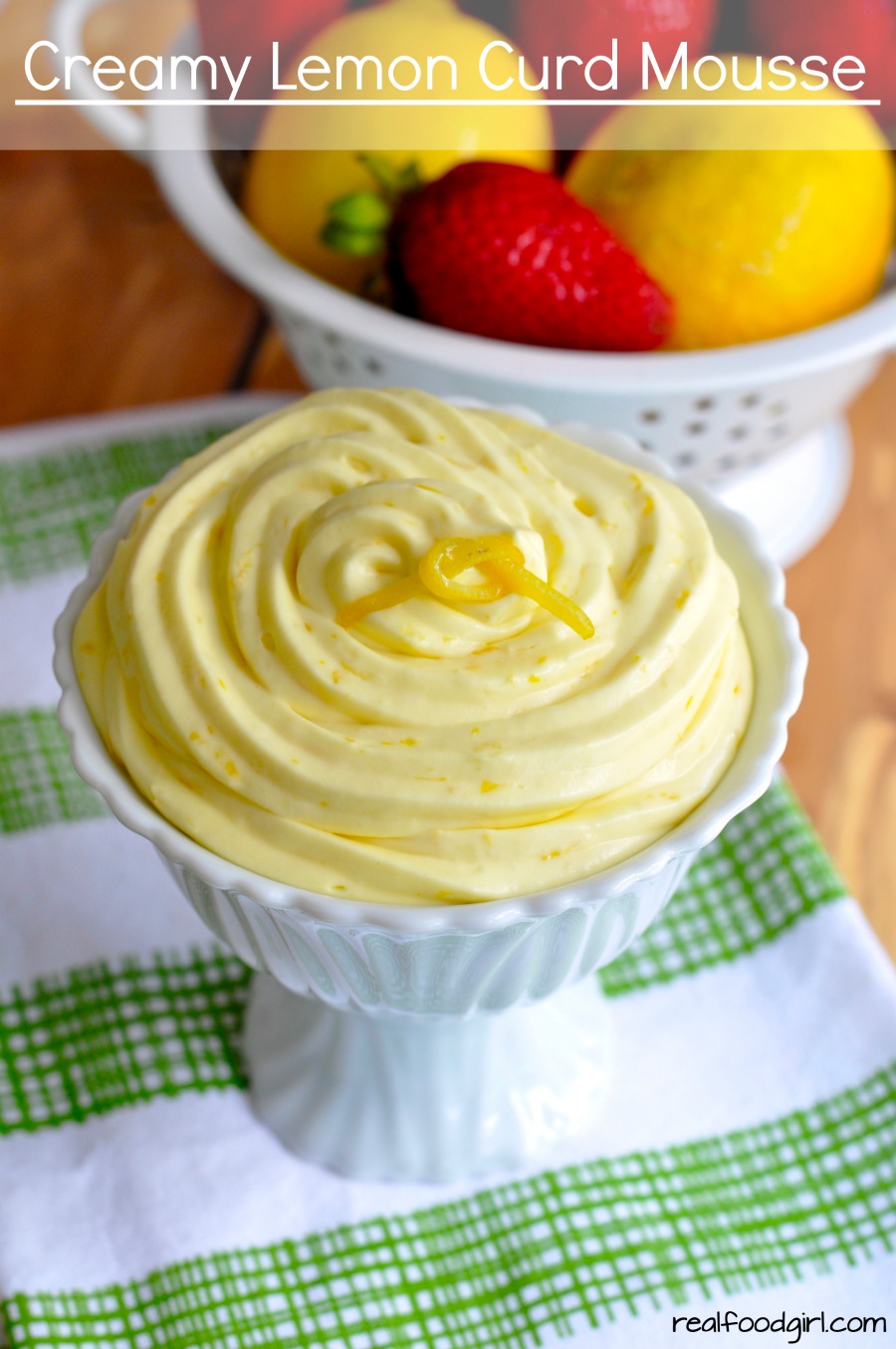 Luckily for me, and for you guys, I sometimes have brilliant ideas. No, seriously. I'm not just saying that to toot my own horn. I really do have great ideas from time to time. The Lemon Curd Mousse is one such idea. As I stood in front of a saucepan making a batch of my Lemon Curd, a thought hit me.
ME: Ya know, it's going to be hot soon and you'll wish you had a refreshing dessert that could be a great deliver system for fresh berries.
Me: ERMAGERSH!! You are SO right! Mousse sounds good, but not chocolate. That's too rich for a summer time dessert. It has to be refreshing, and creamy. Maybe even sorta fluffy.
ME: I think we're on to something! Say, what if we whipped up some fresh, organic cream, and then folded in some of this lemon curd that you keep sneaking tastes of?
Me: Holy Bananas! YES! That's it! Lemon Curd Mousse! And it'll taste fantastic with fresh berries. It's the perfect summer dessert. Man, we're brilliant.
ME: Um, no *I* am.
Me: No, I am, I mean, seriously, we're sort of the same person.
…
And that's pretty much how lemon curd mousse was born. Although…I can't be entirely sure because I was too busy stealing tastes from the lemon curd as I was making it, and I may have been slipping into a lemon induced coma, but for the sake of argument, we'll say that really odd conversation with myself did in fact happen the way I wrote. It doesn't really matter how it transpired, what matters is that this is such a wonderful dessert that we should all just be pleased that any type of intelligent conversation took place within my head and plopped out this idea!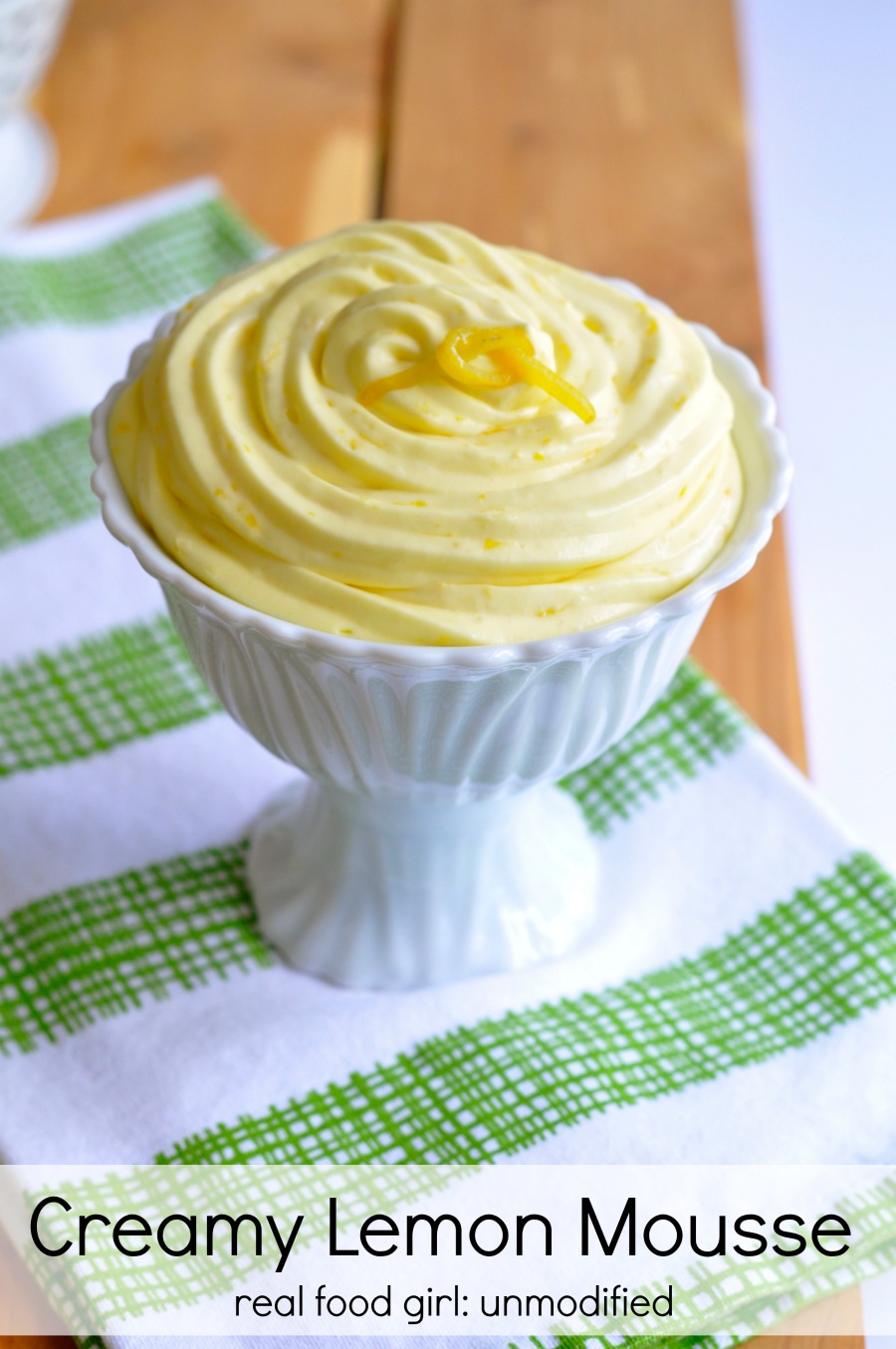 I have a mousse recipe that uses gelatin sheets and it's amazing. It's like beyond crazy-good. I currently don't own any gelatin sheets and really didn't want this recipe to be something where normal people would have to find either some fancy cake decorating store to find these, or end up needing to buy them online, so I decided to keep it really simple and straightforward.
Despite the lack of gelatin, this mousse is rich, thick, creamy, airy, but not too airy, and seriously bursting with flavor. It cries out for fresh berries. Whatever your heart desires! I even stirred some of this into yogurt. I seem to like to stir lemon based things into my yogurt. LOL! I could not stop sneaking to the fridge with a spoon to take a bite once it was finished because it was just that tasty!
Fresh berries have a new best friend. Heck, your spoon is going to have a new best friend. Dare I say your mouth will have a new best friend? I guess I just did.
If you can whip cream, and stir a few ingredients in a sauce pan, you can make this dessert. You'll need about 1-1/2 cups of my Lemon Curd recipe in order to make this. I can't wait to hear how you like this treat!
What is your favorite lemon dessert?
Lemon Curd Mousse
2014-09-13 00:41:11
Serves 4
A lovely union of lemon curd and freshly whipped cream.
Ingredients
2/3 cup organic cane sugar
1 large egg, slightly beaten
1 TB + 1 tsp. lemon zest
3 TB lemon juice
1-1/2 teaspoons softened butter
2 cups organic whipping cream or organic heavy cream.
Instructions
In a large bowl whip the cream until it's stiff (but not so much that you turn it into butter) and set in the fridge to chill. You want to do this in a large bowl as you'll be adding the lemon curd to it later.
In a small saucepan, combine the sugar, egg, lemon zest, lemon juice and the butter. Cook over medium heat stirring constantly for about 10-12 minutes, or until mixture begins to thicken.
You want the curd to be fairly thick, but note that it will continue to thicken and set a bit as it cools.
Cool the lemon curd- to a little colder than room temp otherwise it's too hard to fold it into the whipped cream. I pour it in a glass bowl and move it to the fridge.
Once the mousse is cooled, carefully fold 1/3 cup of the curd into the whipped cream at a time, tasting after each addition. I add between 1 cup and 1-1/3 cups total. You still want the whipped cream to remain fluffy, so stop adding the lemon curd if it looks like one more addition will weigh it down. You're not using gelatin, so you need the whipped cream to be able to hold up that curd.
Spoon the mousse into cute serving dishes, and chill for an hour before serving.
Garnish with fresh berries of your choice.
Mousse will keep in the fridge for a couple days in an air tight container.
https://www.realfoodgirlunmodified.com/
PAID ENDORSEMENT DISCLOSURE: In order for me to support my blogging activities, I may receive monetary compensation or other types of remuneration for my endorsement, recommendation, testimonial and/or link to any products or services from this blog.