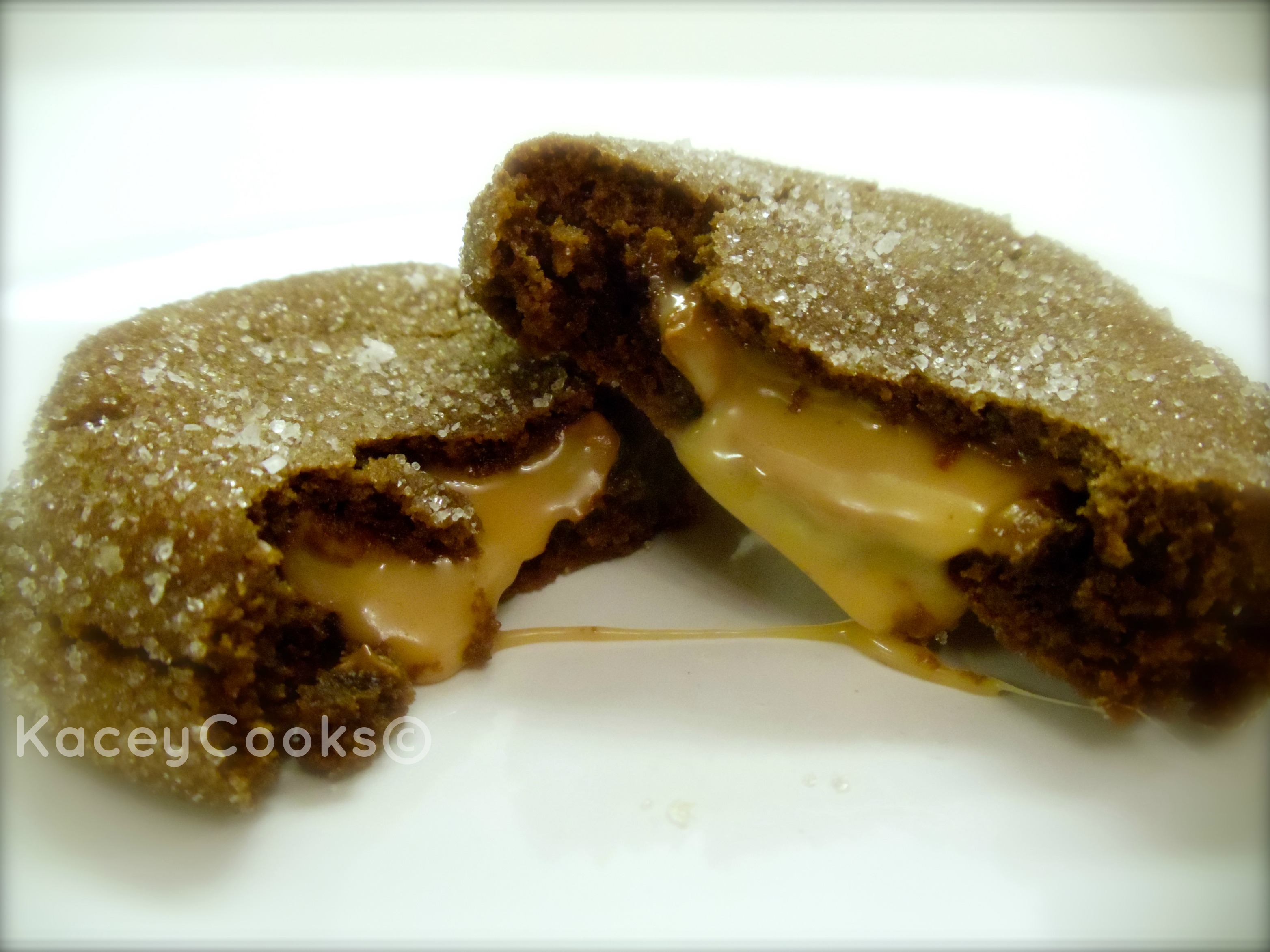 Sea Salted Chocolate Caramel Cookies
Don't throw tomatoes at me, but this recipe isn't 100% free of GMOs. I haven't been able to locate a GMO free version of Rolo's candy. I look at it this way. On rare occasion, I might eat a Rolo. Eventually I will no longer enjoy the taste of them, but for now, while I do on rare occasion AND while I have family members who have asked for this recipe, I've decided to share this recipe because the cookies are too good to not share with the masses. Ya know, after thinking about it, you could EASILY use some organic caramels in this recipe. Just cut them into Rolo sized pieces and insert them into the cookie dough. Easy Peasy- and that way these can be made to be GMO free.
UPDATE 5/2013- I no longer eat/buy Rolo's- so buy some sea-salted caramels from Trader Joe's or Whole Foods and use those in this recipe in place of the Rolo's. Just make sure you're only using about a half inch chunk of caramel so your cookies don't explode.
I found this great website that has many organic goodies.
Go to Abe's Market and click on "FOOD" on the menu bar across the top of the page, then look for the heading "Desserts and Sweet Treats" and then click on "Natural Candy and Marshmallows". There are a few different caramels that would work for this recipe. They aren't chocolate coated, but that's totally fine!
I made these cookies for one of our family Christmas gatherings this year. I wanted something different. Something that wasn't normally part of the Christmas cookie tray. I had a friend that recommended these so I thought, what the heck. I love sea salted caramels. Do you guys love sea salted caramels or are you tired of hearing about them? Hopefully you love them. Adding sea salt to caramel brings a whole new level of euphoria to your mouth. The caramel tastes richer and the chocolate tastes chocolate-ier. Adding sea salt to a chocolate covered caramel makes Angels sing, and God hands out ponies to every little girl who wants one. The combination of chocolate, caramel and sea salt is THAT heavenly. (God wanted me to tell you that He doesn't hand out ponies to every little girl that wants one, but the cookies really are super yummy)
I'm not going to lie, these cookies are kind of ugly. They're matte/dull looking. You roll the dough in granulated sugar before baking and while I agree this adds nice flavor to the cookie, and it shouldn't be omitted, it does make the cookies look a little homely. I know that I preach that pretty food is good food, and that's true. This cookie proved me wrong. Sometimes a dull/matte looking brown cookie CAN taste really yummy. And if you close your eyes while eating you won't even know just how homely this little morsel of dense chocolate and gooey, salted caramel really is. And…you won't care.
Unless you have a family full of linebackers, I suggest eating these within 2 days of making them, which shouldn't be too difficult. Make sure you've got Organic whole milk in the fridge because these cookies BEG for a cold glass of milk. Actually, the milk begs to be with these cookies. They taste best about 45 minutes out of the oven…and by day 3- well, just feed them to your trash can because they get pretty dry by then. Seriously, just take all the cookies and the gallon of milk into your closet and stuff your face. I won't judge. Guzzle that milk right from the carton, you know you wanna. These cookies will bring out the primal closet cookie snarfer that you really are…we won't judge you. We applaud you.
For the exception of the Rolo's- which I used in this recipe, all other ingredients were certified organic.
Sea Salted Chocolate Caramel Cookies
Makes about 20-24 cookies
Preheat oven to: 375 degrees
Recipe Adapted From:
The Comfort of Cooking
INGREDIENTS:
1/2 cup granulated sugar
1/2 cup brown sugar
1/2 cup (1 stick) butter, softened
1 large egg
1-1/2 tsp. vanilla extract
1-1/4 cups all purpose flour
6 TB. unsweetened cocoa powder
1/2 tsp. baking soda
20-24 Rolo's -unwrapped OR

organic caramel candies cut into half inch pieces

1/4 cup granulated sugar
1 tsp. kosher or sea salt
DIRECTIONS:
Line a cookie sheet with parchment paper. If you don't have parchment, that's alright. But DO NOT grease the cookie sheets.
In a large bowl combine sugar, brown sugar, butter, eggs and vanilla. Mix together until well blended. Add flour, cocoa powder and baking soda; mix well.
Cover bowl with plastic wrap and refrigerate the dough for 30 minutes.
Roll the dough into balls and place 1 Rolo in the center of each dough ball. Form the dough ball around the candy and roll each ball in sugar.
Place on the cookie sheet and compress slightly with the bottom of a small juice glass dredge in sugar (so it doesn't stick). Sprinkle the top of the cookie with a tiny pinch of salt (I sprinkled salt just in the center).
Bake for 8-10 minutes. Let cool for 2-3 minutes then transfer cookies to a cooling rack. Eat within 2 days.
PAID ENDORSEMENT DISCLOSURE: In order for me to support my blogging activities, I may receive monetary compensation or other types of remuneration for my endorsement, recommendation, testimonial and/or link to any products or services from this blog.