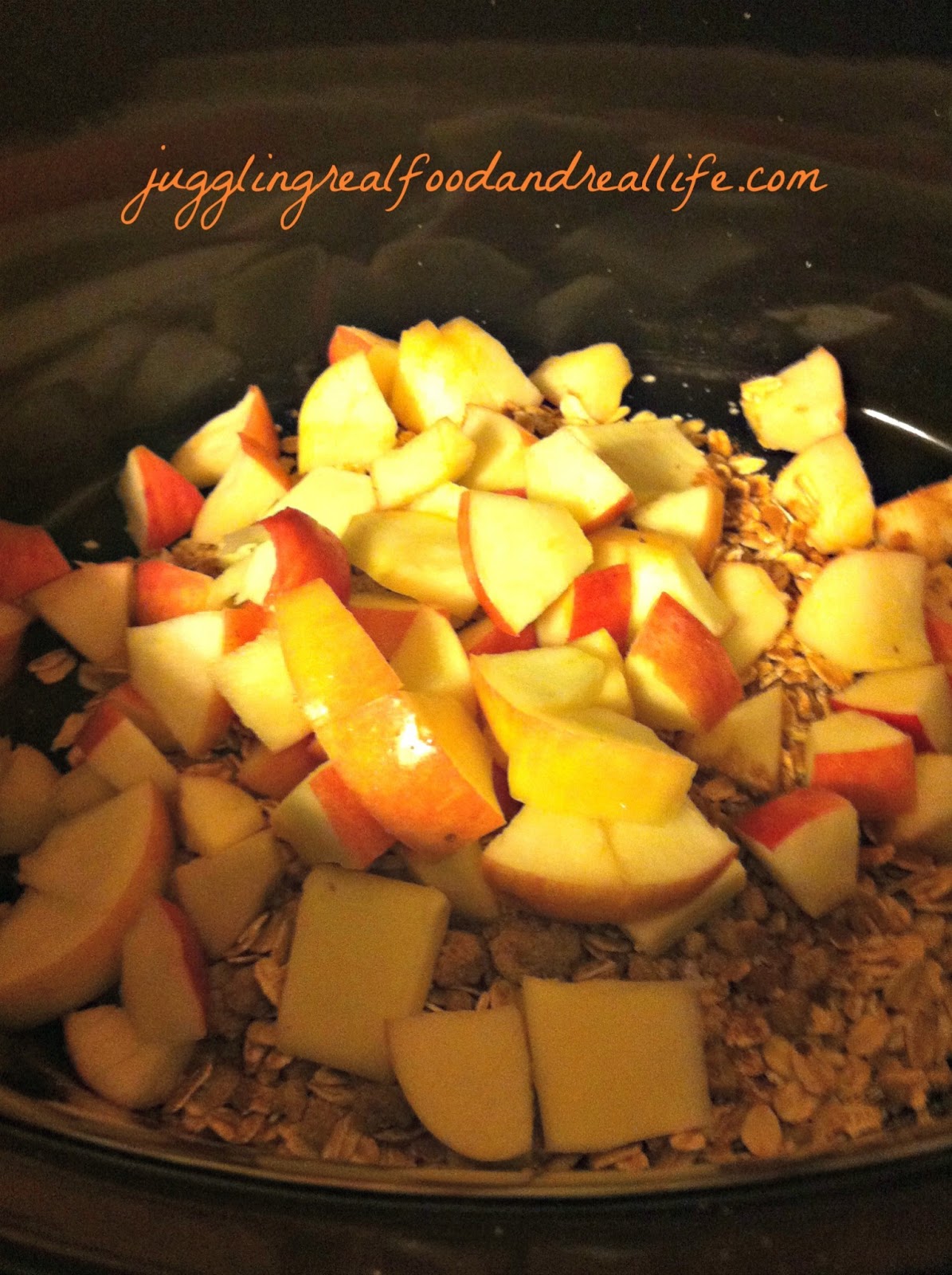 Real Food Girl Presents: Juggling Real Food and Real Life
Good Morning Food Hippies!!  You've asked for quick, easy meal ideas because y'all are busy, busy, on-the-go people with munchkins, jobs, and well, a life!  Today's Guest Post is from Christina at Juggling Real Food and Real Life.  You are not only going to love her easy, almost effortless breakfast recipe, but you're going to love her blog.  I hope you stop by and pay her a visit after reading her recipe.  She has some great resources over there and you won't be sorry that you've taken the time to trek over there.  I mean really- it's just a few clicks of your mouse and you can count it as your morning workout.
Here is a little bit about Christina and then she'll get right to her yummy slow cooker breakfast oatmeal.  I'm already drooling! 
My name is Christina Wiley and I am the mother of 4 children who span the ages from College to Elementary School.  They each have their own unique personalities, but they have one thing in common.  They are all driven to be active.  I fondly refer to them as my little over-achievers. They are not happy being involved in one activity.  They actually keep score to see who is the busiest.  Let me tell you, it is not easy to keep up with these kids.  I'm sure a lot of you can relate to this.
Because we were always so busy, I let my family fall into some really poor eating habits.  We were always running from event to event so driving through the local fast food establishments seemed like a good answer.  Oh boy! Was I wrong!  My family gained weight and we were slowly slipping into less than ideal health.  How could we keep up this busy pace, if we never had any energy?  As I approach everything, I did some research.  Out of this research my mission to provide my family REAL FOOD instead of fast food was born.  It hasn't always been easy.  Even now, as this way of eating has become the norm, we constantly are finding new challenges to overcome.  The Juggling Act of keeping REAL FOOD in my family's belly, while maintaining our busy schedule never ends.  This is the reason that I turn to my online friends for friendship, support, and advice.  I hope that I can be that to you as well.
The Mission…
We invite you to join us in our mission. Juggling Real Food and Real Life will provide plenty of information and support for you to be a success.  We will walk you through our family's transformation from Fast Food to REAL FOOD which really was a complete transformation.  We have changed what we eat, where we shop, and what we thought of as healthy.  We were surprised to find out that many of the things that we thought of as healthy  were not healthy at all.  You may be surprised as well.
Now that you know a little about me and my family, let's get to this great recipe that I have for you guys.  A slow-cooker is a busy mother's best friend, and mornings are hectic enough as it is which is why I chose this recipe for slow-cooker oatmeal to share.  Enjoy!
The Recipe…
I love oatmeal for breakfast and I used to think those little instant packages with all of the yummy flavors were the best invention ever.  I could very quickly boil some water, tear open that package, and be out the door in a jiffy.  Score!  Then, I looked at the ingredients.  The package lists:
Rolled oats

sugar

natural flavor

salt

calcium carbonate

guar gum

cinnamon

caramel color

ferric orthophisphate

vitamin

A palmitate

niacinamide

thiaminmononitrate

riboflavi

n

pyriodoxine hydrochloride

folic acid
I can't believe how many ingredients are in my simple package of oatmeal.  Need a translation? Don't we all.  This is certainly not simple eating. Unfortunately, the flavored instant oatmeal is full of food science which is not the least bit concerned with our health.  Artificial colors, and lots of refined sugar and high levels of sodium are not what our body desires for optimum performance.

With 4 kids, a full-time job, and lots of activities to juggle, I don't have time to mess around with anything that takes too long to make. I've found that the only way I can keep my energy up and continue to heal my digestive system is by eating Real Food on a regular basis.  My goal with every recipe is to make it quick and make it Real.  One of my secret weapons is my slow cooker.  I've found out that I can even be cooking while I'm sleeping.  That sounds like the best trick to Juggling Real Food and Real Life.

I can very quickly toss the ingredients into the slow cooker and let it do all the work, while I drift off to dreamland.  I then wake up to a hot breakfast that is even quicker to get to the table than the instant packages.  This recipe can easily be adjusted to fit the number of people you are feeding.  I bet it would freeze well too, but we never have any leftovers to try that theory.
Apple Cinnamon Slow Cooker Oatmeal
Recipe by:
Juggling Real Food and Real Life
Serves: 4-6
*Real Food Girl lovingly reminds you to use organic, gmo-free or local ingredients whenever possible*
INGREDIENTS:
1 cup old-fashioned rolled oats or thick-cut rolled oats (I prefer the thick cut)


2 TB pure maple syrup 

3/4 tsp. cinnamon (We like a lot of cinnamon so I usually put in more)

Pinch of salt

2 1/2 cups water

1 1/2 TB organic butter cut into 5 or 6 pieces (remember margarine is not Real Food)

2 small apples, cored or chopped (I use Gala or Honeycrisp)
DIRECTIONS:
1. Combine all of the ingredients into your slow cooker.  Cover and cook on Low for 9 hours. 
2.  In the morning, stir the oatmeal well and scoop into bowls.  Serve with a pat of butter and milk or cream.  You can also add a little more maple syrup or honey if you like your oatmeal a little sweeter.  


I hope you like the Apple Cinnamon Slow Cooker Oatmeal as much as we do.  If you are interested in more Real Food recipes, you can find them in my Recipe Index.  I am always adding recipes, so I hope you come back often. 

Thanks again to Real Food Girl: Unmodified for inviting us here today.  The two of us are 'sisters' on a mission to spread the word of all the benefits of eating Real.  You really can't go wrong when you eat the foods our bodies are designed for…like our grandparents ate. 
PAID ENDORSEMENT DISCLOSURE: In order for me to support my blogging activities, I may receive monetary compensation or other types of remuneration for my endorsement, recommendation, testimonial and/or link to any products or services from this blog.