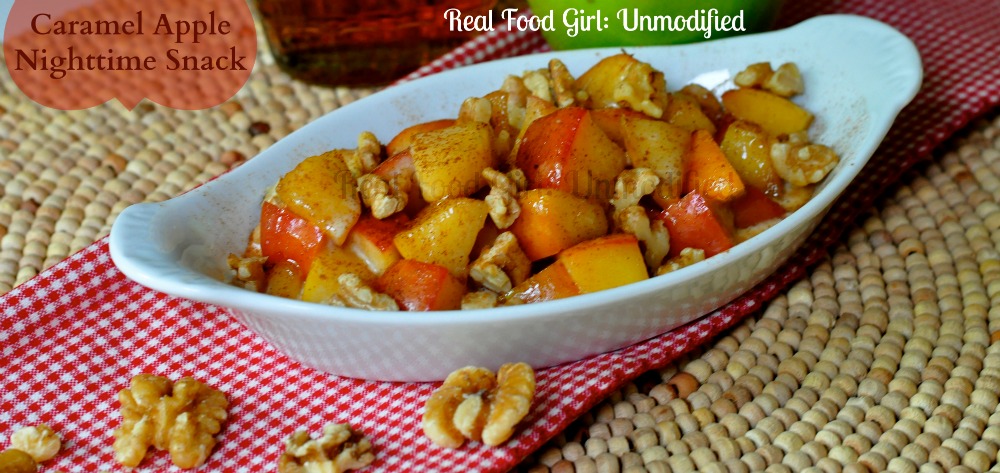 Caramel Apple Nighttime Snack
I've been working on snacks and drinks that help induce sleep for the past couple of weeks. I've mentioned before I suffer from insomnia. I used to take Ambien. After about 2 years on that medication I was having trouble sleeping. Huh, imagine that. So I hoped online and asked the Great and Powerful Wizard of Google if Ambien could cause insomnia. Whoa- talk about opening a Pandora's Box! I was flooded with information and online Ambien forums and I spent the next 6 hours reading page after page, website after website and testimonial after testimonial of what that medication had done to people, could do to people, and was possibly doing to people, and that was the last time I ever took an Ambien. That stuff is evil. Plain and simple.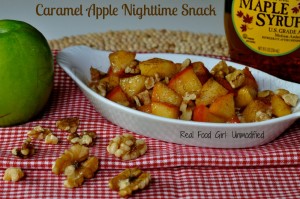 True to some of the testimonial information I read about Ambien, it took me 8 weeks of sleepless nights to get that drug out of my system. I slept only 1-3 hours during the day. It was all my body would allow me. I was a hot mess. I was very thankful that I wasn't working at the time because I'm fairly certain I would have lost my job due to pure exhaustion. After the initial 8 weeks of hell, my body slowly began letting me sleep a few hours each night. By the end of a 4 month period, I was finally free of that vile medication. The only problem was that I still couldn't sleep more than 1-3 hours at a time without waking up for 1-3 hours before falling back to sleep. Some nights I'd wake up once per hour. Other nights I'd lay awake until 6 am, and then sleep like a rock from 6:05 am until 2:00 in the afternoon. I felt like a complete bum. So I did what anyone else would do. I started taking either Benadryl (per my doctor's instruction) or OTC (Over The Counter) sleep aids.
My almost constant need for an over the counter sleep remedy is why I had been researching snacks and drinks that help induce, promote and assist the body in maintaining sound sleep each night. It's how Liquid Lullaby was born. I've got a hormone imbalance that I'm treating to help with the insomnia, and I'm also working on not using an OTC medication or Benadryl unless absolutely necessary because I'm trying to eliminate as many pharmaceuticals from my home as possible. I also take magnesium baths and use essential oils to help usher in a relaxed state of mind to prepare my body for sleep. In short, I'm trying to find more natural remedies to help my body remember how to stay and fall asleep.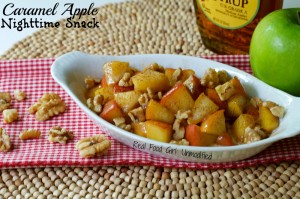 Between the Liquid Lullaby, this Caramel Apple Nighttime Snack and another recipe that I'm working on, I'm no longer panicking over not having any medications to make me sleepy or to help me sleep. I have noticed that with each mug of Liquid Lullaby that I drink each day, my body responds more quickly to it. How cool is that? If I happen to eat a bowl of this snack AND drink a mug of liquid lullaby, I'm out like a light and can sleep about 5-6 hours uninterrupted. And with my chronic, severe back pain, which always wakes me up nightly, that's saying something.
This bedtime snack is filled with many of the same ingredients that are in the Liquid Lullaby. Each ingredient was carefully thought out. To learn more about what each ingredient does that helps promote sleep and relaxation, read the Liquid Lullaby post. The original recipe for this Caramel Apple Nighttime Snack comes from my good friend the Culinary Guru. Back when we both worked at a cooking school she shared her recipe for a bedtime apple snack. I simply took her ingredients, added a few of my own, changed how it was made ever so slightly, and I now have another favorite recipe. TSM (The Stud Muffin) really likes this treat. He especially likes it poured over a few scoops of homemade vanilla ice cream. However you like to eat this, just make it. Make it tonight. I prepared this for my granddaughter Miss B this weekend and she LOVED it. "Grandma, this is the best nighttime snack ever, and I really love it!" Yeah- that's better than any paid endorsement.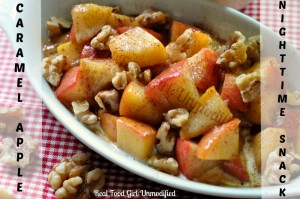 Caramel Apple Nighttime Sleepy Snack
2013-09-30 20:16:27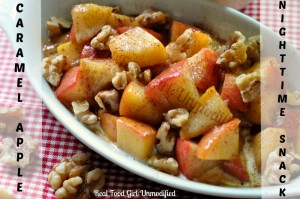 Serves 2
A rich cream based caramel sauce combined with crisp, tart apples, toasted pecans and walnuts and wonderful, warm, spices will make you grab a spoon and dig in!
Ingredients
1 large crisp, tart-sweet apple such as Honeycrisp cut into a 1/2" dice
1/4 cup (total) toasted pecans and walnuts, crumbled into smaller pieces
3 TB organic brown sugar (I actually make my own to use in this recipe)
1 TB organic grass-fed butter
1/3 cup organic, grass-fed heavy whipping cream
1/2 tsp. cinnamon
1/8 tsp. freshly grated nutmeg
pinch of ground cloves
pinch of ground cardamom
1/8th tsp. real mineral salt
2 tsp. pure maple syrup
More cream for drizzling
Instructions
Dice apple and set aside.
In a medium sized saute pan, melt butter over medium heat. Once butter is melted, add apple and cinnamon and stir to combine. Cook over medium heat for 3-4 minutes, stirring frequently.
Add brown sugar, salt, maple syrup, nutmeg, cloves and cardamom and stir to combine. Turn heat to medium-low and continue to cook for about 5 minutes, stirring frequently until apples are slightly softened and well coated in the caramel sauce.
Using a slotted spoon, remove apples from the saute pan and place in a bowl. Return pan to medium heat and add cream. Stir and let bubble and thicken for 3-5 minutes. Turn off heat and let the caramel sauce cool slightly. Return apples and any juices to the pan, stir to coat with the sauce.
Divide apples among two serving bowls, pour on the caramel sauce, sprinkle with the toasted nuts, and drizzle some more fresh cream on top if desired (seriously, why wouldn't you wanna add more cream?). Grab a spoon and dig in.
Notes
I sometimes add a little more brown sugar and cream to make extra sauce because it's that good. I also increase the amounts of spices too. I'm sure this would keep in an airtight container in the fridge for a day or two, tops, but I doubt you'll ever find out.
Adapted from From a recipe by Hillary R/Culinary Guru
Adapted from From a recipe by Hillary R/Culinary Guru
https://www.realfoodgirlunmodified.com/
PAID ENDORSEMENT DISCLOSURE: In order for me to support my blogging activities, I may receive monetary compensation or other types of remuneration for my endorsement, recommendation, testimonial and/or link to any products or services from this blog.