Real Food Molasses Ginger-Doodle Cookies
Holy Cow!! I've been super busy lately and my to-do list is growing! Is it just me or is every December like that? This week I have a yummy casserole recipe I still want to share with you, I'll be announcing a Giveaway and I plan on having a Christmas Cookie/Treats Recipe Roundup post published by Saturday. Also, I'm knee deep in stringing lights on our Christmas tree, but I ran out of blue lights. I've been to three stores so far and each store has been out of stock, so tomorrow I have 3 more stores to try before I go online and find some. I can't believe I moved to an area that has almost empty shelves in their Christmas decorating sections on December 2nd! Lastly, my fabulous grandchildren Miss B. and Master C. will be spending Friday-Sunday with us, and we'll be making sweet rolls and Christmas Cookies. Ack! I'm seriously behind people! Do you ever have weeks like that? Tell me you do.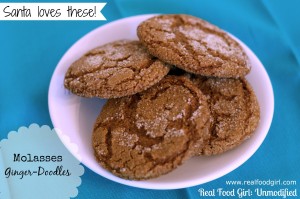 I wanted to quick share this recipe because you'll want these Real Food Molasses Ginger-Doodle Cookies for your annual holiday cookie swap. They are so delicious. They are a blissful union of the best qualities of a ginger snap, a molasses cookie and a spice cookie. They're perfectly chewy with a little bite, but they are not hard/crispy. This cookie recipe was adapted from The Smitten Kitchen. I've tried a few of her recipes and each one has turned out. That makes me super happy. I will sing praises of any blogger who posts quality recipes on their site and doesn't cause me to waste ingredients to make a garbage recipe that looked great in the photo, but was never, ever going to taste good. This recipe was near perfect and didn't need many changes, but I did take a few liberties with it. It's how I roll.
Bursting with warm, rich-scented spices, these Real Food Molasses Ginger-Doodle Cookies are like a warm snuggle next to a fire with a mug of cocoa and a good book. They're comforting, satisfying and make you all warm and fuzzy inside. You won't regret trying these. These cookies will make your tongue sing the Halleluiah Chorus. Even Santa loves these cookies. He sent me an email telling me as much. If Santa loves them, then you know they're good and you should probably make a batch and leave him 2 or 15 with a nice glass of raw milk on Christmas Eve. Santa deserves cookies made with organic, non-gmo ingredients, too.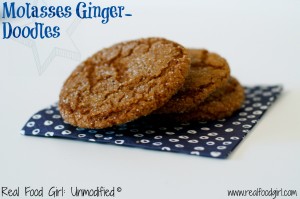 Real Food Molasses Ginger-Doodle Cookies
2013-12-03 02:20:45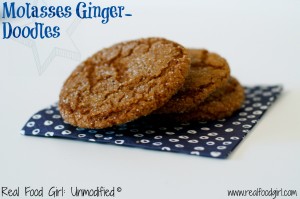 These spice-filled, chewy molasses cookies with a sugar crackle top will make your mouth sing and dance with happiness!
Ingredients
2 1/4 cups organic unbleached all-purpose flour
2 tsp. baking soda
1/2 tsp. salt
2 tsp. ground cinnamon
1-1/2 tsp. ground ginger
3/4 tsp. ground cloves
1/8 tsp. cardamom
1/4 tsp. nutmeg
1/4 teaspoon ground allspice
1/3 cup candied/crystallized ginger chunks diced very small
12 TB (1 1/2 stick) unsalted butter, softened
1/2 cup dark brown sugar, firmly packed
1/2 cup granulated sugar, plus 1/3 cup for rolling cookies
1 large egg
1 teaspoon vanilla extract
1/3 cup organic unsulphured molasses
Instructions
Adjust racks to upper- and lower-middle position and heat oven to 375 degrees. Whisk flour, baking soda, salt, and spices together in medium bowl; set aside.
Using electric mixer, cream the butter, brown sugar, and 1/2 cup granulated sugar until light and fluffy, about 3 minutes on medium speed. Scrape sides of bowl often.
Add egg, vanilla extract, and molasses. Beat until combined, about 30 seconds. Scrape sides of bowl.
Add dry ingredients and beat at low speed until just combined, about 30 seconds.
Add crystallized ginger pieces and stir by hand using a sturdy wooden spoon to combine.
Place remaining 1/3 cup granulated sugar in shallow bowl. Use a 1-oz scoop to form the balls and roll the dough balls in sugar and place them on parchment lined baking sheets, spacing them 1 1/2 to 2 inches apart.
Bake, reversing position of cookie sheets (from top to bottom and front to back) halfway through baking, until outer edges begin to set and centers are soft and puffy, about 11 to 13 minutes. Cool cookies on sheets for 2 to 3 minutes before transferring to cooling racks.
Adapted from Smitten Kitchen
https://www.realfoodgirlunmodified.com/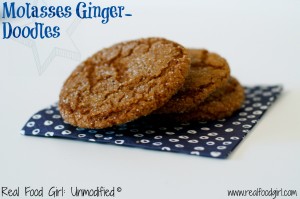 PAID ENDORSEMENT DISCLOSURE: In order for me to support my blogging activities, I may receive monetary compensation or other types of remuneration for my endorsement, recommendation, testimonial and/or link to any products or services from this blog.