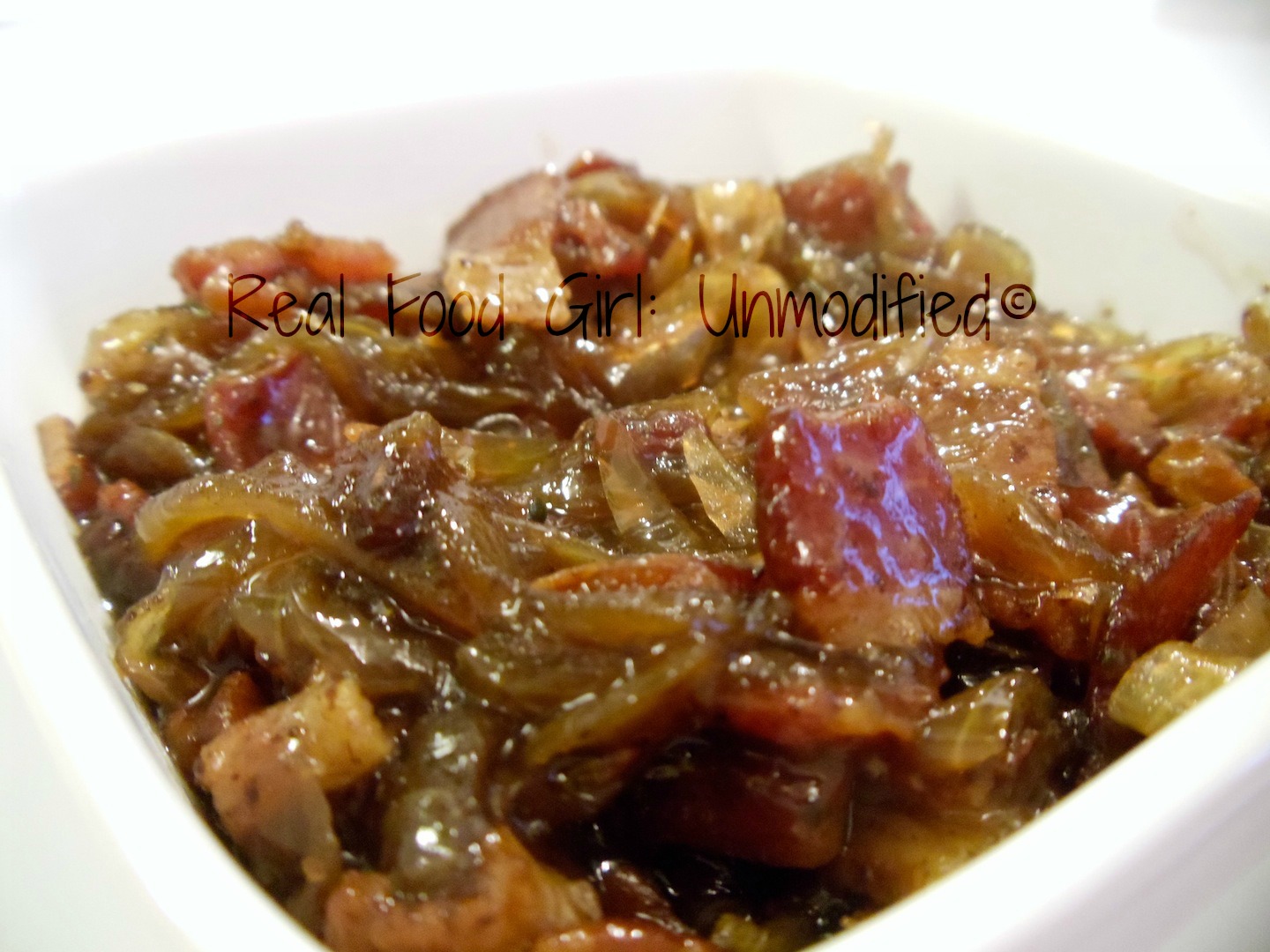 Onion Bacon 'Jam' (Organic/GMO-Free)
I have a serious foodie crush on bacon. It's worse than the combined crushes I had on Shawn Cassidy, Scott Baio and Andy Gibb as a teen! We're talking about an incurable, deep, intense crush for all things bacon. If bacon was a person, I'd be arrested for stalking it and creating a bacon photo collage on the wall of my seedy, low rent apartment complete with an alter, paying homage to all things bacon- just like those psycho ax murderers do on all those criminal cop shows. Yup. I've got it baad!
I love bacon so much that any bacon related clip art, or comic or poem or interesting food invention using bacon gets posted on my Facebook wall by all my friends because they know I love bacon that much. I've yet to try bacon flavored gum, soda, or toothpaste, but I did have a friend send me a bar of bacon scented soap. It had real bacon grease in it- Interestingly enough I don't smell good when I smell like bacon. That made me sad. It's probably for the best because it did make my dogs look at me kind of strangely, like I was a walking dog snack. When you have to 80-pound Golden Retrievers living with you, it's probably best that you NOT smell like dog snackage. Just a hunch.
I prefer my bacon to be on the limp/chewy side, not the blackened, crispy, burnt, charred side. It's meat, there is no need to cook it until you've killed it three times over. Just knock the oink out of it, and plate up. Even TSM (The Stud Muffin has changed the error of his ways and now prefers just cooked bacon to the crispy/crispy burnt stuff. Folks, don't do that to your bacon. It's just wrong.
I almost always have bacon in my freezer and I cook with bacon grease often. I buy a good, quality (from pasture-fed piggies) bacon (from a local farmer if possible via my local co op), or a bacon that hasn't been preserved, and doesn't contain nitrites and nitrates, antibiotics or hormones. My favorite brand of bacon is from Applegate Farms. These guys do bacon well. My only complaint is that they don't have a thick sliced variety and they only sell it in 10 ounce packages and I'd prefer a full pound. If that's the worst I can find with this bacon, then I'm doing well. I would mention the bacon I eat from a local farmer, but he's local- so I decided to share the Applegate brand since everyone has access to this brand- you simply have to find a store near you that carries it.
For this recipe you will need to julienne your onion. I found a great step-by-step tutorial for you guys with pictures on how to do that, right HERE.
This entire recipe was made with ingredients that are free from transgenic foods, otherwise known as GMOs (genetically modified organisms). Now there are some ingredients that I wasn't able to find an organic version for but because they don't come from one of the high risk crops listed below, I'm going on the premise that the ingredient is in fact free of GMOs. (like my balsamic vinegar for example)
Top GMO Crops:
Alfalfa (first planting 2011)
Canola (approx. 90% of U.S. crop)
Corn (approx. 88% of U.S. crop in 2011)
Cotton (approx. 90% of U.S. crop in 2011)
Papaya (most of Hawaiian crop; approximately 988 acres)
Soy (approx. 94% of U.S. crop in 2011)
Sugar Beets (approx. 95% of U.S. crop in 2010)
Zucchini and Yellow Summer Squash
Information above found here.
I would like to note that you can make this recipe with non-organic ingredients. You can also make this recipe using ingredients that contain GMOs- the choice is up to you. All my recipes can be made using ingredients you have readily available in your local grocery stores and co ops. Although I have chosen for health and personal reasons to cook with as many organic and non-GMO ingredients as possible, I understand that others might not share the same desire, and that is OK. If you wish to follow my recipes as-is, fabulous. If you prefer not to, no problem at all. You can still enjoy my recipes and I hope that you do.
Are you unsure what to do with my Onion Bacon "Jam"? I've got you covered. Try it on a cheeseburger, or in a panini. I have also added this to my own homemade baked beans. It's amazing!
Onion Bacon "Jam"
Recipe by: Real Food Girl: Unmodified© Makes about 10 ounces of "jam" Prep: 15 minutes Cook time: 30-45 minutes
INGREDIENTS:
1 pound organic yellow onions, sliced julienne (I used two large onions, and was a tad over 1 pound)
5 slices of organic bacon-thick cut
4 TB organic brown sugar
1 TB organic white granulated sugar- make sure it is 100% CANE sugar.
1/4 tsp. freshly ground black pepper -organic
Kosher salt to taste
1/2 tsp. fresh thyme, removed from stems and chopped
1/4 cup red or white wine- I didn't use organic wine because I didn't have any. Trader Joe's sells organic wines
1/4 cup homemade chicken stock
2 TB Balsamic vinegar
DIRECTIONS:
Cut bacon into 1/2 inch pieces and cook over medium heat until just cooked through. You don't want it crispy or hard. Trust me on this one!
Remove cooked bacon to a paper towel lined plate to drain, remove all but 2 TB of bacon grease and return the pan to heat.
Lower heat to medium and add sliced onions to the skillet, stir to coat onion slices evenly with the bacon grease (if more grease is needed, this is where I would add a little heart healthy olive oil).
Lightly season onions with a few pinches of kosher salt and a few pinches of pepper, stir well.
Cook the onions covered for about 20 minutes.
Continue to cook, stirring every 3-5 minutes until the onions begin to turn GBD (golden brown delicious)- if the onions start to brown too much and you're running out of liquid, add a TB of water here and there to keep things happy and hydrated in the pan- cooking with the cover on will create some steam, but you may need to add a touch of water while these are caramelizing.
Add the sugars and stir to combine and coat all the onions with the sugar. Cook uncovered for 3-5 minutes.
Add the wine, cook until it reduces about 3 minutes
Add the balsamic vinegar and the chicken stock. Cook for another 5 minutes stirring constantly.
Add the thyme, salt and pepper to taste. Stir, taste and adjust seasonings.
Add the bacon and stir well to combine all the saucy oniony goodness to the bacon pieces.
Remove from heat, cool and store in an airtight container in your fridge. This will keep in the fridge for a couple weeks. I store mine in pint sized jam jars.
That's it- and when you're done you should have something that looks like this:
NOTE: Take your time caramelizing onions. It takes low heat, and some time and attention, but the end result is so worth it. My onions were very dark and golden before I added the balsamic. You want a thoroughly translucent, dark golden brown look to your onions. Adding a little water (TB at a time) throughout the cooking process helps move the onions along and deglazes any oniony bits of goodness (fond) that have stuck to the bottom of the pan. It also contributes to the sauciness of the finished product. Salting your onions a few times with a pinch of salt will also help to draw out all the moisture from the onions.
This article, photos, recipe method/directions are the copyrighted, intellectual property of Real Food Girl: Unmodified
PAID ENDORSEMENT DISCLOSURE: In order for me to support my blogging activities, I may receive monetary compensation or other types of remuneration for my endorsement, recommendation, testimonial and/or link to any products or services from this blog.