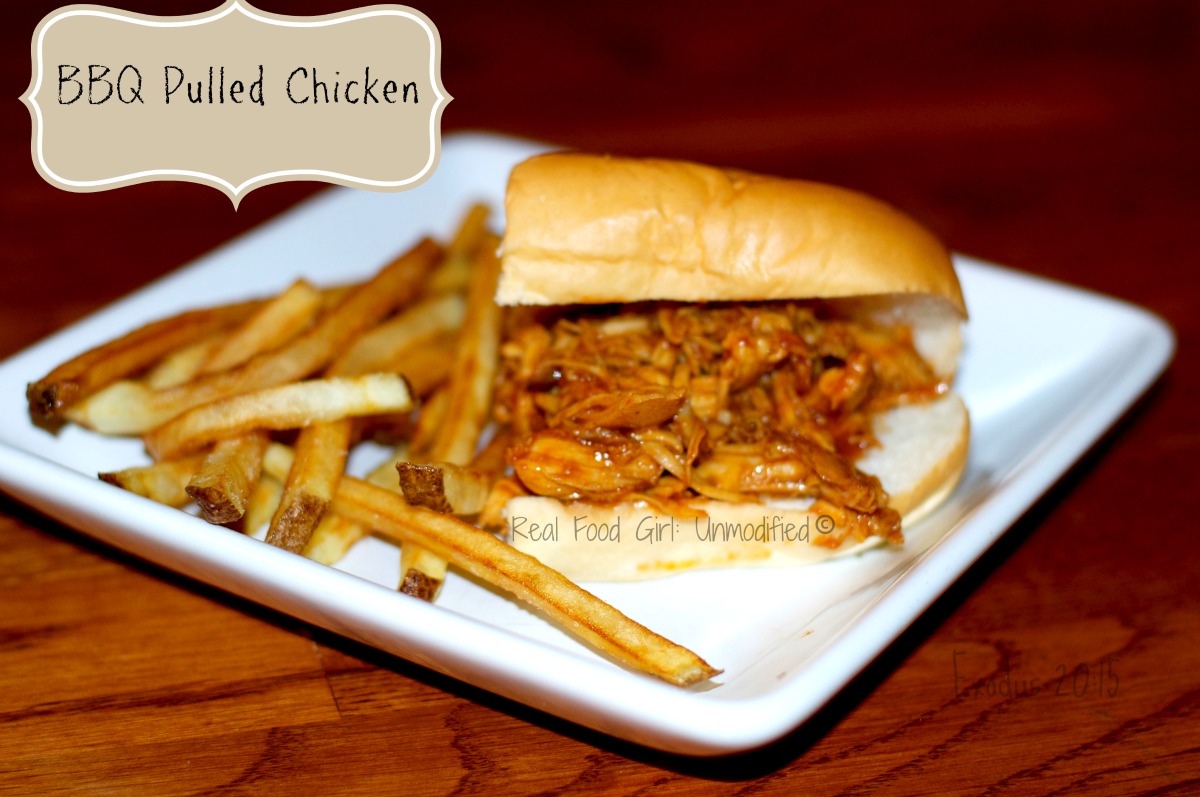 Outta the Park BBQ Pulled Chicken… GMO-Free
A few months ago I was introduced to Beth, one of the owners of Outta the Park BBQ Sauce. I'd been commenting on my Facebook Page about how difficult it had been for TSM (The Stud Muffin) and I to find good tasting, organic condiments. We'd wasted close to a hundred dollars trying to find salad dressings we liked. I know, I know…I should make my own, but TSM and I don't like the same types of dressings and I've never found a dressing that is comparable to that HFCS laden Western brand French dressing. But I digress.
As I lamented about all the money we'd wasted trying to find decent tasting ketchup, mayo (for those weeks when I just didn't get around to making it from scratch) and salad dressings, I received a Facebook PM from Beth with Outta The Park Sauce. We hit it off and before you know it, I had a package delivered to my door that contained 2 full-sized bottles of both their Original and Hot & Spicy varieties and two cute little sample bottles of each flavor. Outta the Park is doing things right and Beth and her husband have managed to produce a clean, Real Food sauce that is GMO-Free and is darn tasty without the funky aftertaste that so many organic or GMO-Free condiments seem to have. Finally, condiment victory!
So far I've used their sauce to make GMO-Free BBQ baked beans (recipe coming), GMO-Free BBQ chicken on the grill, GMO-Free BBQ pulled pork and BBQ pulled chicken sandwiches. The original is our favorite.
The picture doesn't pay this justice. I apologize we didn't have enough money in our budget for me to make enough for supper AND for a photo shoot the next day in natural light, so you're getting a low-quality photo taken right before I snarfed this down, but trust me when I say it's tasty food.
I won't be doing many posts where I recommend products simply because I need to make a living and if I'm going to give a product my time and energy, they can shoot me a few coins. I decided to make an exception for Beth and her husband because I believe in what they are doing and want to see their sales increase and want you guys to have their sauce in your homes and in your bellies! Yer Welcome!
Before I get to the recipe here is a little bit of information about Outta the Park from their Facebook page:
"From the moment Outta The Park BBQ Sauce was first created in our family's kitchen, we knew we had a homerun on our hands! Our sauces deliver big on flavor and have the added benefit of being made with clean ingredients – no high fructose corn syrup, no preservatives or additives and no genetically modified ingredients.
When we say our sauces are "all natural," we mean REAL-ly Natural, where every ingredient is grown and not made in a lab. Or as we like to say "It's Real." And "It's Good." Our sauces have been judged by some of the biggest BBQ fans and food critics out there, and our awards and 5-Star Reviews say it all.
We believe you, your family and friends will enjoy the homerun taste of our sauce so much that you'll see empty bottles in your recycling bin often. And when "It's Gone," you'll keep coming back for more!
Both varieties of Outta The Park Sauce are Gluten-Free with about half the sugar and carbs as the leading national brands. They are available in about 300 retail locations across the US and online at abesmarket.com, igourmet.com and insanechicken.com.
Please visit our website to learn more, and be sure to check out our recipes, reviews, and our ever growing list of retailers on our Where to Buy page."
You should go and check them out. You won't be disappointed and their sauce is worth every penny. It's so flavorful I don't have to use as much when I'm cooking with it–I like that about this sauce. I don't have anything bad to say about it. Real ingredients, creative take on flavor–they use ginger in their sauces– and it's made by a small company trying to do things right. Those companies deserve our business, don't you think?
BBQ Pulled Pork
Recipe by: Real Food Girl: Unmodified Serves:2-4 Time: 60 minutes
INGREDIENTS:
2 organic chicken thighs and 1 organic chicken breast- bone in and skin on (add an extra thigh or leg if feeding more than 2 people)
Sea salt and black pepper TT (to taste)
1/2 tsp. smoked paprika
1 to 1-1/2 cups Outta the Park BBQ Sauce
1/2 yellow onion, diced fine
olive oil (Yes, I'm working on no longer cooking with Olive oil when heat is involved. Some habits are harder to break and as a chef, this one has been difficult)
Organic sandwich buns -we used hoagie buns as it was all we had. In fact, when I made this dish we were so broke that we only had ONE bun left and we had to split it. That is why you only see half the sandwich in the photos. Gotta love budget living!
1 tsp. Ghee (clarified butter) or bacon drippings
DIRECTIONS:
Preheat oven to 375 degrees
Wash chicken under cool, clean water and pat dry with a clean kitchen towel or paper towels. Set aside in a bowl.
In a small skillet over medium heat sweat the onion with the tsp of ghee or bacon drippings until soft and translucent. This should take about 5-7 minutes. Salt and pepper the onions lightly. The salt will help draw out excess moisture. If onions start to brown faster than they are softening, add a TB of water to the skillet and turn the heat down a bit. When onions are done, turn off the burner and set aside.
Sprinkle the paprika, a good tsp. of salt and a good 1/2 tsp. of pepper over the chicken, and drizzle in about 1 TB of olive oil. Using hands, make sure you get the seasonings evenly distributed. Place the chicken pieces skin side up onto a baking pan/sheet pan.
Gently lift up the skin and sprinkle a little more salt under the skin and rub it into the flesh. Place the skin flush against the flesh of the chicken and put into your 375 degree oven for 25-30 minutes. Chicken is done when digital thermometer reads 160 and/or when juices run clear.
Let chicken cool slightly- then remove skin and with your hands (they really are the best kitchen tools) begin to pull the chicken off the bone and into bite-sized pieces.
Place chicken into a medium sized sauce pan, and add the sauteed onions and up to 1 cup of the sauce. Stir to combine and cook over medium heat until the meat is cooked through and warm. If more sauce is desired, add more. Taste it to insure you don't need any more salt or pepper, and serve on toasted buns with homemade French fries!
PAID ENDORSEMENT DISCLOSURE: In order for me to support my blogging activities, I may receive monetary compensation or other types of remuneration for my endorsement, recommendation, testimonial and/or link to any products or services from this blog.