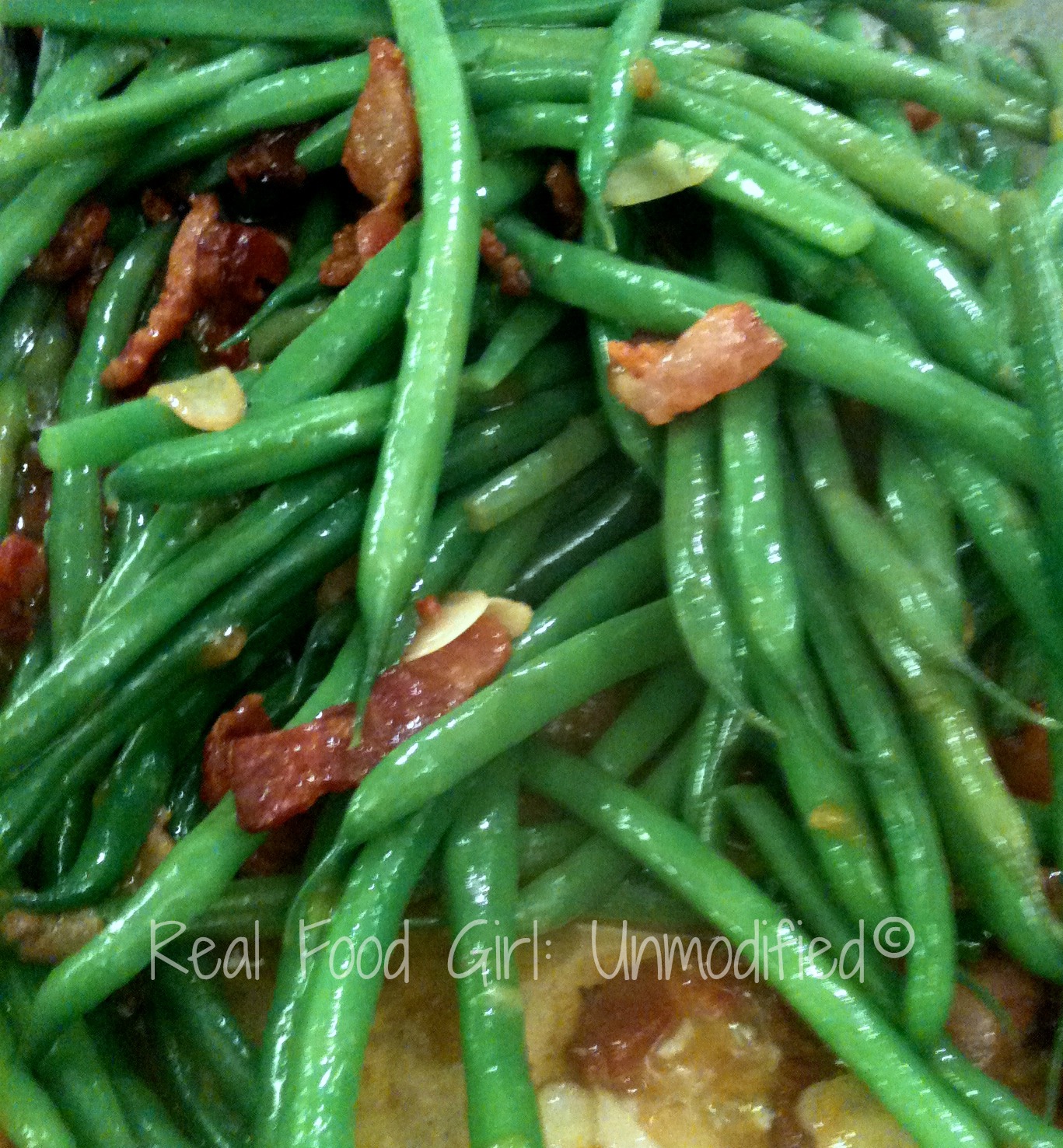 Apricot Glazed Haricots Verts with Bacon (Organic)
I had a fantastic article planned to share with you guys today, but for some reason WordPress doesn't like my outline form and no matter how I try to fix the formatting it won't allow it.  So instead of tinkering with it any longer, and because it's 5:10 in the morning and I haven't gone to sleep yet- I thought I'd share this recipe.
It's Easter weekend and you may be in need of a fresh, vibrant, different side dish to go along with your Easter ham.  This one fits the bill.  You can even make it vegetarian by eliminating the bacon.  Just don't tell me if you do. It'll make me cry to know you don't like or eat bacon.  😉  Enjoy the recipe everyone and Happy Easter!
I was at Trader Joe's earlier in the week and came across this lovely bag of Haricots Verts.


Aren't they cute?  For those of you who either A.) Don't speak French, or B.) Didn't take out a second and third mortgage on your home so you could afford to go to a snooty French Culinary School, haricots verts are green beans.  'Haricots' is French for bean, and 'Verts' is French for green. You pronounce Haricots Verts like this.  Just in case that link doesn't produce the audio soundbite it is supposed to, pronounce it Hair ree coe vair (rhymes with Hair Ree Joe Fair).  Verde is both the Spanish and Italian word for green, just in case you're ever on a game show and need to know that.  You're impressed right now with my mad foreign language skills, aren't ya?
I knew that I couldn't just steam these beautiful beans.  Haricots verts deserve special treatment.  They are longer and more narrow than the green beans we're used to in America.  They are also in my opinion much more tender.  I prefer them over regular green beans, as do the French.  It's why they have their own green bean after all.
After staring at this bag of beans I decided to try a recipe I saw in a Woman's Day magazine while sitting in the waiting room at my doctor's office.  The original recipe called for regular green beans, but I felt the haricots verts were begging for something bold and different and this recipe was the answer to their pleadings. I made a few minor adjustments based on my taste preferences and the end results were magical!   The flavors will explode in your mouth and leave you begging for more.
Are you ready for the recipe that might replace your green bean and MSG casserole this year?  Don't be afraid… think of me as your culinary Obi Wan Kenobe.  These ARE the beans you're looking for!
Apricot Glazed Haricots Verts with Bacon
Recipe adapted from:
Women's Day Magazine
Serves: 4 Prep Time: 10 minutes Cook Time: 10-15 minutes
INGREDIENTS:
Kosher salt
Pepper
2 pound(s) organic green beans or Haricot Verts, trimmed
4 slice(s) organic bacon cut into lardons
1 TB  olive oil
2 cloves garlic, 

thinly

sliced (think Goodfella's thin here people.  Yes, this can be done with a knife. I do it all the time.)
1/3 cup organic apricot jam
2 tablespoon(s) cider vinegar
DIRECTIONS:
Put your bacon in the freezer for about 15-20 minutes before you start.  Having it slightly frozen will make the bacon easier to cut.  While your bacon is chilling, prep your other ingredients. (I combined the jam, cider vinegar salt and pepper into a prep bowl so it was ready to go)
Slice bacon crosswise into ¼" wide strips known as lardons.  Cook bacon in a medium skillet over medium heat until justcrisp, 5 to 7 minutes; transfer to a paper towel–lined plate.
Bring a large pot of water to a boil. Add 1-tablespoon salt (yes, you read that right. SEASON your water people!), then the green beans, and cook until just tender, 3 to 4 minutes. Drain then plunge beans into a bowl of ice water to shock them and stop the cooking.  After 90 seconds in the ice water drain the beans and then place them onto paper towels and gently blot to remove excess water.
Wipe out the skillet and heat the oil over medium heat. Add the garlic and cook, stirring occasionally, until the garlic starts to brown (don't let garlic get beyond that point or it will burn and become bitter. This will take between 1-2 minutes.
Stir in the jam, vinegar, and 1/4 teaspoon each salt and pepper. Add the green beans and toss to coat.  Cook just until beans are warmed through, about 2-3 minutes.  Toss constantly so that beans do not over cook and become that dreadful olive green color.
Fold in the bacon, and serve.
The true (French) definition of a bacon lardon (lar donn) is bacon that has been sliced or diced, then blanched and fried.  Just in case you get asked that on another trivia game show.
PAID ENDORSEMENT DISCLOSURE: In order for me to support my blogging activities, I may receive monetary compensation or other types of remuneration for my endorsement, recommendation, testimonial and/or link to any products or services from this blog.