It's a Real Food Girl: Unmodified Giveaway!
This Giveaway is now closed.  Thank you to all who participated! Keep an eye out for the next Real Food Girl giveaway!
It's the FIRST ever Real Food Girl: Unmodified Give-Away! I feel like there should be some parade music in the background. Don't you? Scratch that. I Googled parade music, and didn't like any of it.
In February I relaunched my blog with a fancy new look and my own domain. I thought it was time to celebrate that and the amazing growth that's occurred over on the Real Food Girl: Unmodified Facebook page! I say we "Do a little dance, make a little cake, and get down tonight, get down tonight"… Or we could "Shake our groove thang's", or we could "Celebrate good times, c'mon!" Either way, I'm celebrating, you're invited and there will be prizes for one lucky participant!
This isn't a fancy giveaway by any means, but the prizes are still pretty snazzy if I do say so myself. I am purchasing the prizes from my earnings selling pencils on busy street corners in downtown Minneapolis. It's a rough living, but people need pencils and I'm there to deliver. I'm kidding. I don't sell pencils. I wanted to show my appreciation to all my followers and readers and throwing a little giveaway celebration seemed like a great way to do that! I have appreciated getting to know some of you on the Real Food Girl Facebook page, and your encouragement and comments make the long hours that go into this blog all worthwhile. I do love what I do, but there's no secret that it wouldn't be nearly as fun or as rewarding if it weren't for all of you!
This is my first time using Rafflecopter and I'm quite excited to be doing so. Make sure that you increase your chances of wining by completing as many of the entries as possible. You may enter once daily until the contest ends, and the more entries you complete, the higher your chances of winning become. Have fun, and thank you for being a part of the Real Food Girl blog community and Good Luck! I can't wait to see who wins! Read below for details on how to enter to win! Thank you all again for being a part of Real Food Girl: Unmodified and for making this site what it is!
GIVEAWAY DETAILS
One winner will receive their choice of the following: A pack of 5 reusable mesh produce bags. These things are awesome. You'll never go back to using the plastic ones in the stores again! Prize value: $10.00 (Includes S&H)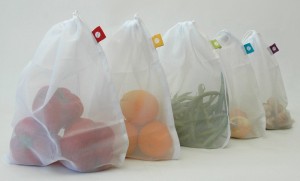 In addition to the produce bags that many of you told me that you wanted, the winner will also get one $25.00 gift card from an awesome site called Abe's Market or Whole Foods.
Abe's Market sells natural, organic, GMO-Free, Eco-Friendly products that range from food/treats to pet care items. It's a fun site to visit and you'll have a hard time deciding what you should put in your cart because you'll want it all! Whole Foods- well, everyone pretty much already knows about them. Because some of you don't have access to a Whole Foods, I added in the G.C to Abe's Market. Whichever one you choose, you'll get to buy some
HOW TO ENTER:
To enter to win, simply leave a comment on this post and answer the question: "What's your favorite Real Food Girl: Unmodified recipe?"
Complete the tasks using the Rafflecopter Widget below. You can receive up to FOUR additional entries by doing the following (these are optional and not required):
1. Subscribe to Real Food Girl: Unmodified by either RSS or email. To subscribe via email, go to the RFG homepage and enter your email and click OK. It'll look like this: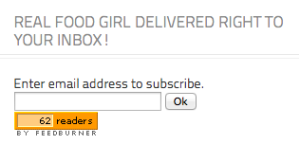 Come back and let me know you've subscribed in an additional comment on this post.
2. In the comments section below, share your favorite Real Food Girl: Unmodified recipe.
3. Come back here after completing the Rafflecopter requests, and leave me a comment.
4. Leave me a comment on the Giveaway Announcement Post on my Facebook Page, after you've "Liked" the page.  The post is pinned to the top.
GOOD LUCK!
Enter to win, no purchase necessary!
a Rafflecopter giveaway

Legalese: The giveaway closes on April 8, 12:00 p.m. CST. The winner will be notified by email on 4/9/13 and will need to respond within 48 hours to claim their prize or another winner will be chosen. Winner must be 18 years of age or older and a US resident in order to win. All prizes will be mailed by Amazon, and Abe's Market or Whole Foods. Once I place the order for the prize, I will NOT be held responsible if the prize is not fulfilled. I have never encountered any shipping problems with any of these companies, so I don't see that this would be an issue. The name of the winner will be announced on my Facebook page once the giveaway has ended.
Sources: Picture of mesh bags from Amazon.com Pictures of gift cards from Abe's Market.com and Whole Foods respectively.
PAID ENDORSEMENT DISCLOSURE: In order for me to support my blogging activities, I may receive monetary compensation or other types of remuneration for my endorsement, recommendation, testimonial and/or link to any products or services from this blog.