Pan-Fried Cumin-Cayenne Tilapia
Today's dish is one of our favorites. I know. I say that a lot, but it really is true. We have so many favorites and I keep testing new recipes that we don't always get to eat our favorites as often as we'd like. Whenever I do make this dish, The Stud Muffin is a happy man.
Tilapia is one of the few fish that TSM likes. I enjoy fish a lot. I'd eat many other kinds if I knew he'd enjoy them, but he's picky about his fish. I want fish in our diets, so Tilapia is one of the fish that we eat and enjoy. I've done a fair amount of research on farmed vs. wild caught tilapia, and I've made the decision for our family that farmed tilapia (as long as it isn't coming from China) is something that we'll consume if we cannot find wild. The demand for tilapia is so high that it's not possible to always find wild. The fish have to be farmed to keep up with demand. This Pan-Fried Cumin-Cayenne Tilapia is uber flavorful, has just the right amount of spice and has the lightest, crispy coating- it's perfect!
I use this recipe when I make fish tacos. I just "pickle" some red and green cabbage in some ACV (apple cider vinegar), strain it and then toss the cabbage in a homemade chipotle sour cream and some avocado, a spritz of lime and stuff it all into an organic flour tortilla. It's just simple and yummy. Fresh, simple food is the best in my opinion.
Man, I almost wish I'd made that instead of what you see in the photographs. 🙂 Speaking of photographs, I never have leftovers when I make this fish so I apologize for the photos. I didn't have time to stage them, use props and make sure the lighting and plating was just so. What you see is what was on TSMs plate- it's really basic and not fancy and I hope you don't hold it against me.
We love the flavor of this fish. I dredge the fillets in flour after I season them with the mixture and when pan-fried in a large hunk of clarified butter, the flour makes a bit of a crispy crust around the edges and that is our favorite part. If you can't consume flour, you can dredge the fillets in corn starch but be sure to shake off as much excess as possible.
This doesn't take long to cook at all, and probably could be a 30-Minute Monday meal, but I've been meaning to share this with you for months, so we'll just call it a faster than 30-Minute Meal.
What is your favorite type of fish and favorite way to serve it?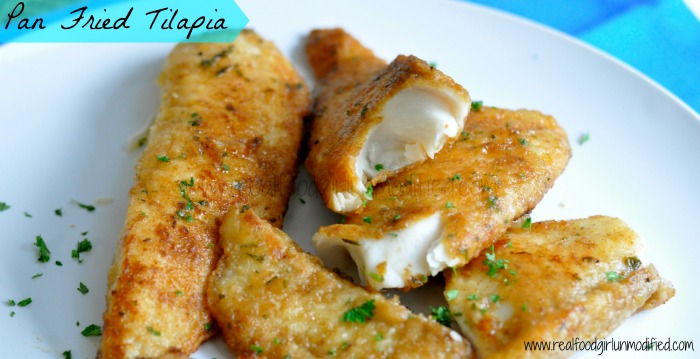 Pan-Fried Cumin Tilapia
2014-03-08 23:40:28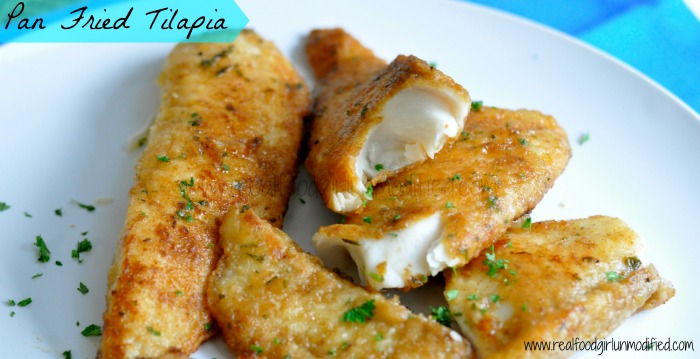 Serves 4
Tender, slightly crispy edges, buttery and spicy. This is fish your family will request often.
Ingredients
4 Tilapia fillets
2-3 TB Master Fat (bacon grease) or clarified butter (I prefer the butter)
2 TB ground cumin
3 TB organic AP flour (all purpose)
1/8 to 1/4 tsp. ground cayenne pepper (depends on how hot you like it)
1 tsp. sea salt
Heaping 1/4 tsp. white pepper
1/2 tsp. sweet paprika
1 tsp. dried oregano (pulverized between your fingers or using a mortar and pestle)
Instructions
In a small bowl combine cumin, cayenne, flour salt, white pepper, paprika and oregano. Mix well and sprinkle onto a large plate.
Rinse filets and pat dry.
Preheat a 12" skillet over medium-high heat. Once the pan is heated add the butter.
Meanwhile dredge each fillet into the spice/flour mixture and shake off any excess.
Carefully place each fillet into the skillet and saute on each side about 3 minutes until fish turns opaque and is done.
Sometimes the larger part of the fillet takes a bit longer, so I'll separate the thinner section from the fillet and keep it warm on a plate tented with foil.
If you've used enough butter, the flour/spice coating will get a little bit crispy. It's divine!!
When the fish is cooked through, remove from pan and serve immediately.
Notes
The butter should come up about a quarter to a third of the way up each fillet. You are "Pan-frying" these fillets, but you don't want them swimming in butter.
https://www.realfoodgirlunmodified.com/
PAID ENDORSEMENT DISCLOSURE: In order for me to support my blogging activities, I may receive monetary compensation or other types of remuneration for my endorsement, recommendation, testimonial and/or link to any products or services from this blog.