30-Minute Monday- Crunchy Baked Cod
I've been looking for ways to add more fish into our diet. The Stud Muffin has been requesting it, and it's just not something that I happen to have a ton of ideas for. I have a few French recipes, but my husband isn't going to want to watch me turn cute little trouts bright blue with vinegar (Truite au Bleu). If I make that dish, and put it in front of him he's going to tell me "I don't eat Smurf fish"… So- you can see my dilemma.
You'll be happy to know that this recipe won't turn your fish blue, and it's quite tasty. So is Truite au Bleu, but that's another blog post for another time. This recipe is so fast to prepare, it would take you longer to get through a fast food drive-thru during the dinner rush. Not to mention this dish is much better for you.
Speaking of meals that are better for you, let me quickly touch on some important facts about these 30-Minute Monday Meals. First, You, my fabulous readers have asked for more recipes that feature 80/20 Real Food. Many of you don't eat 100% fully organic or 100% fully GMO-Free and you wanted recipes that were, well, more in line with how you guys really eat. I agreed to accommodate, so if you happen to be someone who would never eat 80/20, you have two choices.
You can skip the ingredients that you wouldn't be caught dead buying or eating and substitute them with something different, or, you can find something else on my blog that fits your personal food rules. Not every recipe I share on my blog will match everyone's food philosophy 100% of the time. And that's okay. That isn't a good reason to stop following a blogger or leave nasty comments on a post. Instead, just make some changes to those recipes to suit your food philosophy or scroll past those that feature something that doesn't jive with your views on Real Food. In my Real Food Community, we don't do 'Real Food Shaming', and there is room for people on all points along the Real Food Path.
I will frequently share this reminder that these recipes are 80/20ish so that I don't get inundated with nastygrams from anyone who thinks I'm not being "Real Food" enough. If I've said this once, I've said it 20 times– any change towards eating more real, clean, whole, minimally processed, organic and non-GMO food is a good change. Making as many new changes each week or month so that you can eventually crowd out all the crap because you've replaced it with much more real/clean/whole alternatives is the way to ensure this way of life sticks with you for the long run. My philosophy on Real Food is similar to Michael Pollan's who believes that simply cooking from scratch using whole, fresh ingredients vs. throwing foodstuffs from a box /bag into the microwave is much more important than judging whether or not someone ferments veggies, only uses organic ingredients from the farm down the street, makes their own Kombucha and never uses organic cane sugar because don't they know that raw honey and maple syrup are better?…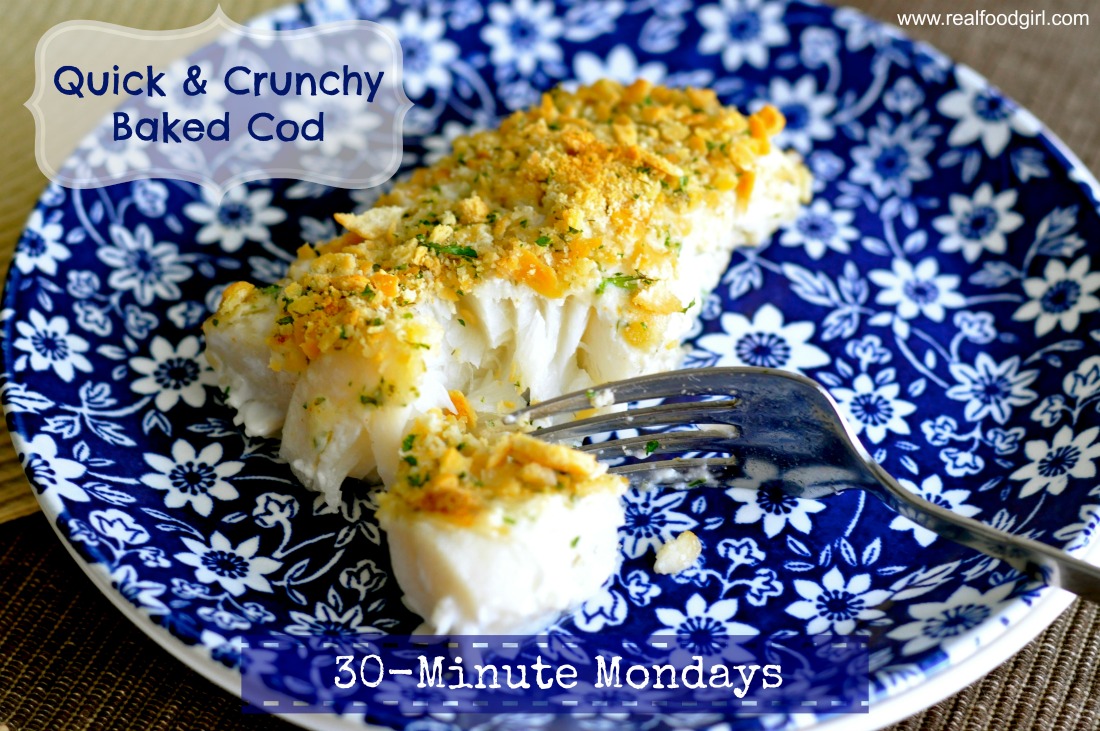 Alright, let's get to the Crunchy Baked Cod. This dish calls for round butter crackers, such as Ritz ®. For our family, Ritz Crackers® wouldn't be an option. I'd drizzle some butter over organic panko breadcrumbs seasoned with salt before I used Ritz®, so I used Annie's Organic Classic Butter Crackers. If I'm going to use a boxed cracker in a recipe, my personal preference is to use something as organic as possible. If you can't find Annie's or a similar organic brand, another acceptable brand is Back to Nature. They would be my second choice.
I used my homemade mayo in this recipe, and used fresh dill and parsley. If you don't have fresh on hand, dried will do. Ha- there I go channeling my inner Ina Garten. This dish had a lot of flavor and the fish was tender and moist. Make sure you check for bones. I use a tweezers, but you can also use a needle nosed pliers. Here is a great step-by-step from The Kitchn that shows you how.
Crunchy Baked Cod comes together quickly so make sure you have the other components of your meal ready to go. This recipe is mild enough that it should be a real kid pleaser. What is your favorite kind of fish to prepare? Do your kids like fish?
30-Minute Monday--Quick & Crunchy Baked Cod
2014-02-19 21:29:14
Serves 4
Ingredients
4 cod fillets about 1 to 1-1/4" thick (around 6 ounces each) I used ones without skin
20 Organic Round Butter Crackers- crushed to medium coarse crumbs
1 tsp. fresh, finely minced dill (divided)
2 tsp. fresh, finely minced parsley (divided)
1/3 cup homemade mayo
1/4 to 1/2 tsp. Dijon mustard (depends on how much you like Dijon)
2 tsp. freshly squeezed lemon juice (divided)
1/8 tsp. cayenne pepper
Salt and Pepper
Instructions
Heat the oven to 450 degrees and grease a glass or stone 9x13" baking dish with clarified butter.
Pat the cod fillets dry and season with salt and pepper (I prefer white pepper on fish, but use it sparingly).
Place the fillets in the baking dish.
In a small bowl toss the cracker crumbs with HALF of the dill and HALF of the parsley.
In another small bowl, combine the mayo, mustard, 1 tsp. of the lemon juice, the remaining dill and parsley and the cayenne. Mix well.
Spread the mayo mixture on the top of each fillet. Press the crumb mixture into the mayonnaise, making sure they adhere.
Bake until the crumbs are golden brown and all but the very center of fish has turned from translucent to opaque, about 15 minutes. Spritz each fillet with remaining lemon juice and serve with lemon wedges if desired.
Notes
We had this fish with a nice salad made with a young spring mix and a cranberry pear vinaigrette.
Adapted from Cook's Illustrated
https://www.realfoodgirlunmodified.com/
PAID ENDORSEMENT DISCLOSURE: In order for me to support my blogging activities, I may receive monetary compensation or other types of remuneration for my endorsement, recommendation, testimonial and/or link to any products or services from this blog.