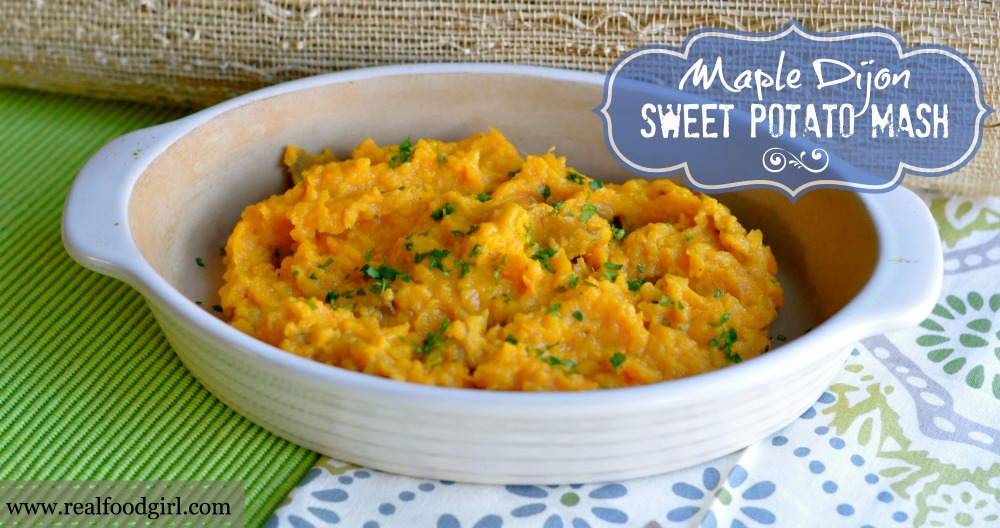 Maple Dijon Sweet Potato Mash
I've been eating a lot of sweet potatoes lately in an effort to switch things up a little. I'm trying to come up with different ways to serve them because The Stud Muffin is a meat and regular potatoes kind of man. When I put sweet potatoes in front of him, he's expecting a turkey and all the fixings to accompany it. Don't get me wrong, I love regular potatoes, but they don't love me. I feel a bit sluggish after eating them. The only time that I don't is when I've made potatoes Au Gratin, which includes lots of cheese, cream, bacon, onions and butter. If I put enough protein in a potato dish, I don't feel like a sloth the next day, but a girl can only eat so many cheesy loaded potatoes. Trust me, I know!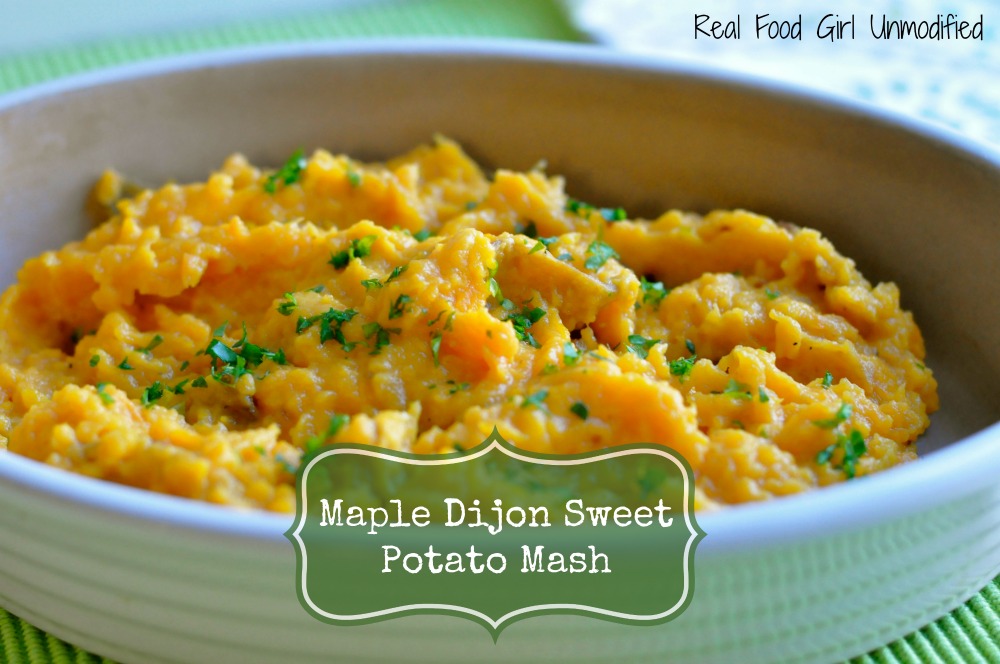 I have a tasty pork tenderloin recipe I'll be sharing soon and it has a maple-Dijon sauce that is really tasty. It got me thinking- I wonder what if this combination would taste good mixed into mashed sweet potatoes? Surprisingly enough, it tastes pretty darn good. Because TSM doesn't care for sweet potatoes much I knew I'd have to make a savory-sweet version to get him to even try them. He's so sweet. Even though sweet potatoes aren't on his list of likes, he said that they "weren't bad", but did mention that doesn't care for mashed sweet potatoes at all. The fact that these got a "weren't bad" was high praise in my view because I know he feels about sweet potatoes and I know he thinks they're too much like baby food.
I am a little nervous sharing a recipe that one of us didn't love, but I know there are many different palates and tastes out there, so I'm hoping you guys will like this as much as I did. I also know that if I would have shared all the recipes that only one of us liked I'd have 50% more posts on this blog than I already do. So tell me, what is your favorite way to eat sweet potatoes?
Maple Dijon Sweet Potato Mash
2014-02-28 00:59:13
Serves 4
Mashed sweet potatoes with maple syrup, cream, and a touch of Dijon mustard.
Ingredients
3 medium-large sweet potatoes cut into 1" dice. I leave the skin on
1/4-1/3 cup cream
1-2 TB butter
1 tsp. Dijon mustard (I use one half tsp. stone ground and one half tsp. regular Dijon)
2 TB pure maple syrup
1/2 tsp. balsamic vinegar
Salt and Pepper TT (to taste)
Instructions
In a small bowl combine the maple syrup, Dijon and the balsamic and stir to combine. Set aside.
In a large pot filled with cold, salted water add the diced potatoes and bring to a boil and cook until a paring knife stuck into the center of a potato releases quickly.
When potatoes are finished, drain them and set aside in the strainer/colander, and add 1/4 cup cream (to start) to the hot pot, and the butter. Return it to the burner (heat off) to warm slightly.
Add the potatoes to the milk and butter and mash them with a potato masher (or hand mixer) until smooth and creamy. Add salt and pepper to taste.
Add the maple-Dijon sauce and stir to combine. Taste- adjust seasoning if necessary.
Serve immediately.
Notes
If your potatoes are really thirsty, you can add more cream and butter and increase the amounts of maple syrup, Dijon and balsamic sauce. These measurements are estimates simply because your potatoes may be larger or smaller than mine, so keep that in mind if you need to add a little more of anything, it's totally OK. 🙂
https://www.realfoodgirlunmodified.com/
PAID ENDORSEMENT DISCLOSURE: In order for me to support my blogging activities, I may receive monetary compensation or other types of remuneration for my endorsement, recommendation, testimonial and/or link to any products or services from this blog.