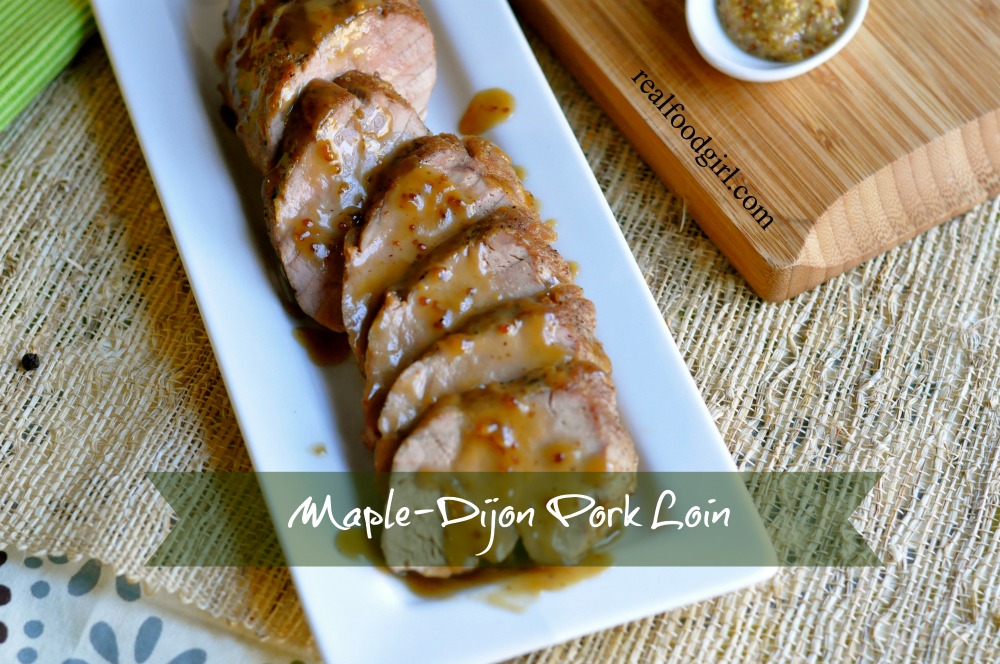 30-Minute Monday- Pan-Roasted Pork Tenderloin with Maple-Mustard Sauce
Welcome back to another fantastic 30-Minute Monday! I'm seriously enjoying this series and I hope that you are, too. The Stud Muffin (TSM) has enjoyed trying new recipes, and I've enjoyed the extra time I've had because dinner isn't taking as long to prepare. It's a win-win for everyone!
The first time I made this dish I set off three smoke detectors in the house. The second time I made this dish I did NOT use the amount of fat called for to pan sear the tenderloins which helped exponentially to reduce the amount of "smoke" coming from my oven. I was also able to open some windows, just in case. Thankfully, no smoke alarms this time around. It takes talent to set off three smoke detectors. It's times like this where I miss the attic fan we had in our house back in MN. That puppy came in handy my friends.
You are going to be surprised at how juicy this tenderloin is. TSM thought for sure that cooking it at such a high temperature was going to render a dry slab of pork, but I reminded him that it wasn't going to be in the oven for long. Make sure you season the tenderloin liberally and sear each side well so you have a pretty golden brown crust on all sides.
Let me quickly touch on some important facts about these 30-Minute Monday Meals. You, my fantastic and loyal readers have asked for more recipes that feature 80/20 Real Food. Many of you don't eat 100% fully organic or 100% fully GMO-Free and you wanted recipes that were, well, more in line with how you guys really eat. I agreed to accommodate, so if you happen to be someone who would never eat 80/20, you have two choices.
You can skip the ingredients that you personally don't buy or eat and substitute them with something different, or, you can find something else on my blog that fits your personal food rules. Not every recipe I share on my blog will match everyone's food philosophy 100% of the time. And that's okay. That isn't a good reason to stop following a blogger or leave nasty comments on a post. Instead, just make some changes to those recipes to suit your food philosophy or scroll past those that feature something that doesn't jive with your views on Real Food. In my Real Food Community, we don't do 'Real Food Shaming', and there is room for people on all points along the Real Food Path.
I made this recipe with all organic or non-GMO ingredients. If pastured pork isn't in your budget, don't stress or beat yourself up. Find a brand that is organic and hasn't been pumped with preservatives, antibiotics or hormones.
What is your favorite way to prepare pork tenderloin? What is your favorite cut of pork? Feel free to share in the comments below. I love reading and responding to your comments.
30-Minute Monday- Maple-Dijon Pork Loin
2014-03-01 23:22:04
Serves 4
Ingredients
2 pastured pork loins, about 1 pound each (silver skin removed)
2 tsp. bacon grease or clarified butter
Salt and black pepper
Maple-Dijon Sauce
1/3 cup pure maple syrup
2 TB organic whole-grain mustard
1 TB balsamic vinegar
2 TB pastured, organic cream
Instructions
For the sauce- combine all ingredients except the cream into a small saucepan and simmer over medium heat stirring occasionally. Bring to a boil, then reduce heat to lowest setting. Add the cream, stir, cook for 2-3 minutes then turn off heat, cover and keep warm.
For the tenderloins-
Preheat oven to 475 degrees. Make sure you have one rack in the middle position.
Liberally season your trimmed pork tenderloins with salt and pepper.
Heat pig butter (bacon grease) in a 12-inch skillet until just smoking. Brown the tenderloins on all sides, about 5 minutes.
Transfer skillet to oven and roast the pork until thickest part of tenderloin registers 140 degrees on a digital thermometer. 10-18 minutes.
Remove cooked pork from oven place on a cutting board and let rest for 3 minutes.
Slice the tenderloin at an angle, plate and spoon some of the warmed Maple-Dijon sauce over each serving.
Dig in.
Notes
Remove the silver skin from each tenderloin, then pat dry and season liberally while the pan preheats. It takes me a while to remove silver skin because I'm anal, so feel free to preheat your skillet over a medium-low heat unless you are super fast at trimming tenderloins.
Adapted from Cook's Illustrated
https://www.realfoodgirlunmodified.com/
PAID ENDORSEMENT DISCLOSURE: In order for me to support my blogging activities, I may receive monetary compensation or other types of remuneration for my endorsement, recommendation, testimonial and/or link to any products or services from this blog.