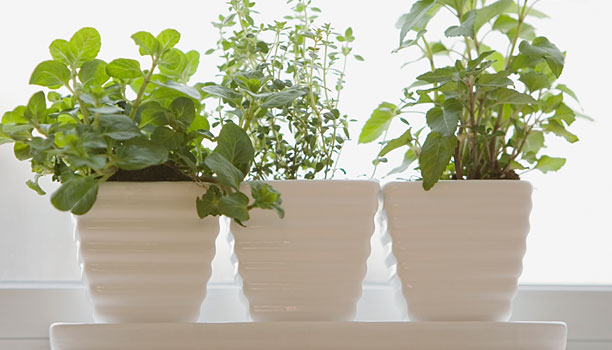 It's the only thing I can grow in my garden that I don't kill. What is it? It's herbs. And not "those" herbs, but herbs like thyme, basil, oregano, mint, tarragon, chives, bay leaves- and the list goes on. I love fresh herbs and there is something to be said about growing your own. It makes me feel super-chefy!
This post is all about my tips on storing, washing, growing, freezing and using herbs. There's a lot of ground to cover, so I'll get right to it!
HERBY TIP #1:
How to refresh sad, wilted looking herbs:
If your bunch of parsley, cilantro, or mint is looking a little weary, there's an easy way to refresh it (and, in the process, wash it). Chop off the stems, submerge the leaves in a bowl of ice water, then swish them around to loosen any dirt and grit. Let them stand for about 5 to 10 minutes, until they liven up and recapture their lost vitality.
To drain, just lift your herbs out of the water using your hands, leaving the dirt behind. If your parsley or cilantro is utterly limp and lifeless, it's time to gently place it in a large matchbox coffin and have a simple, but meaningful funeral for it. To avoid wasting good money on herbs, before they get to this stage you can prep them and freeze them. Keep reading, I've included a How-To for that.
HERBY TIP #2:
Drying your own herbs
After washing and drying the herbs, place them on a clean paper towel and microwave on high power for 30 to 40 seconds.
Crumble the dried herbs and store in an airtight container (for up to three months, for best flavor).
HERBY TIP #3:
How to substitute dried herbs for fresh, or fresh for dried
Dried herbs are more potent than fresh, use half of the amount called for in the recipe. Dried herbs are best used in longer-cooking recipes like soups and stews and braises, while fresh herbs are best added near the end of cooking. This helps them retain their flavor and most of their color.
To Replace: 2 tablespoon fresh herbs = 1 teaspoon dried herbs
HERBY TIP #4:
How to wash herbs
Use a salad spinner to wash herbs. Once the herbs are clean, simply lift the basket with the herbs out of the dirty water, discard the water, fit the basket back into its base, and spin the herbs dry. Ta-da!! And you thought your salad spinner was a uni-tasker. Ohhh, did you hear that? I just dropped some knowledge on ya!
HERBY TIP #5:
How to freeze fresh herbs
There are two ways to do this. I prefer the use of 8 ounce canning jars because they seal nicely and they freeze well and keep the herbs nice and chilled for a L-O-N-G time. I still have some rosemary in my freezer that is about 12 months old. I used some the other day and it's still potent, so until it loses its rosemariness, I'll hang onto it. (There I go, making up words again)
Chop leftover fresh herbs by hand, and put them in an 8 ounce canning jar. Twist on the lid, write the name of the herb on the lid with a permanent marker and store in your fridge for up to 12 months.

OR:

Chop leftover fresh herbs by hand, transfer by the spoonful into ice cube trays, and top with water to cover. For a standard ice cube tray, place 2 tablespoons chopped herbs and approximately 1 tablespoon water in each cube.
For my method of preference: Take the jar of the corresponding herb you need for your recipe out of the freezer and scrap the amount you need into your dish using the tines of a fork, then simply return it to the freezer.

OR:

For the ice cub tray method: once the cubes are frozen, transfer them to a zipper-top plastic bag and seal. Store until you want to add them to sauces, soups, or stews.
HERBY TIP #6:
How long to keep dried herbs
Dried herbs lose their potency six to 12 months after opening; you can test dried herbs for freshness by rubbing them between your fingers—if they don't smell bright, throw them away and buy a new jar. If you don't use herbs enough to warrant spending that kind of money on a quality brand name jar of herbs, find a place online that sells smaller quantities in bulk, and store in your own containers. Grocery stores do sell empty containers for herbs, as do home and kitchen stores. You can even find them online.
HERBY TIP #7:
How to use herbs like Simon & Garfunkle
Ha! *THAT* got your attention. Here are 5 common herbs and the best uses for them. Parsley isn't included because if you've studied French cooking, the French put parsley in everything. I'm surprised it isn't in their coffee, shampoo, or their cigarettes. If you haven't studied French cooking, (count yourself blessed) well, parsley complements just about any dish- either as a garnish or as an ingredient.

OREGANO:
Oregano is often referred to as the "pizza herb." It's a natural for all types of tomato sauces but also goes well with egg and cheese dishes. Oregano and basil combine to create a special flavor common in the Italian cooking we know so well.
Greek oregano is as essential to pizza as Mexican oregano is to chili powder. You may use the two types interchangeably but using one specifically increases the authenticity of certain dishes. Mexican oregano has a more earthy flavor with less hint of mint in the aroma. Use it for your Mexican cooking.
Aside from just tomato dishes, use oregano in vegetable or bean dishes or try fresh leaves tossed into your next salad. Add a bit of Mexican oregano to barbecue sauce or meatloaf for a change of pace.
THYME:
When in doubt use thyme. You will find this herb in all sorts of recipes from meats and vegetables to sauces and breads. Thyme is considered "necessary" in most chowders, bouquet garni, and herbes de Provence.
This herb is frequently used dried, marketed as thyme leaves, and in its fresh form adds flavor to a recipe. Before adding fresh thyme to a dish, the grayish-green leaves should be stripped from the woody stem.
Meats are a natural for thyme, as are onions.
Cheese dishes and beans cry out for the addition of thyme.
Vegetables, like corn, carrots and potatoes, are terrific when seasoned with the herb, fresh or dried and thyme plays nicely with the flavors of garlic, mustard and lemon.
Essentially this herb is good for long-cooked soups and stews and with roasted meats and poultry and veggies. It even pairs well in sweet applications like cookies.
SAGE:
Slightly bitter in flavor and highly aromatic, sage is one of the main ingredients in poultry seasoning. It enhances meats and poultry, stuffings, pork butter sauces and also most vegetables.
Fresh sage isn't as bitter as dried sage but in either form, a little goes a long way.
It is not exceptionally appetizing fresh so add it sooner in the cooking process rather than near the end as with most fresh herbs.
Fresh sage will stand up to long cooking times which makes it a natural for stewed or braised dishes. Personally, I prefer rubbed sage to the ground or chopped kinds. It's what I use in my Thanksgiving Turkey recipe.
MARJORAM:
Marjoram has a more mild, sweet flavor than oregano with perhaps a hint of balsam. It is said to be "the" meat herb but compliments all foods except sweets. Common to Mediterranean and Middle Eastern foods, marjoram is grown domestically and imported mostly from Egypt.
Marjoram combines well with other seasonings and will enhance so many different dishes.
Consider it a natural for meat dishes but don't hesitate to use marjoram to season vegetables served cooked or raw, fish and chicken or dishes with eggs and/or cheese. It is especially good along with other herbs in beef stew.
ROSEMARY:
Rosemary plays nicely with meats, potatoes and breads. It is a common ingredient in marinades and soups.
Rosemary combines well with other herbs but does have a tendency to dominate.
To use sprigs of fresh rosemary in cooking, strip the leaves from the main branch by holding the tip and pulling down on the leaves in the opposite direction they are growing. Chop the leaves well before adding to a recipe.
Dried rosemary is available in whole leaf or ground. Use your fingers or a knife to break up the dried leaves before adding to a recipe.
Ground rosemary will lose potency quickly- don't expect it to last more than 3 months.
This herb also works well in long-cooked dishes (especially those with Italian flavors) like soups, stews, and braises. Fresh Rosemary, finely chopped adds bright flavor to chicken soups.
Too much dried rosemary can turn a dish bitter, so use sparingly.
HERBY TIP #8:
How to keep herbs fresh
1. Wash and dry the herbs, trim the stem ends, and place the herbs in a tall, airtight container with a tight-fitting lid, such as 1 quart deli container. Add water up to the top of the stems, but don't cover the leaves with the lid. Either leave them out or loosely cover with a gallon sized zip-top bag. I seem to have better success with my herbs lasting longer if they're loosely covered with a zip top bag.
2. Seal the container tightly and refrigerate it. Your herbs should keep for a good week or longer using this method.
Here are some pictures of the herbs I was able to save before our first frost. Each year I grow parsley, mint, oregano, basil, thyme, marjoram, chives, rosemary, and catnip for the Ninja Spy Kitty.
The featured image for this post was found at:
Epicurious
My Rosemary
This is my Oregano
Here is my thyme
This is my Bay Leaf "Tree"
PAID ENDORSEMENT DISCLOSURE: In order for me to support my blogging activities, I may receive monetary compensation or other types of remuneration for my endorsement, recommendation, testimonial and/or link to any products or services from this blog.