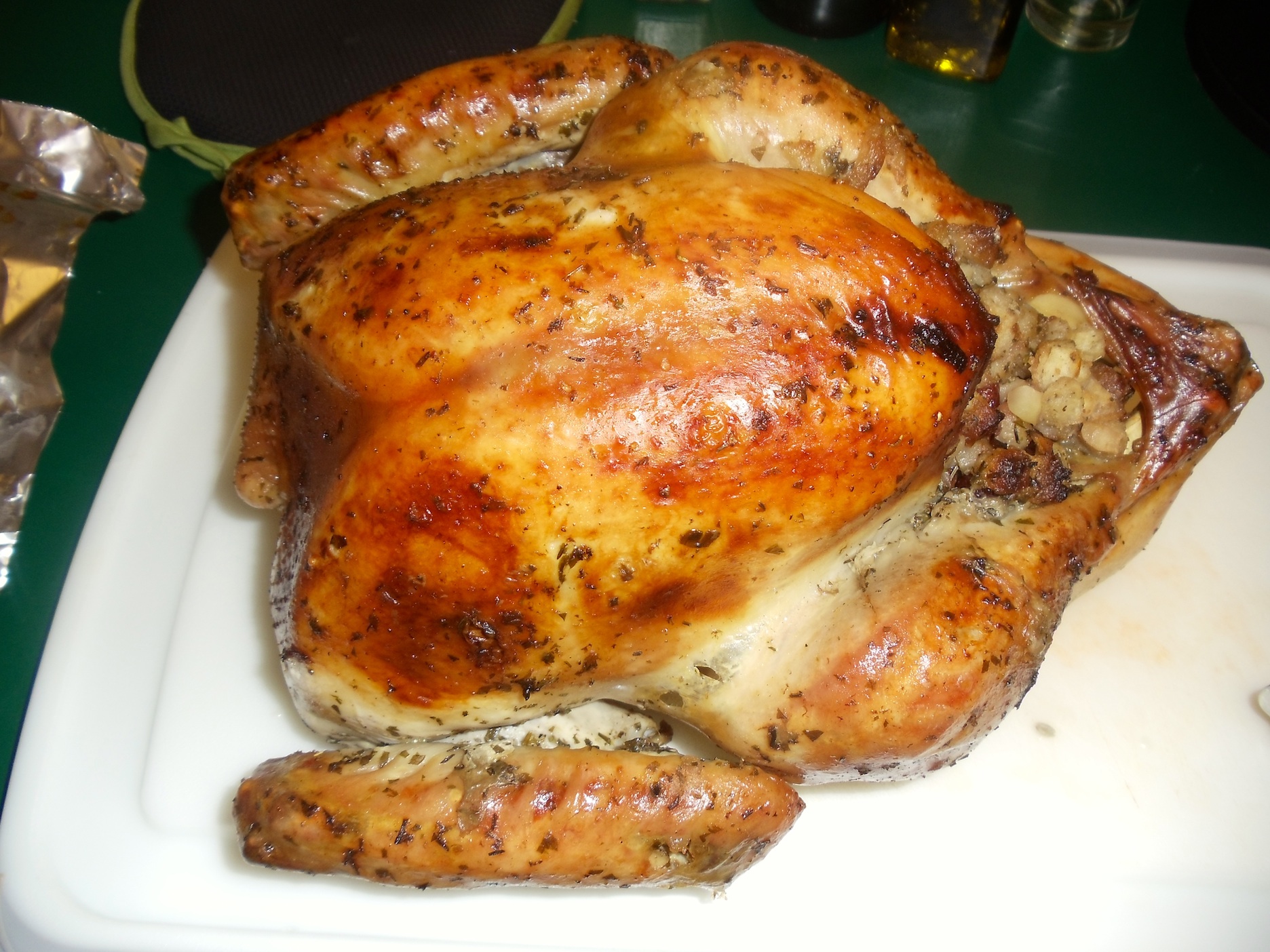 Butter and Herb Infused Turkey
I know, I know- Everyone has an AMAZING Turkey recipe for the Holiday season. However, I belong to a family where no one does — Actually, I have an Aunt who cooks a fairly decent turkey– and I end up eating a turkey that has the moisture content of saw dust. This Turkey is juicy, delicious, flavorful and best of all- people will verbally tell you that this Turkey is much better than theirs. (And you'll silently agree)
Let me put it to you another way. This turkey is so good that when other family members invite you over to their home for Thanksgiving, you'll want to cry because they won't be serving this turkey and you'll be forced to eat another dry bird with white meat the consistency of shoe leather. I'm tellin' ya homies, this bird will turn you into a turkey snob. Yes-in-deedie!
I should probably be willing to admit that I've yet to brine a turkey. I know a brine does fantabulous things to poultry, but this turkey turns out so well each time I make it, I've never let it play in a pool of brine. Maybe I'll try that this Thanksgiving, and since I don't have a picture of my finished product, I'll be posting that on or the day after Thanksgiving and I'll update you if I try this with a brine. I'm a bit nervous that it may make this turkey even more spectacular and then we're in for trouble fo' sho'.
Butter & Herb Infused Turkey
2013-11-22 20:55:54
Serves 8
The Turkey Recipe you wish everyone in your family had because you're tired of eating turkey flavored sawdust each Thanksgiving.
Ingredients
4 cups chicken stock. I use homemade.
3/4 to 1 cup of unsalted organic butter, divided and brought to room temperature. DO NOT substitute this with margarine or baby bunnies everywhere will die, and angels won't get their wings.
1 tsp. kosher salt (you may need more- taste your stock-butter-herb mixture once it's prepared. Remember, you're working with unsalted stock and unsalted butter. You want that basting liquid to be well seasoned.
1-1/2 tsp. dried thyme. You can also use 3 tsp. fresh thyme removed from stems and chopped roughly
3/4 tsp. each of dried marjoram and rubbed sage
1/2 tsp. of dried rosemary, or 1 tsp fresh rosemary chopped finely. (I enjoy the fresh rosemary with this, and often use 1-1/2 tsp.)
1 organic, (or turkey from a local sustainable farm) Turkey, 14-18 pounds
Instructions
In a small saucepan bring broth, 1/2 cup (1 stick) butter and salt to a boil. Add herbs and set aside in a heatproof bowl or glass-measuring cup (4-cup size or larger) Taste as it simmers to ensure it is well-seasoned.
Preheat oven to 325 F.
Place your thawed turkey in a deep-walled roasting pan. If you have a cooling rack that fits inside your roasting pan, place that on the bottom of pan and turkey on top of that.
Take 1/4 to 1/2 cup of the remaining softened butter and rub it under the skin of the turkey. Gently pry your fingertips under the skin of the breast at the base of the turkey down by the legs. Push your hand under the skin as far as you can go, working as much butter under there as possible. I often chop some parsley and thyme and mix it with the butter for added flavor.
Rub the turkey with a little bit of Kosher salt (not much, as your stock and butter marinade are (should be) well-seasoned with butter).
Fill the marinade injector with some marinade (stir first to blend all ingredients) and inject marinade under the skin. I usually inject twice per breast, once per leg, and thigh, and then a few more for good measure. You will use about a 1/2+ cup of the marinade for this step
The meat of the bird will expand as you inject the marinade into the bird- that's normal, just press it gently to distribute evenly if needed.
Note that a hunk of dried herb may get stuck in the needle, just pull back the plunger to get air back into the injector, and proceed.
Put your turkey into you 325 F oven, and baste every 30 minutes or so. Once the turkey begins to brown, you may cover it loosely with foil to avoid over-browning the skin. I have had to do this on occasion.
Turkey will cook for about 20 minutes per pound- I use a meat thermometer to ensure doneness- even though I can just touch a bird and know it is cooked through.
The marinade makes an amazing gravy- just take a little of the marinade and make a roux with flour and butter, put roasting pan with all the juices from basting over medium heat, add the roux, whisk and heat until desired thickness, and serve with the turkey.
When your bird is done, gather all the juices from the pan and put into a large skillet (I just remove the bird set it aside to rest while I make the gravy) and use the roasting pan to make the gravy- I do skim off as much excess fat as I'm able).
Heat the juices up over burners set to medium-high heat. Whisk in your cold roux. (Cold roux for hot liquid, hot roux for cold liquids) as soon as your pan juices begin to thicken turn down heat and let it simmer for a few minutes before removing and pouring into a gravy boat. If you don't have at least 4 cups of pan juices for gravy, feel free to add chicken stock (season with salt & pepper) until you reach the amount you need.
Slice your turkey, and serve it with all your favorite side dishes.
Notes
Typically your turkey will take 20 minutes per pound in a 325 degree oven. Make sure you have a good digital thermometer handy to check for a minimum internal temperature of 160-165 max.
TO MAKE A ROUX for gravy: Combine 2TB butter in a saucepan over medium heat. Once melted whisk in 2 TB flour. Continue to whisk while cooking the flour for about 3 minutes. Remove from heat and let cool.
Stuffing: I add dried cranberries, diced Granny Smith apples, and toasted pecans to my stuffing, and I do lightly stuff the bird, and the remaining stuffing gets cooked in a dish along with the bird- Very yummy!
Stuffing must reach an internal temperature of 165 degrees if you stuff your bird. Some even like it to go as high as 185.
https://www.realfoodgirlunmodified.com/
I promise to update these photos with my nice camera this year 2013. I understand that even though this food looked amazing in person, you'd never know that looking at the poorly lit photos below.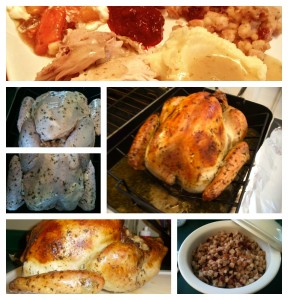 PAID ENDORSEMENT DISCLOSURE: In order for me to support my blogging activities, I may receive monetary compensation or other types of remuneration for my endorsement, recommendation, testimonial and/or link to any products or services from this blog.