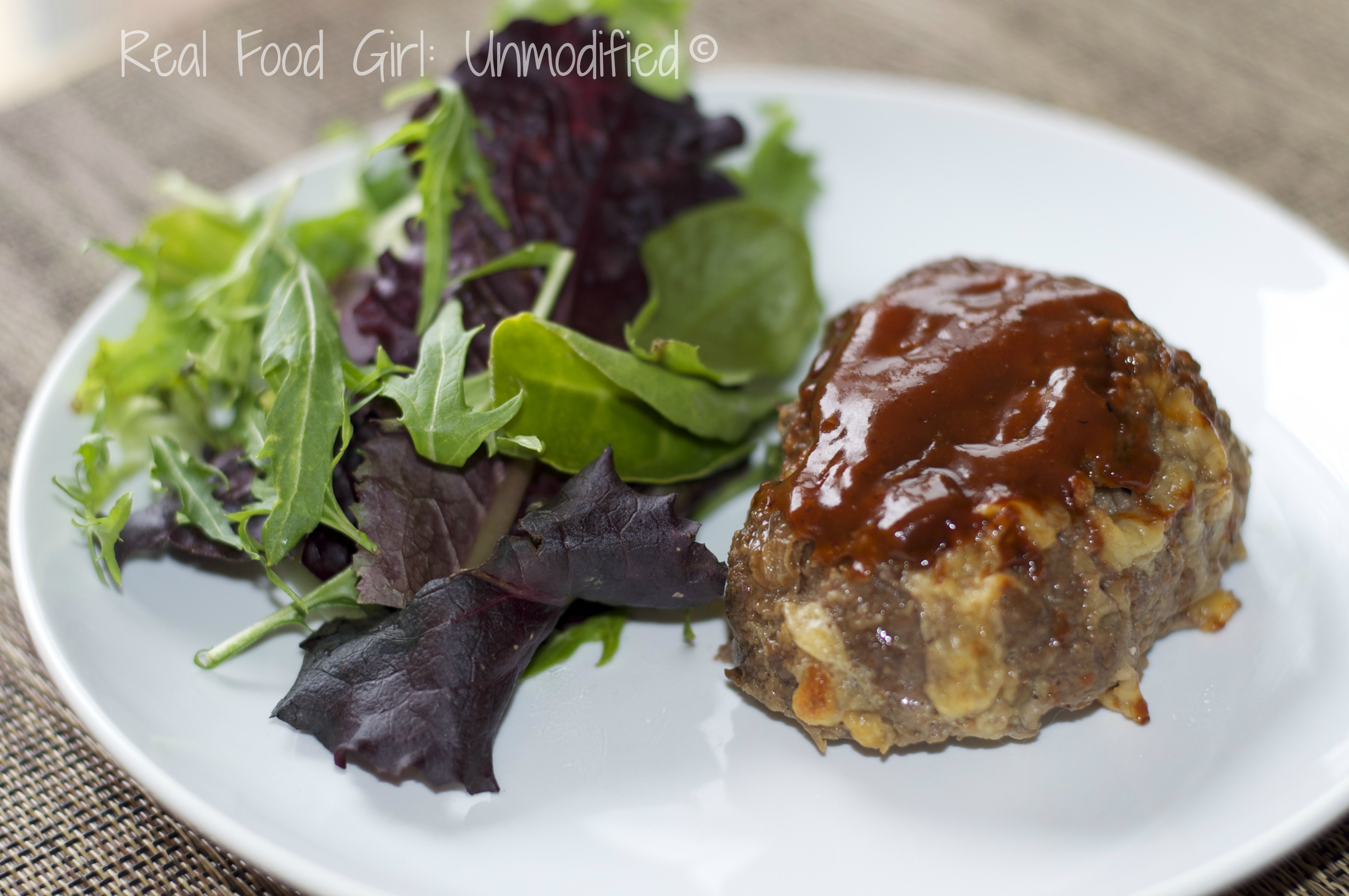 Cheddar Bacon BBQ Meatloaves
Today I have a fun twist on your everyday meatloaf. The Stud Muffin and I like meatloaf. Don't believe me? Just look (Here) and (Here) and you'll see just how much. I once landed a free-lance writing assignment where I would assist 2 other free-lance writers in coming up with 100 meatloaf recipes for the Client's cookbook. I wasn't keen on the fact that I would lose rights to any recipe(s) that I submitted. I could never claim these recipes as my own, blog about them, talk about them or share them. That didn't seem groovy to me at all, so I graciously backed out and decided that free-lance food writing was not for me.
I was a little hesitant about posting a third meatloaf recipe, but this was so tasty, and filling that I couldn't pass it up. Bacon is also involved. You know, the stuff that I talk about endlessly to the point that every single one of my Facebook friends post bacon related meme on my personal page. I live for bacon. I love bacon so much I want to buy this shirt. It will be a while before I buy that shirt because some lunatic feels that a SHORT SLEEVED T-shirt is worth $37.00!! Do you know how much bacon I could buy for $37?? Let me tell ya something. For $37.00 that shirt better make me breakfast, do my laundry AND give me a pedicure. $37.00- they're out of their ever lovin' minds. Psh!
These meatloaves are also a very affordable meal, it's easy to make, it qualifies for a Fast and Furious Friday meal and lastly, it can be frozen. Just double the recipe and freeze half for dinner down the road. You have my word that these adorable little meatloaves are also "Not yo' Momma's" meatloaf. Unless yo' Momma made really good meatloaf. Then these are exactly like hers.
This recipe took no time to make, even with the small changes that I made to it. The original recipe didn't call for seasoning the meat mixture at all, so I quickly rectified that. If I've said it once, I've said it a thousand times. People! Season your food. If you wait to salt your food until it's sitting on your plate it won't taste seasoned it will taste SALTY! So, don't be afraid of salt. In fact, look into buying Real Salt because it's very healthy for you!! If you don't believe me, run over and quickly read this little article.
I have to get over my fear of making my own BBQ sauce because the brand we purchased which was GMO-Free and organic was a bit too assertive for our tastes. We like smooth, slightly sweet and smokey BBQ sauce. Almost everything on the market these days seems to contain High Fructose Corn Syrup as the first or second ingredient, and then corn syrup just in case it wasn't sweet or toxic enough. It's enough to wanna make a girl cry. If you happen to have a homemade BBQ recipe that is made from REAL food (organic and/or GMO-Free ingredients) that you're willing to share, I'd love to try it and I'll even feature it on the blog and tell the world how fantastic you are! Think about it because if I have to continue suffering through funky tasting organic bottled BBQ sauces I'm going to end up in the loony bin. Hand to God! I'll not only be shirtless because the ONE shirt I want would cover my monthly water bill, but I'll be BBQ-less too. It won't be pretty if that happens. Not pretty at all America.
The BBQ sauce really makes this dish, and yours is going to taste differently than mine because you'll probably use a different sauce. If you're using a spicy or bold sauce, stick to only adding 2 TB to the meat mixture (per pound of meat). If you're going with something sweeter and/or smokier, add 3 TB to the meat mixture.
I think I'll add this recipe to our fall-wintertime menu. Especially because it is so quick and easy to make and because I can freeze half for another time. Not to mention, there are a lot of great flavors going on in these little football shaped bundles of meat. And the added bonus of melted cheddar cheese inside makes these little puppies irresistible. How can you not like melted cubes of cheddar cheese, grilled onions, BBQ sauce and grass-fed ground beef? It's nirvana in your mouth America! Total nirvana.
If you're looking to add a fun twist to the cheddar cheese in this recipe, might I suggest using a smoked cheddar cheese, vs. a regular cheddar cheese? Why? Well quite honestly because it'll BLOW your ever lovin' minds! And I'm all about blowing your minds! POW!


Cheddar Bacon BBQ Meatloaves
Recipe Adapted From:
Iowa Girl Eats
Serves: 4 Time: 50 minutes Preheat Oven to 425 F Line a baking sheet with foil
INGREDIENTS:
1 small yellow onion, diced fine
1 tsp. olive oil
1/2 tsp. kosher salt (plus extra)
1/4 tsp. black pepper (plus extra)
1 lb organic, grass-fed ground beef 90/10 or 85/15 (let it sit out at room temp for about 20-30 minutes before you start)
1 egg, beaten
1/4 cup panko bread crumbs
5 strips bacon- cut into lardons
1 tsp. organic Worcestershire sauce (such as Annie's)
6-7 TB BBQ sauce, divided (2-3 TB for the meat mixture, and the remaining for the tops of the meatloaves)
3-ounces organic (smoked) cheddar cheese cut into 1/4″ cubes
DIRECTIONS:
Add olive oil to a medium-sized skillet and put over medium heat.
Dice the onion into 1/4″ cubes, and cut the bacon into 1/4″ lardons (strips).
Add the onion to the skillet, add a pinch of salt and pepper. Cook for 5 minutes. Lower heat if they start to brown too quickly and deglaze pan with a teaspoon of water if necessary.
Add the bacon to the onions, and cook until the onions are soft and caramelized and just before the bacon starts to crisp. You want your bacon tender for this recipe, not crispy like a potato chip.
When bacon and onions are done, drain, remove from pan and set aside on a paper towel lined plate to continue to drain.
In a large bowl combine ground beef, beaten egg, 1/2 tsp. kosher salt, 1/4 tsp. black pepper, Worcestershire sauce and 2-3 TB of BBQ sauce and the panko bread crumbs.
With hands like an arthritic grandmother, GENTLY mix those ingredients until just combined. Add the bacon-onion mixture and the cubes of cheddar cheese. Mix with hands very gently until just combined.
Using a 1/2 cup measuring cup, portion out 4 scoops of meat and form into oblong shaped loaves. Don't pack the meat tight. Gently shape and form them. The less and lighter you handle these the better. You want meat loaves, not meat-pucks.
Spread 1 TB BBQ over each loaf and bake for 20-25 minutes, or until no longer pink in the center or until a digital thermometer reads 155 degrees.
Some of the cheese cubes that were positioned on the outside of the loaves melted away which made me sad. When I reheated the 2 loaves we had left over the following night, I put a good TB of shredded cheddar cheese on top of each loaf to make up for some of that cheesy happiness melting away the day before.
Serve with some steamed broccoli, or a side salad and twice baked cheddar potatoes. (That recipe is coming soon)
Come see me this weekend over at the Weekend Potluck hosted by The Country Cook!
I'm entering this recipe and you can vote for me by clicking on my recipe over at The Country Cook!
PAID ENDORSEMENT DISCLOSURE: In order for me to support my blogging activities, I may receive monetary compensation or other types of remuneration for my endorsement, recommendation, testimonial and/or link to any products or services from this blog.