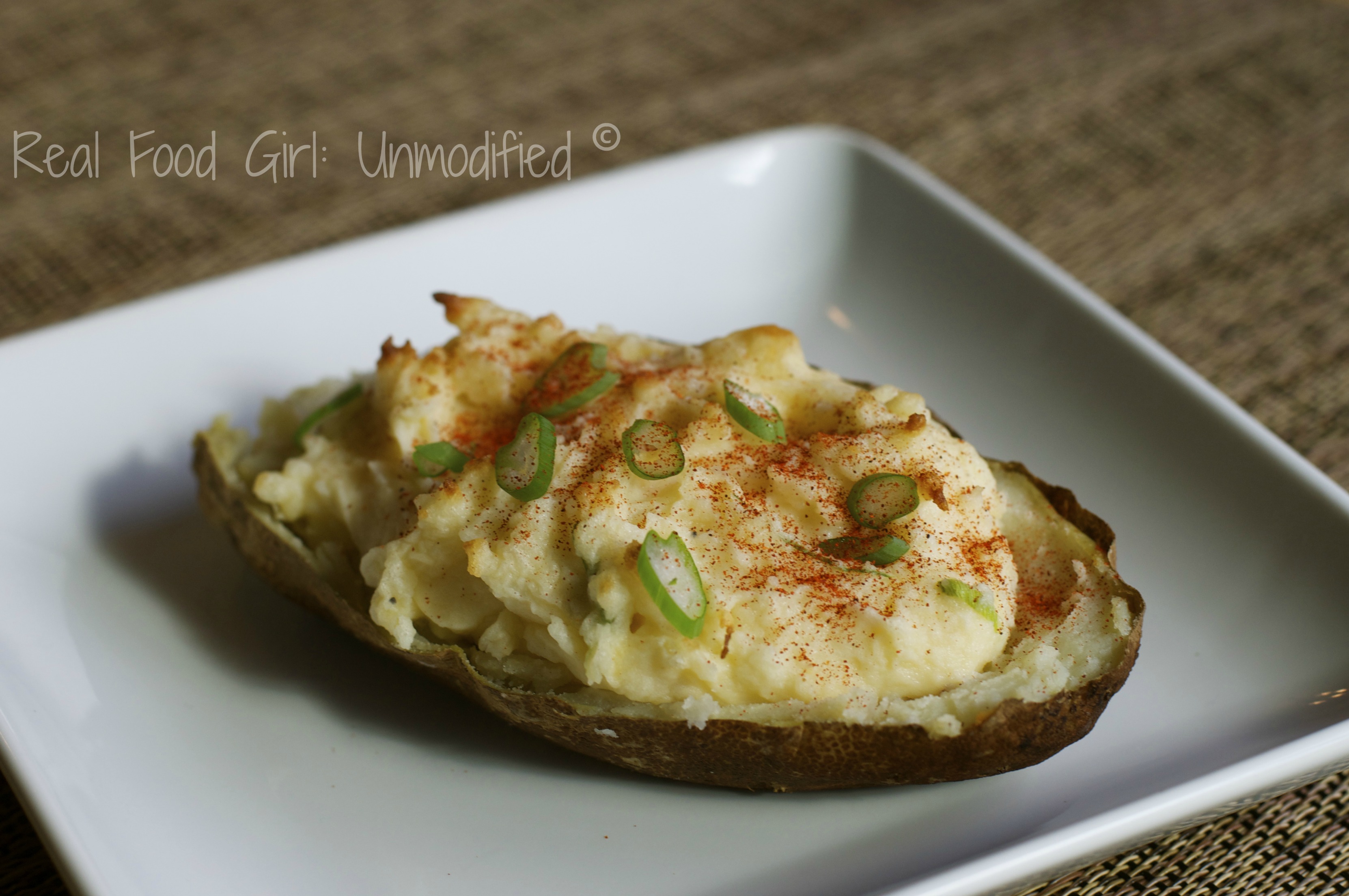 Easy Cheesy Twice-baked Potatoes
When I sat down two weeks ago to make my menu for this week I must have been in a hurry because almost every dish I've made has had cheese in it. I still have two recipes to go and they both call for cheese. I'm laughing at myself. I have to make sure to spread those meals out over several weeks versus one week because my cheese bill was insane!! Twice-baked potatoes are one of my favorite side dishes. I especially like them with a good rib-eye steak.
I made these to go along with the Cheddar Bacon BBQ mini Meatloaf recipe that I posted last week. They were a perfect complement to those yumtastic bundles of meat! They are easy to make, don't take too much time and you can add any kind of cheese you'd like. You can even load these with green onions, sour cream, bacon, pancetta, ham…you name it! Those are the kinds of side dish recipes that I like best. The ones where you can personalize them to fit your specific tastes.
**All ingredients used were either organic or non-GMO**
Cheesy Twice-baked Potatoes
Recipe by: Real Food Girl: Unmodified
Preheat oven to 400 F
DIRECTIONS:
Wash the potatoes and pat dry.

Poke several holes in each potato with a paring knife.

Bake in 400 degree oven for 45-60 minutes until tender.

Remove potatoes from oven and lay on a cutting board. Make sure the potatoes are lying on their widest part. Fold a paper towel into a square. You'll be using this to protect your hand while you cut the taters. REDUCE oven temp to 350 F

Place the folded paper towel on the potato and put your hand over the towel. Keep your palm/hand open. As if you're getting ready to cut a bagel.

Take a large serrated knife, and very carefully, cut horizontally through the potato. DON'T cut your fingers.

Gently scoop out the flesh of the potato leaving a 1/4″ border all around the potato. Be careful not to scoop all the way through the skin of the potato. You need to keep a little of the potato flesh in tact.

Place the scooped potato into a bowl. Add the warmed milk, most of the melted butter, the sour cream, and salt and pepper. Mix well.

Add the shredded cheese and continue to mix until combined. Taste. Adjust seasonings if needed. Stir in green onions or parsley.

Divide the potato and cheese mixture evenly into the skins of the potatoes. Place potato halves on a baking sheet and bake until heated through for 15-25 minutes. Potatoes are done when a knife inserted into the center comes out hot.

Serve and enjoy.

**Let me know if you like this new recipe layout. I'm somewhat neutral on it. I think it's nifty, but if I have a post where I'm really getting into a great story, or I have lots of information to share, the ingredient list will be all the way at the top, and the directions will be more towards the middle of the post. I'd love to hear your thoughts everyone!!**

This recipe was shared over at The Cultured Palate for Tasty Traditions Thursday. Each Thursday I share a recipe over at her blog carnival. Stop by to see some of the amazing articles, and recipes to help you on your journey to eating more Real Foods!
PAID ENDORSEMENT DISCLOSURE: In order for me to support my blogging activities, I may receive monetary compensation or other types of remuneration for my endorsement, recommendation, testimonial and/or link to any products or services from this blog.