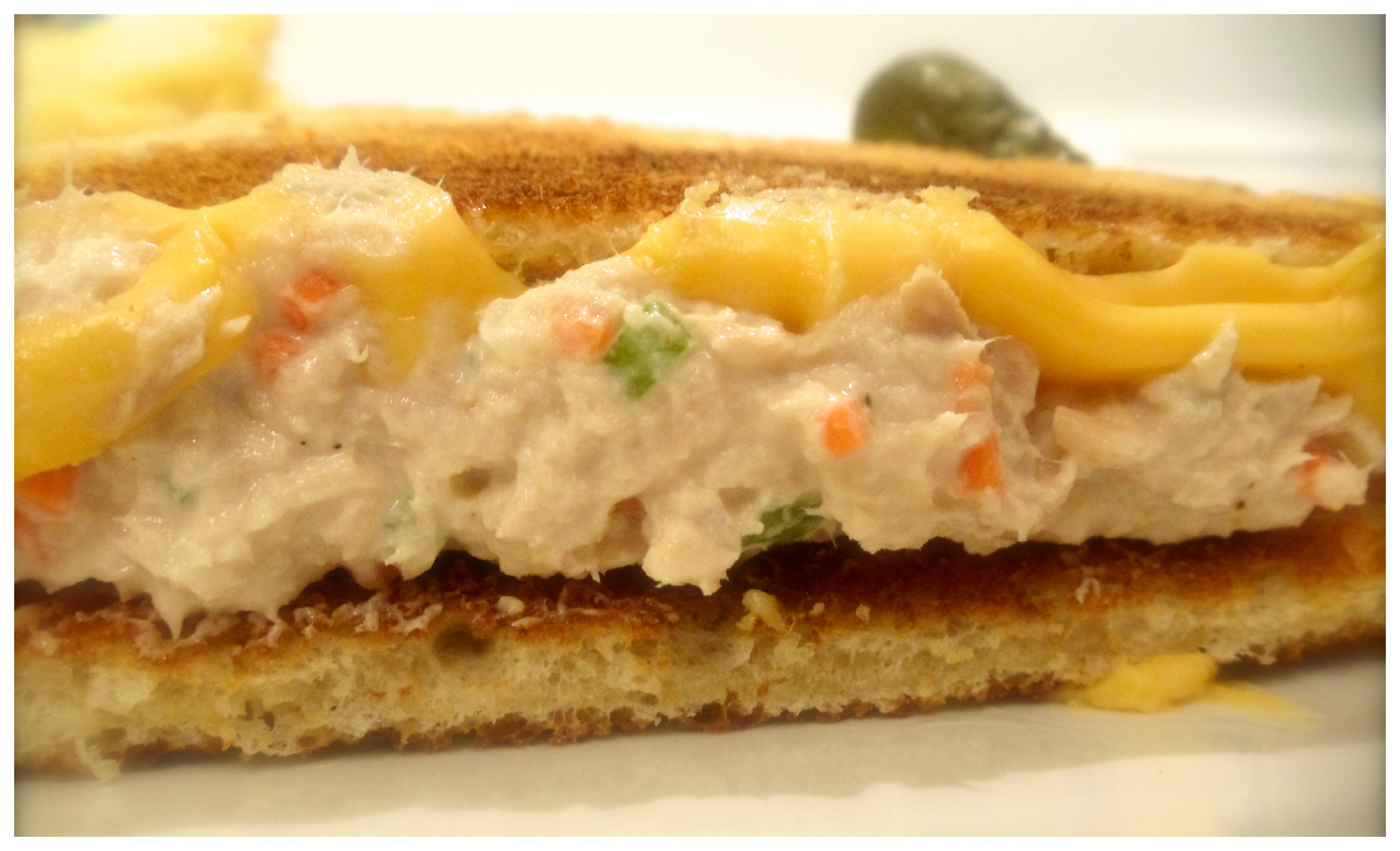 Tuna Salad and a Tuna Melt
I like tuna fish.  My mom used to make tuna fish for my sister and I for supper sometimes.  I don't remember if she used mayo or Miracle Whip (which I now despise) but I do know that my sister and I would spread the tuna out on our plates, make it nice and flat and then "cut" squares with the sides of our forks and eat the tuna square by square.  Yup- we were totally ahead of our time, my sister and I. 
We didn't care. My sister and I thought it was quite awesomesauce that we got to eat flattened tuna fish on our Raggedy Ann plates and knowing us we were probably sitting at the table in nothing but our undies and the snazzy poncho's that my Aunt MJ crocheted for us.
If it was a typical night, after dinner we probably danced to Sesame Street records while wearing our poncho's and we'd twirl around and watch the fringe on the end of the poncho's flare out and just for a moment we were Princesses with beautiful dresses.  Don't hate on me America, we were ROCKIN' the Casbah in our fancy early 1980's model poncho's.   The picture to the left shows the style of poncho that we had, but ours were all stripes. Most of the time we wore them around our waists as skirts because we were super strange like that.
Speaking of shaking your "groove thang" to Sesame Street music, do you remember What's the Name of That Song?   We danced to that song and "It's a Very Simple Dance to Do" but they don't have a video staring the actors who sang it from when we were little.  Ahhh, We were the Dancing Queens.  Wow, From tuna to Sesame Street to Abba.  I'm all over the place tonight.
I think that's my cue to share the recipe for my Tuna Salad.  If you want to know how small to dice your veggies, please see THIS post.
Tuna Salad/Tuna Melts
Recipe by: Real Food Girl: Makes: 2-4 sandwiches
INGREDIENTS:
1 small carrot, peeled and diced very fine (1/8″)
1/2 stalk celery, rinsed and diced very fine (1/8″)
2-4 TB finely diced (1/8″) red or yellow onion
1/3-1/2 cup good quality mayonnaise (preferably organic or homemade)
1-2 tsp. fresh lemon juice
dash of cayenne pepper
2-4 drops of Tabasco sauce
1/8 tsp. celery salt
2 cans or jars of high quality Italian Tuna packed in olive oil (such as Genova brand)
1/2 to 3/4 cup of homemade mayo, Organic mayo, or another high quality mayo.
Kosher Salt & Black Pepper
DIRECTIONS:
Place your diced onion, celery and carrots in a 2 cup prep bowl and add the juice from half a small lemon.  Add a couple drops of Tabasco and let sit for 30 minutes. You can also let this sit over night and assemble your tuna the next morning.
Meanwhile, put well drained tuna into a quart sized bowl.  Break up with a fork.
Add 1/4 tsp. of kosher salt and an 1/8 tsp of black pepper  and 1/8 tsp. celery salt.
Add 1/4 cup of mayo in with the tuna and mix well.  If tuna is dry add a little more and mix well.
Take your diced veggies and spoon in 3 TB into the tuna/mayo mixture.  Stir to combine.
If tuna is dry add a little more mayo.  Stir well, then taste.  At this point I normally add a little more salt, pepper, cayenne, and a little of the lemon juice from the marinating veggies.
Add as much of the remaining veggies as you'd like, add more mayo (it will absorb most of the mayo once you refrigerate it, so go a little heavier than you normally would so that it won't be dry the next day), and stir.
Either store in an air tight container in the fridge for up to 4 days OR prep some bread for a tuna melt.
There are a zillion ways to do this, but here is my way:
Turn your oven's broiler onto the LOW setting.
Prep your broiler pan or a sturdy sheet pan by lining with a piece of foil.  Lay one piece of bread on a cutting board and load it up with the tuna.
Place some cheddar or American cheese on top and place the sandwich onto the broiler pan/sheet pan.
Add a second piece of bread next to that piece and broil until the cheese is nice and bubbly and the bread is toasted.
Feel free to add a couple slices of fresh tomato and some nice green lettuce!  ENJOY!
Prepping the veggies for the tuna

PAID ENDORSEMENT DISCLOSURE: In order for me to support my blogging activities, I may receive monetary compensation or other types of remuneration for my endorsement, recommendation, testimonial and/or link to any products or services from this blog.