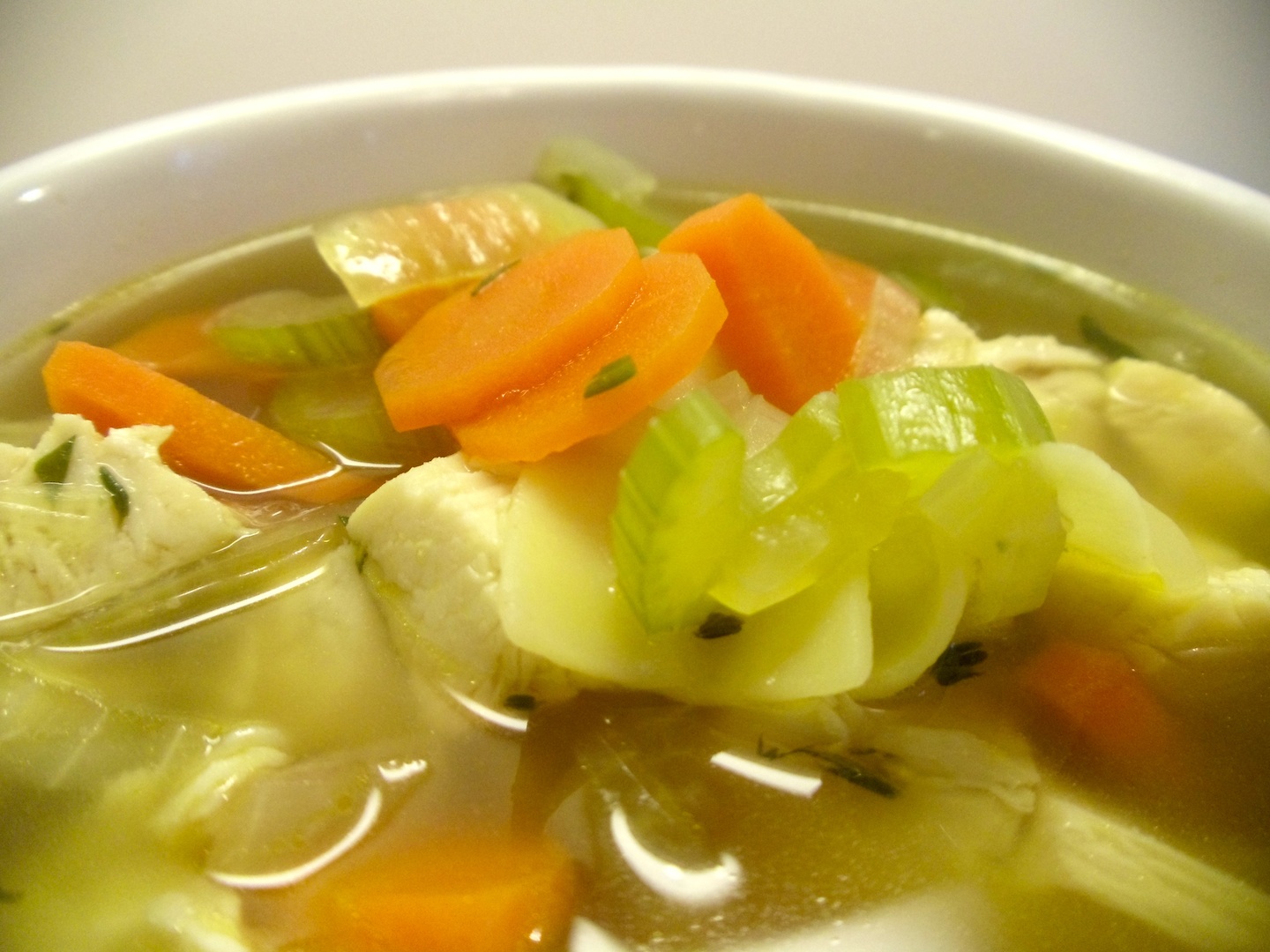 Clucker-Noodle Soup (GMO-Free)
I'm not normal- And because I'm not normal, I like to call foods by other names. For instance, the humble chicken. Since we eat chicken about 3 times a week I get tired of saying chicken and feel that maybe if I spruced up what I call it, it won't seem like it's the THIRD chicken dish I've made this week. Enter: Clucker. Chickens cluck, which makes them cluckers so I call chickens cluckers. Are you glad I've shared this little bizarre corner of my world with you? Hopefully so, because yer all in for a groovy ride if you stick around with me for the next several years. Whooey!
Let's talk about soup. For Christmas TSM and I got matching chest colds. We're still sick and it's a week later. It keeps going back and forth between our chest and our heads. Super fun. Along with not having any working taste buds at the moment, I also don't have much of an appetite nor much energy to even cook. We need to stay hydrated and we do need *some* food so I made a big batch of this soup a couple days ago so that we'd have something to eat when we felt well enough to do so. As happy as I am with our decision to go Organic in our household, it's times like this when I'm too sick to get out of bed, or off the couch where I just wish someone made a decent canned soup (GMO-free) fer cryin' out loud!
I like to buy whole chickens and butcher them myself. I keep the neck, backbone and excess trimmings for stock. I will take the breasts and thighs, sprinkle them under and on top of the skin liberally with salt, pepper and some dried thyme, then rub olive oil on them, put them on a sheet pan and bake at 350 degrees until they're done. About 30 minutes. I let them cool slightly, then remove the skin and the bones and dice into half inch squares. This method of roasting the chicken on the bone and with skin results in such a juicy, tender chicken. Perfect for this soup!
After learning about all the names that MSG goes by, and after learning that the words "All Natural" really don't mean anything, I've started making my own stock for everything again. I took a break from it when I found an organic brand I liked, but it just isn't the same as homemade. Homemade has much more collagen in it, which means it is chock-full of additional nutrients that I just don't believe are in processed stocks. Our bodies, especially our brains benefit from homemade bone stocks. I'll share more about the benefits of homemade stocks when I post those recipes later next week. For now, enjoy the Clucker-Noodle Soup! Hopefully you and your family aren't dealing with the "After the Holiday's Crud", but if you are, this soup should help you feel better!
All ingredients in this soup were organic. This soup is free of GMOs
Clucker Noodle Soup
Recipe by: Real Food Girl Makes: About 3-1/2 quarts Time: 45-60 minutes
INGREDIENTS:
2 Quarts homemade chicken stock
3 large carrots quartered lengthwise then cut into 1/4″ pieces
2 stalks of celery halved lengthwise then cut into 1/4″ pieces
1 medium onion cut into small dice
1/2 tsp dried thyme (or 1 tsp. fresh thyme leaves)
1 small or 1/2 large bay leaf
2 TB chopped fresh parsley
pinch of cayenne
Salt and black pepper to taste
8 ounces noodles of your choice (I use an organic orzo pasta for my soup- this time I used egg noodles)
2 cups cooked chicken, cubed. (I like a combination of white and dark meat)
DIRECTIONS:
In a large stock pot over medium heat add the chicken stock, the veggies, and the thyme and bay leaf. Season with salt and pepper.
Cook over medium-low heat for about 20 minutes.
Add the pasta, chicken and cayenne. Cook until pasta is tender but not mushy.
Add the parsley and stir.
Taste throughout cooking process and season as needed with salt and black pepper. I like a well seasoned soup with a tiny bit of kick from the cayenne. It helps clear the sinuses when you have a cold.
Remove bay leaf and then serve the soup with a nice slice of French bread.
PAID ENDORSEMENT DISCLOSURE: In order for me to support my blogging activities, I may receive monetary compensation or other types of remuneration for my endorsement, recommendation, testimonial and/or link to any products or services from this blog.