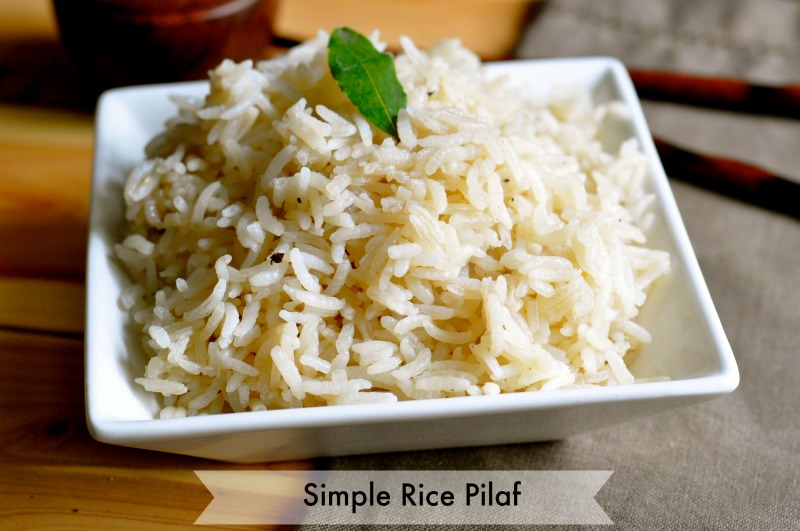 Simply Perfect Rice Pilaf
Are you intimidated by rice pilaf so you rely on that "San Fransisco Treat"? I used to be. Then I went to culinary school and learned a really easy way to make perfect rice pilaf. Each grain comes out nice and fluffy, not sticky or clumped together. I love rice. I could eat rice every day. The Stud Muffin isn't a huge fan, but he's coming around. He does like this pilaf, so whenever I make fish, chances are this rice will be on my plate.
Rice can be flavorless and boring, but this rice is made with homemade chicken stock so it's definitely not lacking in flavor department. I have found that Jasmine rice is my favorite. The second rice that works well in a pilaf is Basmati. Jasmine rice is a slightly shorter grain than Basmati and cooks up a tad bit stickier, but not nearly as sticky as say sushi rice. Jasmine and Basmati are both considered long grain rice and they cook up fluffy and the grains stay separate. Long grain rice work best for side dishes and pilaf. Medium and short-grained rice works better in soups, puddings, paella and in risotto dishes. Do you have a favorite kind of rice? What is it?
This dish typically accompanies a fish or chicken dinner in our house. I've also been known to eat leftovers of this for breakfast. Don't judge. I told you I love rice. when I was little, if I ever had a stomach ache, or felt under the weather, my grandma would cook up some rice, and put it in a bowl with milk and a little cinnamon and sugar sprinkled on top. I don't know what it was about that little bowl of milky rice, but it made me feel better every.single.time. To this day, if I'm feeling under the weather, I make myself a little bowl of cinnamon-milky-rice…just like my Grandma used to do for me.
For this recipe you'll need a 2-quart sauce pan with a tight-fitting lid. I have one, but out of habit I still seal the pot with a layer of aluminum foil and then put the lid on top. It's how I learned in culinary school and making it this way has never failed me. If you prefer to not use aluminum foil, you don't have to. Just make sure your lid fits that pan well so that no steam escapes.
Normally I cook this in a 350 degree oven, but it will take a bit longer to cook at that temperature. In an effort to spend less time trying to get dinner on the table, we'll be using a 375 degree oven. If you want to make this to eat with the 30-Minute Monday Maple-Soy Salmon recipe, you'll be cooking it in a 400 degree oven, so you'll have to keep an eye on it. This dish will bake anywhere from 20-35 minutes depending on the temperature of the oven, how much rice you are cooking and if you properly executed all the steps prior to getting the rice in the oven.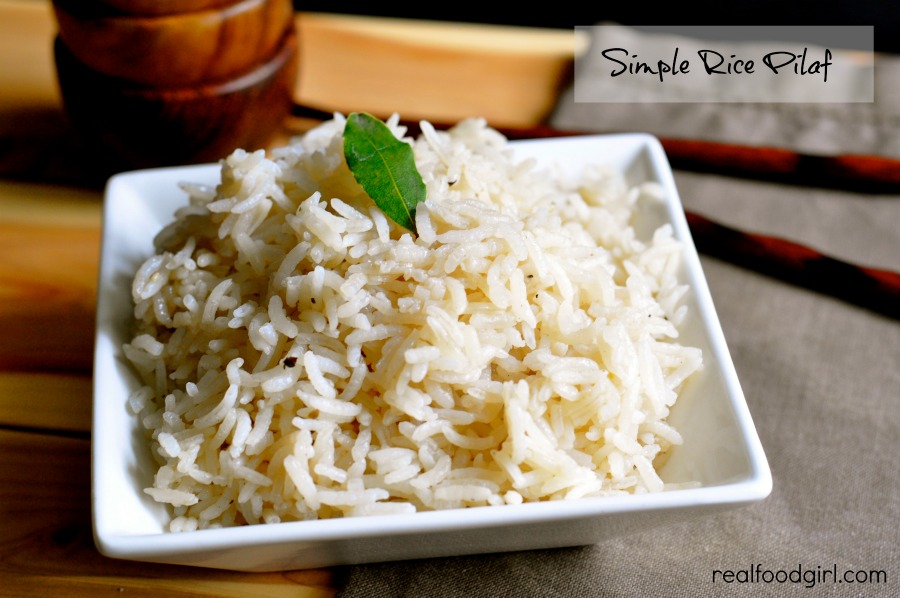 Basmati will take a bit longer to cook than Jasmine rice. Don't buy converted rice. It's been parboiled and I find it lacks flavor.
I know that someone will ask me, so here goes. I do not soak my rice, but if you are someone who soaks their rice, just keep in mind that you have to completely dry your rice before sautéing with the butter and onions or else it's just going to stick to the pan and burn. You also won't need as much liquid, maybe a 1:1 ratio versus the typical 1 parts rice to 2 parts water. I've never made pilaf with soaked rice, so you will have to play around with it as far as cooking times and amounts of liquid. If you have made pilaf with soaked rice, I'd love to hear more about it. Please leave a comment below and I'll update the post with info on how to do that. Thank you!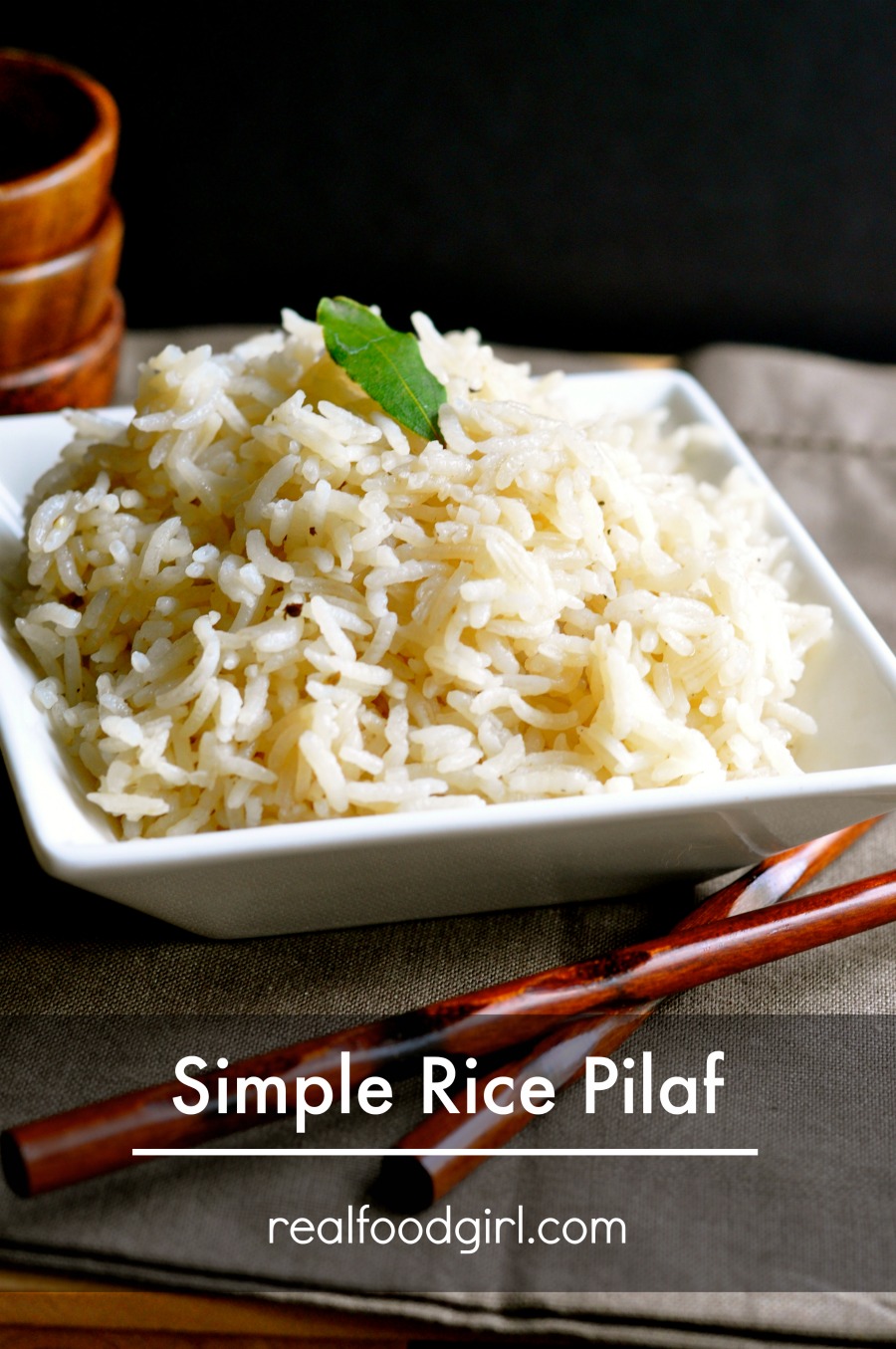 Because I'm using homemade stock instead of water, this rice has such good flavor. Make sure you season the stock well so that its flavor can be intensified in the rice. Even though you're cooking with stock, you can still have bland rice if you don't use enough salt. I typically use 1 tsp. total in the making of this pilaf from start to finish. Sometimes a bit more if my stock hasn't been seasoned at all prior to using it in this recipe. If you think rice is bland, or difficult to make, you must try this recipe. You'll be delighted at how simply perfect it turns out and tastes and how easy it was to make. It's not intimidating at all!
Does your family love rice? How often do you make rice? Do you use it more in recipes or as a side dish? Are there any rice pudding lovers here?
Here are some of the items I used to make this dish:
Simply Perfect Rice Pilaf
2014-04-20 23:27:10
Serves 6
A basic rice pilaf made with homemade stock and aromatics.
Ingredients
1 cup organic Jasmine rice
2 cups of homemade chicken stock
Salt and black pepper
1 medium bay leaf
1 clove of garlic, peeled
1 small yellow onion, diced fine
2+ TB of butter, clarified butter, ghee, tallow or olive oil (I use a combination of clarified butter and olive oil)
Instructions
Preheat oven to 375 degrees.
Peel the garlic clove and set aside.
Finely dice the onion and set aside.
Measure the rice into a mesh strainer. Rinse the rice in cold, running water for 1 minute. Set aside to drain.
In a 2-quart saucepan over medium heat, add your choice of fat (I use clarified butter and olive oil). Once the pan is hot and the fat is shimmery, add the onion and sweat the onions until softened. Be careful not to brown the onion. Add some salt and pepper and continue to cook until softened about 3-5 minutes.
Add the drained rice and stir well to coat each grain of rice with the fat from the onion mixture. If needed, add more fat to ensure the rice is well coated. Cook the rice, stirring continuously for 2-3 minutes.
Increase the heat to medium-high and add the chicken stock, garlic clove and the bay leaf. Taste for seasoning- add salt and pepper as needed. Stirring almost constantly, bring the mixture to a boil. Let boil for 60 seconds. NO less no more!
Turn off the heat, give it one last stir and carefully wrap a sheet of aluminum foil over the top of the pan, put the lid on and put on the middle rack of your 350 degree oven.
Cook for 20 minutes. CAREFULLY remove the lid (steam will escape and it's HOT!) and the foil and check the rice. If ANY liquid remains, seal the foil, put the lid back on and cook in 3-minute intervals until all liquid is absorbed and rice is tender. Let sit on the stovetop for 2 minutes before removing the lid and foil.
Fluff with a fork and serve immediately.
If you want to add some veggies to this rice, see the Notes section, below.
Notes
1 cup of Jasmine rice will yield about 3 cups of cooked rice.
When I make this at home I use 1/2 cup rice and 1 cup of stock as it is just the two of us.
If you want to beef up this dish with veggies, stir in 1/2 cup of finely chopped, cooked broccoli, or steamed peas or cooked diced carrots after the rice has finished cooking, prior to serving.
My homemade stock recipe can be found here: https://www.realfoodgirlunmodified.com/homemade-organic-chicken-stock/
https://www.realfoodgirlunmodified.com/
PAID ENDORSEMENT DISCLOSURE: In order for me to support my blogging activities, I may receive monetary compensation or other types of remuneration for my endorsement, recommendation, testimonial and/or link to any products or services from this blog.