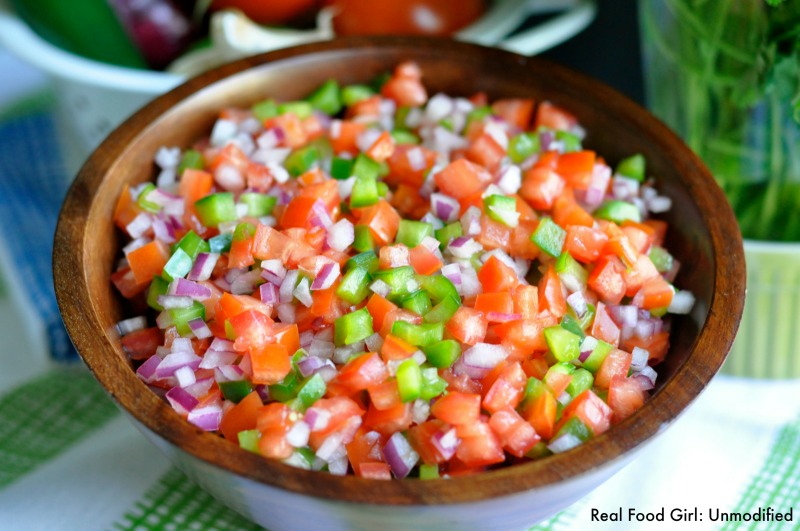 One of my first posts as Real Food Girl: Unmodified was a Garden Salsa recipe. It's a favorite in our home and it is as tasty as it is pretty. But there is a small problem with that salsa post. The original (recipe) has photos that were taken with my iPhone and when there was no daylight in the kitchen. The photos just didn't capture the vibrant colors in the salsa at all. New photos and an update to the recipe were long over due. Because spring is here, and fresh veggies are on my mind, I'm going to change the recipe up a bit from the Garden Salsa recipe that is already on the blog. This new rendition has fewer ingredients and is more akin to a Pico de Gallo or Salsa Fresca as it is also known. It's basic, fresh, vibrant and delicious!
I mentioned in my 30-Minute Monday Beef & Cheese Enchilada post that The Stud Muffin and I recently found a hole in the wall Mexican Restaurant. I fell in love with their food, and they had a pico de gallo very similar to this that they served with my meal. It was so fresh, so simple and so flavorful. The mark of a good cook is when they can take an ingredient and make it taste amazing, without doing much to it at all. Yes, complex recipes with long lists of ingredients have their place in the world. I enjoy those as much as the next. But a back to basics recipe like pico de gallo is equally as enjoyable in my opinion.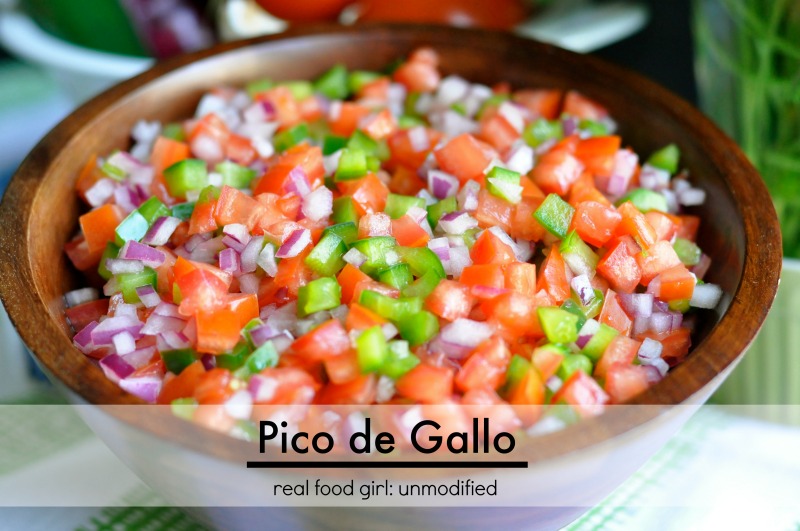 The measurements for this recipe are approximates. I change it up each time I make it. Sometimes if I don't have enough limes on hand, I'll use red wine vinegar as acidic component for the salsa. Other times, if I can't find a fresh looking jalapeño, I'll get Fresno chiles. They are similar in shape and size to a jalapeño, but are red and have thinner walls. Sometimes I'll even use a Serrano Chile. It just depends on my mood and what the selection looks like when I'm at the store.
I totally forgot to add the chopped cilantro to the finished salsa before I took the photos, but I do typically add some. TSM and I both have a hard time with cilantro. For some reason, when we eat it, we taste soap. And, soap is not something I'm inclined to nibble on, no matter how hungry I may be, so I never use as much as others do, and if a recipe calls for it, I cut the amount in half. At least. There is a whole world of people out there who also taste soap when they eat cilantro. So I know we're not alone. Now we don't hate it, but we also don't get all giddy about it, either.
am
Salsa Fresca is not only a fabulous and healthy topping for organic tortilla chips, but it is also what I add to my homemade guacamole, my homemade taco meat, and I will some times put some in my enchilada meat and serve alongside almost any Mexican dish I cook at home. If you like salsa in your eggs, add some of this- it's unprocessed so you're getting all the benefits of eating raw, garden-fresh veggies. Salsa Fresco also tastes yummy when added to a quesadilla. This can be used as a salsa, but also to add flavor to other Mexican dishes that you make. Not to mention it increases the amount of veggies in any dish exponentially. And it's salsa, so your kids won't complain.
This is a great base recipe if you're looking for a clean, fresh homemade salsa recipe. Once you get this down, you can add other ingredients to make it your own. I frequently say to never be afraid to add other ingredients that you like. When it comes to salsa, you really can't screw it up. Well, unless you try to add bananas. I'm pretty sure bananas and tomatoes just won't work. I mean, you can try it, but don't come after me if it tastes ishy.
Are you a pico de gallo or salsa purist, or do you like to mix things up by using some not so conventional ingredients when you make salsa, or pico de gallo? What is your favorite kind of salsa? All veggies, or do you like fruit salsas also?
Interested in some of the items that were used in the making of this recipe or during the photo shoot?
Pico de Gallo (Salsa Fresca)
2014-04-13 21:47:09
Serves 4
Fresh tomatoes, red onions, green peppers and jalapeños diced find and kissed with some lime juice, and some salt. It doesn't get any tastier than this!
Ingredients
6 ripe, organic Roma tomatoes (also called plum tomatoes)
1 small red onion, or half of a large one
1-2 jalapenos. Depending on how spicy you want this
1 green pepper
1-2 TB freshly chopped cilantro
2 limes (about 2 TB of juice)
Salt
Water (if desired)
Instructions
Quarter each of the tomatoes lengthwise, and remove the firm-fleshy core and seeds.
Cut each quarter lengthwise into 1/4″ wide strips. Turn the tomato slices crosswise and cut into a dice. Put the diced tomatoes into a large bowl and set aside.
Dice your onion. Using a sharp chef's knife, trim off the stem end of the onion and cut it in half through the root end. Peel back the skin on both halves, leaving the root end attached, next make horizontal cuts parallel to the cutting board, cutting to but not through the root. Then make lengthwise vertical cuts almost but not quite through the root. Finally, cut across the width of the onion to chop into 1/4" or smaller diced pieces
Once your onion is diced, add to the tomatoes.
Finely dice your jalapeño(s) add to the tomato and onions and set aside.
Slice your bell pepper down the center from the bottom of the pepper, remove the seeds, stem and excess membranes. Slice each half into Julienne strips (like you did with your tomato) and then cut each strip into a small dice. Add it to the bowl.
Finely chop 1-2 TB of fresh cilantro leaves and add to the bowl with the tomatoes and other veggies.
Salt the veggies with about a scant (just under) teaspoon of salt and a few cranks of your pepper mill.
Add the juice from 2 limes. Stir to combine. Taste. You may wish to add more salt.
I like my Salsa Fresca to have a little liquid with it, so I will sometimes add a bit more lime if I have it, or red wine vinegar if I don't- or if it is acidic enough, I'll add a couple Tablespoons of water. This step of course, is optional and depends on your personal preferences.
Stir well and let the salsa rest in the chill chest (fridge) for at least 2-4 hours. Because you'll most likely be eating this cold- you will want to finish seasoning it while cold. Letting it rest in the fridge to get all the flavors to meld will result in a much tastier pico de gallo. And, it'll taste even better after a full day in the chill chest.
Notes
Before cutting your limes in half to juice them, roll them between your cutting board and the palm of your hand, gently pressing down while rolling back and forth, for about 10 seconds. This will help the fruit release as much juice as possible.
I juice my citrus with a small salad fork. I poke around the flesh a few times then stick the fork in the middle and twist it as I squeeze the fruit around the fork, letting the juices fall into a container. I think the fork works better than most citrus juicing tools.
https://www.realfoodgirlunmodified.com/
PAID ENDORSEMENT DISCLOSURE: In order for me to support my blogging activities, I may receive monetary compensation or other types of remuneration for my endorsement, recommendation, testimonial and/or link to any products or services from this blog.