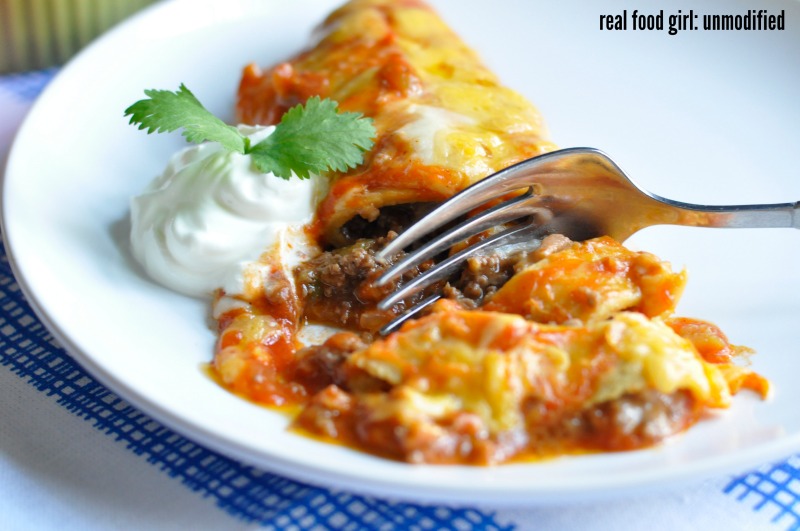 30-Minute Mondays- Beef and Bean Enchiladas
Mexican food is one of my top 4 favorite cuisines. I suppose if I were to be honest, there is actually a three-way tie between Mexican, Asian and Italian cuisines for second place with French being my #1 favorite to cook and eat. There is just something about the fresh flavors, the spice, the heat, and simplicity of Mexican food that I really like. I do tend to Americanize my Mexican dishes for the blog, but some day, I'll break out the authentic stuff taught to me by some of the line cooks at the restaurants where I worked. I simply have no idea where I packed those notes when we moved last summer across the country.
This meal was fantastic. Just enough cheese, spice and rich sauce to keep me happy. Even TSM liked these a lot and didn't even complain that I made them with beef, vs. chicken. You'll need to either lightly warm your corn tortillas in the microwave (if you're not anti-microwave) or figure out a way to warm them a little in the oven. You want them pliable since corn tortillas are famous for breaking the moment you try to roll them. You could dunk them in the sauce first, then put on the filling and roll them, but why bother with another extra step and more mess to clean up?
Because I didn't want to deal with broken, inflexible corn tortillas, I was happy to stumble upon a corn and whole wheat blend tortilla. They were a little thicker, resembling hand-made, but they were organic. I found them at our local grocery store. This was a perfect compromise. The sweet corn flavor with the softness of a flour tortilla. It was a perfect compromise.
Make sure you have a batch of my Real Food Enchilada Sauce on hand. You will need it for this recipe. Tell me that photo below doesn't have you drooling on your keyboard! Lord have mercy!!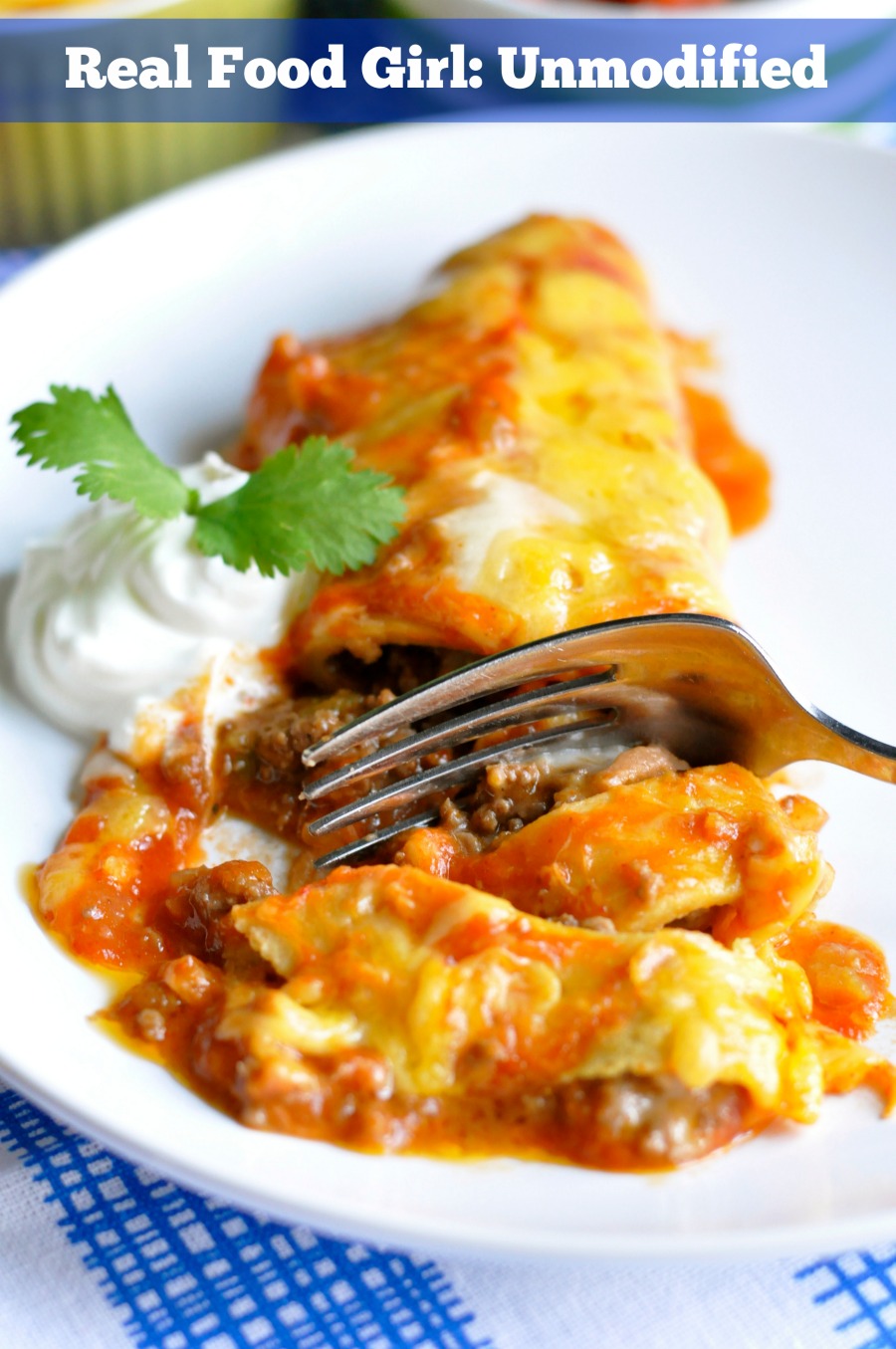 A couple of weeks ago I was craving Mexican food, badly! The Stud Muffin found this hole in the wall Authentic Mexican restaurant. We went there for lunch. Wow! The food was just good. It was simple and good. I love when cooks can take ingredients and season them simply so that they just enhance the flavor of the ingredients. I got a combo plate with a bunch of different items and TSM got a big honking burrito. I have to tell you, the meat filling in one of my enchiladas was the inspiration for this recipe. This restaurant also had some of the best refried beans I've tasted and they crumbled some queso fresco on top. I was IN LOVE. Mmm!
The Stud Muffin (TSM) loves chicken enchiladas but this time I was inspired by our recent visit to our little hole in the wall Mexican restaurant. Also, ground beef is faster to brown than chicken is to cook and shred. I really wanted to add a diced green Hatch pepper, but couldn't find one, and it would have added an additional 5 minutes to the prep time. I may have to look for seeds and grow my own. Oooh! That sounds like a great idea. Ha- don't mind me. Sometimes I like to talk to myself.
Anyway- to save a little time, I found a small can of organic hatch green chiles. After I'd softened the onion and garlic and browned the beef, I added that in for extra flavor. I was pleased with the end result. I always prefer to use fresh ingredients whenever possible, but in the interest of keeping this a true 30-minute meal, I did mention that we'd be using some convenience foods.
I also mentioned that some of these recipes would fall under the 80/20 way to eat, where 80% of the ingredients would be Real Food and up to 20% may not. So far, I think we're doing better than 80/20, but these recipes are easy enough to tweak should you desire to use a convenience food version of an ingredient in place of a non-convenience item. Just try to make sure it is organic or at least free of HFCS, MSG, artificial dyes and ingredients you can't pronounce.
I'm curious to hear what your family's favorite enchilada filling is. Do you make them often? What is your favorite Mexican dish?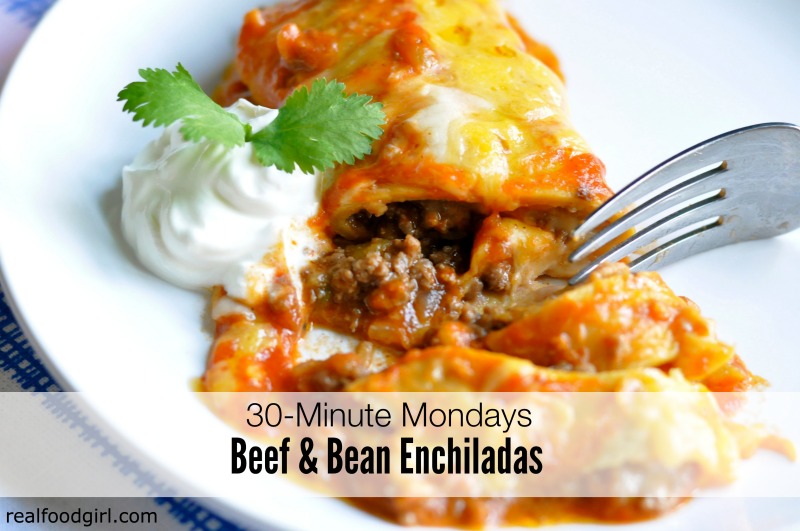 30-Minute Mondays--Beef & Bean Enchiladas
2014-04-05 23:52:17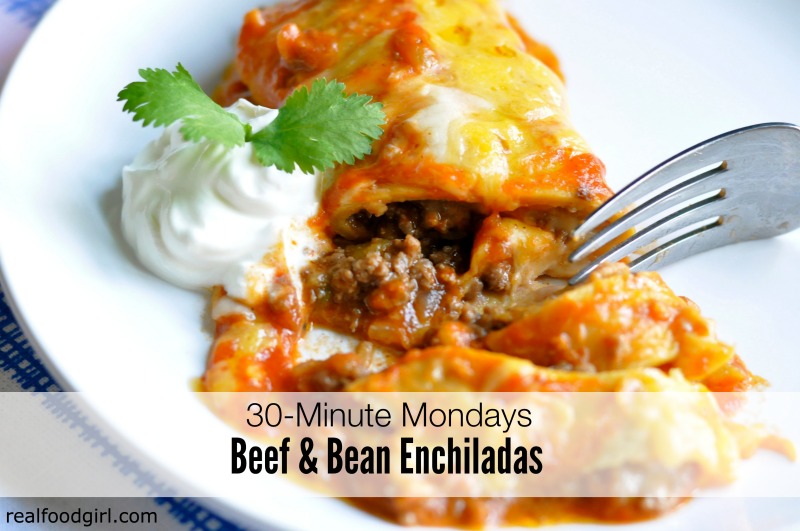 Serves 4
Spicy beef and bean enchiladas made with seasoned ground beef, green chiles, refried beans, cheddar cheese and a homemade enchilada sauce.
Ingredients
1 pound grass-fed ground beef
1 TB coconut oil
Salt and freshly ground black pepper to taste
1 medium yellow onion, diced fine
1 (4-ounce) can Hatch green chiles, drained
1 tsp. ground cumin
1 garlic clove minced
1 recipe of my Real Food Enchilada Sauce
1 can organic refried beans- removed from can, and placed in a small bowl with a spoon
1-1/4 cup cheddar cheese- shredded
1-1/4 cup Monterey jack cheese- shredded
1/2 cup Queso fresco- crumbled (Optional, but tasty. If you use this to top off the enchiladas before they go in the oven, reduce amount of shredded cheese by 1/2 cup)
1/4 cup fresh cilantro- finely chopped
12 (6-inch/small taco sized) soft corn tortillas
lime wedges-optional
sour cream- optional
Instructions
Heat the oven to 425 degrees.
When the beef is cooking, warm the tortillas to make them pliable.
Put 1/3-1/2 cup of the enchilada sauce on the bottom of your 9x13" baking dish. Just enough to lightly coat the bottom of the pan to keep the enchiladas from sticking. Set aside.
Quickly chop the onion, mince the garlic and chop the cilantro- set aside.
In a 12-inch skillet over medium-high heat, add coconut oil. Once melted, add the chopped onion and 1/2 tsp salt and a few cranks of freshly ground black pepper. Cook until softened. About 3-4 minutes. Add garlic. Stir to combine. Cook for 30 seconds. Add the cumin and cook 30 seconds, stirring constantly.
Shred the cheese while the beef is cooking- keep an eye on the beef.
Add ground beef and break up with wooden spoon. Cook until almost no more pink remains and then add the can of green chiles. Stir to combine. Taste and add salt and pepper if needed. Continue cooking until no more pink remains.
Remove the meat mixture off the heat and add 1/2 cup of the enchilada sauce. Stir to combine.
Lay out 6 tortillas on your counter. Working quickly, spread about 1 TB of the refried beans in the center of each tortilla. Add 1 TB (or a smidge more) of shredded cheese and 2-3 TB of the beef mixture. Be careful not to over-fill the tortilla.
Tightly roll the tortilla over the mixture creating a "cigar" and place the enchilada seam-side down in the prepared baking dish.
Repeat with the remaining 6 tortillas, and then finish assembling the remaining 6 tortillas/enchiladas.
When all tortillas are rolled and in the baking dish, spoon on the remaining enchilada sauce so that each enchilada is covered in sauce.
Sprinkle with as much remaining cheese as you have left and/or the Queso Fresco
Bake in the oven, uncovered for 10-15 minutes until the enchiladas are warmed through.
Sprinkle with chopped cilantro and serve with lime wedges and sour cream if you desire.
Notes
If you have all your kitchen tools and ingredients ready and prepped, this dish CAN be made in 30 minutes. I'm the worlds slowest cook, and I pumped this baby out in 29 minutes.
https://www.realfoodgirlunmodified.com/
PAID ENDORSEMENT DISCLOSURE: In order for me to support my blogging activities, I may receive monetary compensation or other types of remuneration for my endorsement, recommendation, testimonial and/or link to any products or services from this blog.