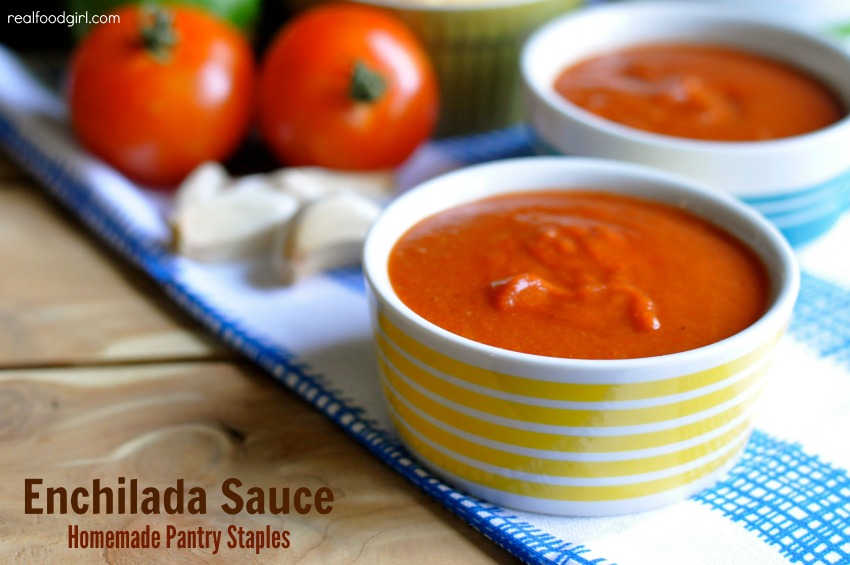 Real Food Enchilada Sauce
I love to spoil you guys. I really do. Case in point; tomorrow for 30-Minute Monday I'm sharing my Beef and Bean Enchilada recipe. But in order to have it fit into the 30-minute time frame, you guys would have to use a powdered enchilada mix. Which, if you can find one that is truly nothing but organic spices, that's not a bad thing, but making one from scratch always seems like a better idea to me.
In order for you guys to be able to make the enchiladas, I wanted you to have my Real Food Enchilada Sauce recipe. YAY!! And, if I don't get this posted before Monday, you'll have to use that package of powdered stuff and that will make everyone sad. I don't want to make anyone sad. I decided to quickly write a post for this sauce so you can whip up a batch so you can have some handy for these fabulous beef enchilada recipe that I'll be sharing with you tomorrow. I usually only have time to write three posts per week, but The Stud Muffin was kind enough to give up his Sunday afternoon with me so that I could get an extra post written for you guys. Ain't he swell? Yeah, he is!
Alright, this is a basic, straight-forward sauce. Nothing fancy. It's gluten-free. My original sauce uses a roux, but I decided to make it fresher tasting and de-gluten it for my GF homies. See!? There I go spoiling y'all again.
I like to add about a quarter teaspoon of ground arbol chile powder to my enchilada sauce to give it some kick. I like spicy, but have a sensitive palate, so a little goes a long way with me. If you want to burn your mouth and break a sweat, feel free to add more. Another chile powder that you can add is a bit of ground ancho chile pepper. In my opinion, this tastes similar to regular chili powder that you use for making chili, etc. It's a bit spicier, but if you want to change things up a bit, substitute one of the Tablespoons of chili powder for the ancho chile powder. But don't feel like you have to.
Before we get started, please note that this recipe should make enough to saucify whatever meat filling you decide to use for your enchiladas, and have enough left over to pour over the top once they're nestled in the baking dish. I typically have some left over, which I just freeze and add to my next batch. There are only two of us here, so while I always have left over sauce, you on the other hand may end up using all of it. So don't be alarmed if you do.
I'd love to know- what is your favorite meat filling for enchiladas? I'm torn between beef and chicken.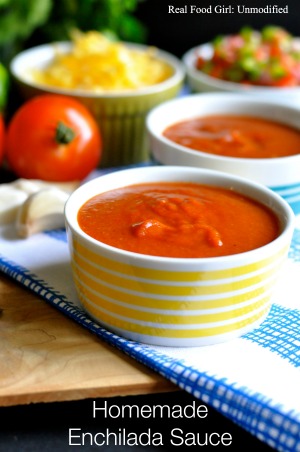 Real Food Enchilada Sauce
2014-04-05 21:18:09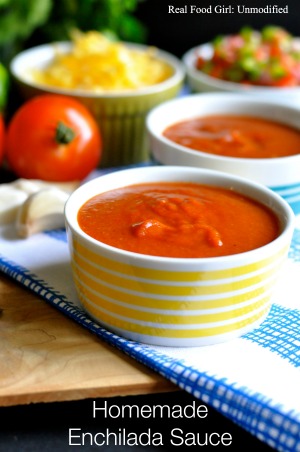 A rich, spicy enchilada sauce for your favorite enchilada recipe.
Ingredients
1 TB coconut oil, ghee, tallow or another fat of your choice
1 small onion minced
Sea salt and black pepper to taste
2 large cloves of garlic, minced
3 TB chili powder
1-1/2 tsp. dried oregano
3 tsp. ground cumin
1/4 tsp. Arbol Chili Powder (ground) it's HOT!
2 tsp. brown sugar (packed)
1 (28-ounce) can of crushed tomatoes
3/4 cup water
Instructions
Heat oil in a 12-inch skilled over medium heat. As soon as it starts to shimmer, add minced onion and about 1/2 tsp. salt and cook until softened. About 5 minutes.
Stir in the minced garlic, chili powder,oregano, Arbol chili powder (if using), cumin and sugar. Cook (stirring constantly) until the spices are fragrant. About 30-45 seconds.
Stir in the tomatoes and water. Bring to a boil, stir well, reduce heat to medium-low and simmer about 5-10 minutes until slightly thickened and reduced.
Taste and season with salt and pepper.
Run your immersion blender through the sauce to make sure everything is well blended and then strain through a fine mesh strainer if you desire a smoother sauce.
If you don't have an immersion blender, simply pour no more than two cups of the sauce into an upright blender, vent the top for steam to escape and blend it on high for 10-15 seconds tops. Pour into a bowl, and repeat with remaining sauce. Then strain if you desire.
Store in an airtight container in the fridge for up to 10 days.
Notes
If you'd like to change it up a bit, you can use 2 TB chili powder and 1 TB Ancho Chili powder instead of the originally called for 3 TB of regular chili powder.
If it is too spicy after you have made the sauce, adding more sugar or fat will calm it down a bit. (butter is a good choice)
https://www.realfoodgirlunmodified.com/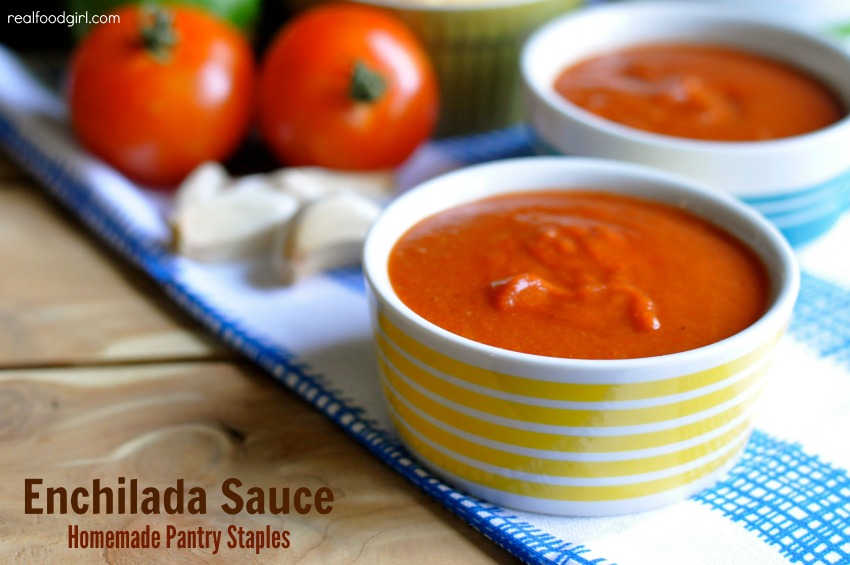 PAID ENDORSEMENT DISCLOSURE: In order for me to support my blogging activities, I may receive monetary compensation or other types of remuneration for my endorsement, recommendation, testimonial and/or link to any products or services from this blog.