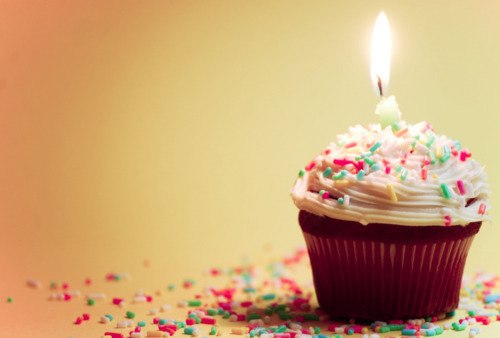 You say it's your birthday (na-na-na-nuh- nahnah) It's my birthday too! ♪ ♫ ♪
Today was my birthday.  Did the skies part while rays of sun shined through and birds sang and melodic choruses broke forth from the heavens?  No you say?  Yeah, didn't happen here either.   Regardless of the fact that the sky didn't part on my special day, I did get to go to a French restaurant with my mom and TSM.  It was my present from my mom and step-dad.  Sadly, he had to work today so he wasn't able to come along, but I sent my mom home with a doggie bag of my dish so he could have a taste.  I thought I'd share a review of the restaurant where we ate and tell you about the experience.  Are you ready?
If there is anything that you all should know about me it is that I went to a French culinary school and I love French food.  As annoying and pompous as the French are, they kick- arse when it comes to food.  They have technique down to a science and taste down to an art.  It's sheer brilliance my friends.   Needless to say I was pretty excited about this lunch outing.  I mean just viewing the online menu alone made me drool wildly.
The name of the restaurant was called Meritage (rhymes with heritage).  It is in downtown St. Paul, MN.  It isn't too fancy, and the dark wood booths, tables and chairs are kind of inviting.  They are known for their homemade Pommes Frites (French fries) served with a homemade house Hollandaise sauce.  It's fried carbs with a yummy high-fat dipping sauce.  They just happen to stay skinny because they burn a lot of calories whining about Americans.  Fine, I know that's not why they stay skinny.  You got me.
Our waitress arrived promptly at our table to take our drink order.  We ordered our food and after ordering we were served one slice of French baguette each.  Just one.  We noticed the waitress serving tables nearby served each of her customers two slices and made sure they always had two more slices before the final bite of their last piece of bread was swallowed.  We had to ask our server for more bread.  And we each got one.more.slice.
TSM and I ordered a Petit Cassoulet (cass oh lay) in the style of Toulouse (a city in France).  It was made with a white bean called the haricot Tarbais which comes from the village Tarbais, located  in the south-west of France, duck confit (duck legs- think drumstick, not just the long, skinny yellowy-orangish things that their cute webbed feet are attached to), garlic sausage and pork.   Technically a cassoulet made Toulouse style would be made with mutton, not with duck confit.  However, that's just me splitting hairs so I'll move on.
After that brief history lesson, I feel I should provide some comedic relief just in case any of you are about to slip into a coma.  Spell check wants me to change "Toulouse" to "Tarballs".  I find that humorous.  In fact, I'm laughing now.  Out loud even.  You could say I'm LOL'ing.  It's my birthday, I'll LOL if I want to!
Ok back to our regularly schedule program…
My mother (pictured above) ordered a 4-ounce hanger steak.  I'll spare you the history on that cut of meat.  I will say that although very flavorful, it is a cut of meat only recently made popular because more recognized cuts of meat have gotten so expensive that restaurants are buying very cheap, obscure cuts of meat  to save/cut costs.  They use fancy marketing skills to make you feel like you're getting a giant filet Mignon, when you're really getting a Terris major.  Still a decent tasting cut, even though it comes from the shoulder of the cow vs. the back half of the cow/the short loin area.
My mom's dish came with a giant pile of their homemade fries.  They really were very good.  Just like the ones we made in culinary school.  And just like I make them at home.
I felt a little bad for my mom.  Her meat to Frites ratio was a bit alarming.  If you eat with your eyes first, it's hard to get excited about 4 slices of meat that happened to be dwarfed by a huge pile of fries, no matter how delicious those fries may be.  She had only had two bites of meat when I snapped this picture, but trust me when I say that all three of us had each had several fries by this point.   She did like the flavor of her steak and it was cooked to her specified level of doneness.
TSM (refused to smile, so you get to see him sip his soda) and I thought our Cassoulets were interesting.  They did fill us up, but we wouldn't order them again.  When I made Cassoulet in culinary school we left out the pork fat– I love bacon. I love pork. Heck, I have bacon toothpicks, and a YAY! BACON! magnet.  I might even name my next dog Pork Chop-– but cubes of inedible pork fat are not sexy and are quite the turn-off when you're sitting in a public place and you need to spit it out (because you can't chew it, and you're kind of grossed out) but can't without everyone seeing you do so.  I'm quite certain I scored major points with diners nearby despite my attempts to do this inconspicuously.
I apologize for the partially eaten cassoulet picture.
I ALWAYS forget to take the picture first when I'm out to eat, and THEN dig in.
It's like pillage first THEN plunder.  LOL!
The sausage and the duck (which was cold) were tasty.  But overall, this had a flavor that didn't even remotely come close to tasting like what my Chef instructor from Provence, France taught us.  In my book, his was the best and probably always will be.  The wisdom and information that he bestowed upon us was not lost on me.
It's his fault that I have such high standards for food.  My being very detail oriented and having a fairly discerning palate just makes me an even tougher critic, but get it right, and I'm nothing short of euphoric and filled with gratitude.  It's just that simple. I expect decorated chefs with a restaurant that wins awards, to deliver, and this dish didn't do that.
I was disappointed by our inattentive waitress.  I was unimpressed that each waitress had on an unpressed white shirt that was in bad need of some Oxy-clean.  In fact, everyone wearing a white shirt seemed to have the same problem, they were all gray!  The waitresses also donned almost 'too-short' black skirts, and some with black tights that were covered in "pills".   Even the floor manager was in colored jeans.  It just didn't fit with the fancy French menu, despite the fact that the atmosphere was a slightly laid back and the menu prices were pretty reasonable.
With all the accolades I've heard about this restaurant I expected so much more and I don't feel they delivered.  Staff should be wearing clothing that is clean, pressed, a professional and appropriate length, bleached if necessary and a little pride should be taken in their appearance; hair, hosiery, clothing and makeup.  It's in the details and I have this insane attention to detail.  Also, if your wait staff doesn't take pride in how they look or the appearance of their clothing, who's to say that they practice good hygiene during their shift?  It does send a message.
People think all I see is what's wrong, but a chef once told me that I see what everyone else misses, and I see what is reality and find a way to improve and bring it to the level where it should be or if it is a health and safety violation that I notice, it's about showing people what rule is being violated, show them how to avoid doing it incorrectly, and showing them the correct way to do it so they are in compliance with that rule.  I bet you never want me to eat at your restaurant, do you?  You actually probably do.  But I promise I don't bite.  The chef that appreciated my attention to detail utilized me to help make the restaurant better.  And for the first time, I felt like my gift– my eye for detail was appreciated and looked at as an asset.  That chef has no idea just how good that made me feel.
So let's get to the desserts.  Desserts were very good and for that we were glad.  My mom ordered a lovely chocolate mousse, and TSM ordered a Crème brûlée, and I ordered a brown sugar Panna Cotta with cinnamon chai crumble and poached pears.
My mom said she liked her mousse better than her meal.  Dessert should be what completes a meal, not what makes you wish you never had your meal.  IMHO.  And no, she never said she that she wished she had  never had her meal.  Just simply that her dessert was better than her meal.  And again, I think that's sad.  Poor Mom of Real Food Girl!
The entire Panna cotta was no more than 2 ounces so it was a very tiny amount, but it was yummy.  It is pictured left and that is a close up.  The plate presentation was very pretty also.  Where they lost points for a handful of things I mentioned earlier, they made up some points with dessert.  Even the funky foam on my plate was yummy and I'm not into foam.


TSMs Crème brûlée was served warm, and had the perfect layer of brûléed sugar on top.  They did a great job with that.  It had nice flavor, good texture and he enjoyed it.
In all, despite being a little disappointed with our meals, it was the company that made the lunch enjoyable.  My mom brought pictures of me from throughout my childhood, and TSM marveled at how big and wide my eyes were as a baby…just like they are now.  We laughed and told stories.  We got to reminisce a bit, and pity my mother who reminded me that she went through 38 hours of labor thanks to an inept doctor who put her through Hades and back.  Thankfully I think I came out spectacularly well if I do say so myself.  And my mom seems no worse for the wear. Plus, she has a great story to tell me each year on January 30th at 3:02 in the afternoon.
I never enjoy sharing the unfavorable parts to a visit at a restaurant.  I know exactly how much blood, sweat and tears goes into making a restaurant a success.  I know how hard the chefs, line cooks and prep cooks work.  I know that kind of work destroys your body and burns out your mind if you are not careful.  I have immense respect for anyone that chooses this lifestyle.  At the moment I am unable to physically handle the strenuous demands that were placed on my body while working in a restaurant.  Yet those that are able to do this work deserve a lot of praise.
If Meritage was able to spiffy up their wait staff, and have consistency in their bread serving policy, as well as train their staff to be very attentive and proactive with all guests I would go back in a heartbeat and I'd be the first person to sing of their praises.  I suppose that it is very likely that we just caught them on a bad day.  Since that may very well be the case, I may go back and try another menu item that looked good to me and give them a second chance.  If I do that, I promise to write about it.  In the mean time, if you ever find yourself in downtown St. Paul, MN and have a hankering for some really amazing French fries, stop into Meritage.  I promise those won't be a disappointment at all.  It's very rare that fried carbs are ever a disappointment come to think about it.
I forgot to mention that when the reservations were made, they were told it was for a birthday and not one person mentioned it at all.  When we dine at Ruth's Kris Steak House- which we usually do each year for our anniversary, they always make a point to wish us Happy Anniversary.  From the person that takes our coats, to the person that seats us, to our waiter/waitress.  Everyone makes sure we know that they know it is a special event for us.  Why bother asking if it's a special event if you aren't even going to mention it, or give a free birthday dessert?  I was a wee bit bummed about that. 
Thanks to my Mom and Step-Dad who treated me and TSM to a really nice birthday lunch.
PAID ENDORSEMENT DISCLOSURE: In order for me to support my blogging activities, I may receive monetary compensation or other types of remuneration for my endorsement, recommendation, testimonial and/or link to any products or services from this blog.